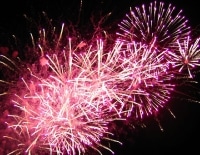 Hi everyone! I'm writing because I want to tell you all HAPPY NEW YEAR!! 2007 was such a great year for fashion, and I'm confident that fashion in 2008 is going to be even more interesting & groundbreaking.
I hope you all had amazing NYE and wore gorgeous outfits, haha.
I also want to give a special thanks to all of you guys for being so amazing and inspiring! This blog would be absolutely nothing without your thoughts, opinions, criticisms and inputs… so THANK YOU so much for reading and contributing! I love reading your comments, emails and messages so much – so keep them coming!!
As far as new years resolutions go, mine is to work like crazy to make this blog the absolute best it can be! Blogging can be hard work as a college student, but this year I'm really going to work hard and put aside time to blog as much as I can. Expect lots of updates all year long!
As always, feel free to send me an email, a comment, a facebook message, whatever, with your thoughts and ideas or just to say hi! They are always appreciated and I really do read every single one 🙂 For contact info, check out the about page.
Do you have any new years resolutions?Is there anything you'd like to see here on CF in the future?Let me know!!
xo