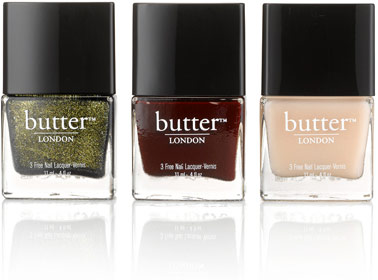 Gwyneth Paltrow's lifestyle site goop has teamed up with nail polish company Butter London to create a trio of limited-edition, custom-made shades for the holidays.
Called — seriously — a "Trifecta of Bespoke Lacquers", the set will include these Gwyneth-approved shades: Hampstead Heath (green w/ gold sparkles), Abso-bloody-lutley (deep red), and Bread & Butter Pudding (a sheer ivory cream).
The formaldehyde, toluene, and DBP-free set of polishes is available exclusively at goop for $36.
Your thoughts?
What do you think of this collaboration? Do you read goop? Are you a fan of Butter London's nail polishes? Which color is your fave? Will you be purchasing this polish set? Remember to tell us what you think by leaving a comment!