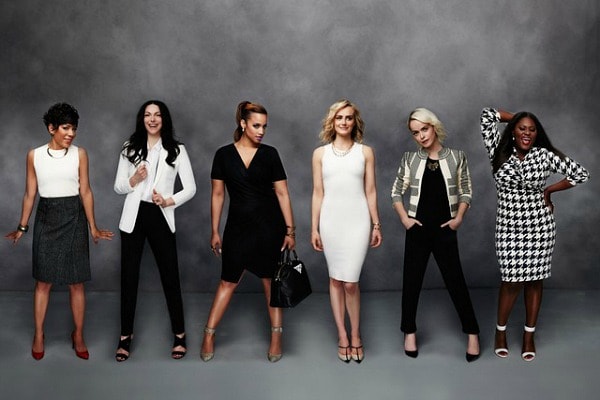 The cast of Orange Is the New Black modeling items from the Gilt sale. | Photo Courtesy of WWD
WWD is reporting that online sample sale siteGilt has partnered with Orange is the New Black and Dress for Success to create a special sale.
According to WWD, the sale is inspired by the second episode of OINTB's recently released second season, in which the inmates receive professional attire and career advice from Dress for Success.
This style collab may sound totally strange, but Jyothi Rao, executive vice president and general manager of women's, kids, and strategic brand alliances at Gilt, explained the reason behind the partnership:
"We're constantly seeking new ways to excite Gilt members and give them an insider experience. We're big fans of Orange is the New Black and thrilled to collaborate with Netflix on the release of the new season and to let Gilt members see the show's stars in a more glamorous light. We're also longtime supporters of Dress for Success, so [we're] excited to tie the partnership together with such a compelling philanthropy angle."
As shown in the image above, the sale includes items modeled by some of the cast. The sale starts exclusively on Gilt today at noon EST, and for every item purchased on the site, one item will be donated to Dress to Success.
Your thoughts?
What do you think of this partnership? Are you a fan of Orange Is the New Black? Will you be buying anything from this sale? As always, tell us what you think by leaving a comment!