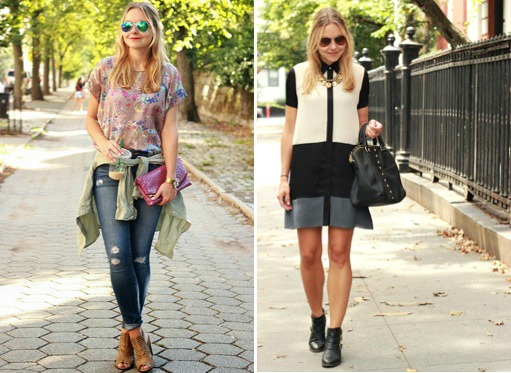 Photos Courtesy of Jessica Steele
I'm one of those weirdos who wears black all the time. I've heard it all before – a statement necklace makes your outfit pop, animal print accessories make leopard work-appropriate, yada yada yada – but it's impossible not to feel badass in black.
Jessica Steele (of The Steele Maiden) is one of those bloggers who reminds me just how easy it can be to be bold without being boring. A checked skirt + a textured sweatshirt? ~*FlAwLeSs*~ A formal dress + a denim jacket? Le duh.
Here, Jessica shares how her Fashion Design major prepared her for the real world, her source for style inspiration, and what she does on her lunch break. (Hint: It's not what you think!)
The Interview:
College Fashion: Tell us a little bit about yourself.
Jessica Steele: I grew up in Pennsylvania before moving to New York (and then briefly Los Angeles). I currently reside in New York's East Village with my boyfriend, where I work as a graphic designer for jewelry designer Lulu Frost.
CF:How would you define your style?
JS: Playful, feminine and modern!
CF: How did you find your style?
JS: I've always been drawn to a pretty consistent style, but traveling across the country and around the world throughout my twenties has played a big part in honing in on what my style currently looks like.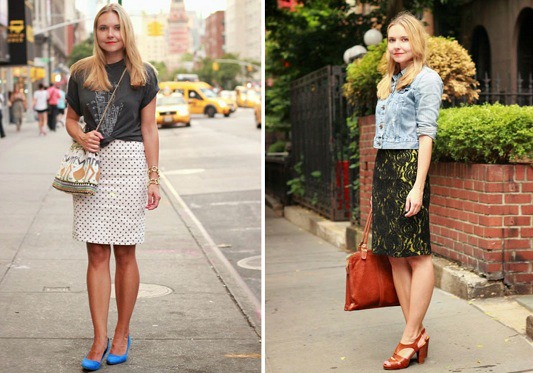 Photos Courtesy of Jessica Steele
CF: What inspired you to start a style blog? What motivates you?
JS: I've always loved fashion magazines and wanted a place of my own to curate all the things I find inspiring – I love that I'm the editor-in-chief of my own daily magazine!
CF: Did you go to college? If so, where did you go to school and what did you study? What was your college experience like?
JS: I attended Philadelphia University and majored in Fashion Design – which was a lot of work! But those skills, connections, internships, and friendships are all what got me to where I am today. And if you get the chance to study abroad (I spent a semester in London) – go!!
CF: Where do you like to shop?
JS: Everywhere from big name retailers, like Nordstrom and J.Crew, to independent boutiques in the city to Target to flea markets and thrift stores. It's always more about what feels like 'me' rather than where it came from.
CF: What advice do you have for being stylish on a college budget?
JS: Invest in a few key basics (I saved up for a more expensive trench coat in college that I still wear today) and then add in trendier and less expensive accessories each season.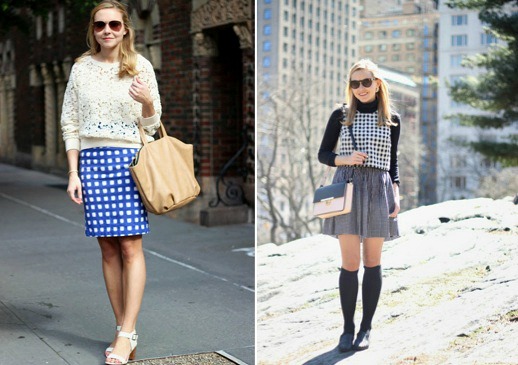 Photos Courtesy of Jessica Steele
CF: What are your favorite pieces in your wardrobe?
JS: An embroidered vintage bag passed down from my great aunt and a perfectly fitted gray cashmere sweater that goes with everything.
CF: Who/what inspires you most?
JS: New York/London/Paris street style and fashion history from the 1920s, '40s and '60s.
CF: Any advice for new bloggers or college students starting a blog?
JS: Success doesn't come overnight – so be prepared to work hard, and make sure that at the end of the day you're still having fun doing what you're doing!
CF: What's writing a blog really like? Could you describe a typical day?
JS: 6:45 AM – Wake up, try to squeeze in a bit of exercise, check that my blog post went up as scheduled, and get ready for work
8:30 AM – Head out to work – stopping along the way to take outfit posts for the blog if needed, and to share that day's blog post on Instagram/Twitter/Facebook
9:00 AM – Arrive at the Lulu Frost office and get to work for my full-time graphic design job
1:30 PM – Take a lunch break, check my blog emails and maybe a 2nd social media post
7:00 PM – Leave the office to head home and post to social media again
8:00 PM – Dinner and catch up with my boyfriend – a few moments to unwind!
9:00 PM – 12:00 AM – Respond to blog emails, edit the photos taken that morning, schedule my next post, respond to social media comments, read a few of my favorite blogs, and maintain outside accounts, such as Reward Style and Lucky Magazine contributors. Every few days I'll also brainstorm new collaborations and work on my editorial schedule.
12:30 AM – Go to bed! So I can get a few hours of sleep and wake up to do it all over again 🙂
Your Thoughts?
Do you read The Steele Maiden? Which blogger should I interview next? Let me know in the comments section!