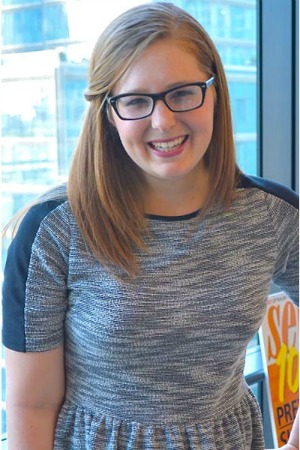 Photo Credit: Meaghan O'Connor
If you're looking for advice about how to stand out at your summer internship, you've come to the right place. As the Executive Assistant to the Editor-in-Chief and the intern supervisor at Seventeen magazine, Meaghan O'Connor knows a thing or two about what it takes to make it in the fashion world – and she's spilling her secrets to you!
When she's not working as Ann Shoket's go-to-girl, Meaghan volunteers for She's the First, a non-profit that sponsors girls' education in the developing world. She also just finished training for her first-ever half marathon! (Can I get a what-what?) If she sounds like superwoman, it's because she is.
Here, Meaghan shares why it was so hard to say goodbye to her summer interns, how she juggles researching stories and scheduling the EIC's meetings, and the best places to buy professional stylish clothing.
The Interview:
College Fashion: Did you go to college? If so, what did you study? What was your college experience like?
Meaghan O'Connor: I'm a proud Michigan Wolverine (GO BLUE!). I graduated from the University of Michigan last spring, in May of 2013, with a degree in Communication Studies and a concentration in English. I was also interested in sociology and culture, so I took my fair share of International Relations courses as well.
I, like most I'm sure, loved college. The freedom of exploring my interests, picking and choosing what I wanted to dedicate my time to and diving into unique and interesting projects with my peers and professors was incredible. There was just something so exciting and stimulating about being on a campus full of really intelligent and motivated young people.
As much as I enjoyed class, extra curricular activities were really the thing I loved most. I was super involved and almost always had some social activity on my calendar. I acted as Editor-in-Chief of our Greek newspaper, served on my sorority's executive board, helped co-found a campus chapter of the national non-profit, She's the First, and volunteered for Young Life, a Christian outreach organization dedicated to investing in the lives of teenagers in our local community.
CF: What was your sense of style like in college? How would you say it's changed?
MO: Ha! I went to school in Michigan, so it was COLD for about 70% of the school year. That definitely influenced my wardrobe. I loved to layer with fun, chunky sweaters and leggings in the fall (comfy & cute!), and I remember being obsessed with scarves. The bigger and thicker the scarf, the better.
I'm not actually a huge fan of jeans, so I'd avoid them whenever I could. I love skirts and dresses, so when it started to get warm in the spring that's all I would wear. Comfort was priority #1 (for those long days in the library), but the goal was almost always to look cute, put-together and approachable without looking like I tried too hard. You never know who you were going to meet or run into on your way to class!
My style has definitely changed since I started a full time job, although I wouldn't say it's changed completely – but I did have to spend a decent chunk of change on professional wear! Obviously, you have to look neat and professional every day in the office. The same rule goes for never knowing who you're going to be talking to or interacting with that day. But the fun part about working at Seventeen is that there's a little bit of flexibility to dress professional and hip.
I'm a huge fan of dresses and skirts. Anything I can layer with super fun jewelry and a nice pair of flats (I run around the office all day) is always good. Overall, I'd say that I'm a classics girl – basics from J. Crew, Ann Taylor and Banana Republic are my faves. And if I can throw a scarf on too, awesome! On the weekends, I'm almost always decked in workout gear and a fun pair of kicks.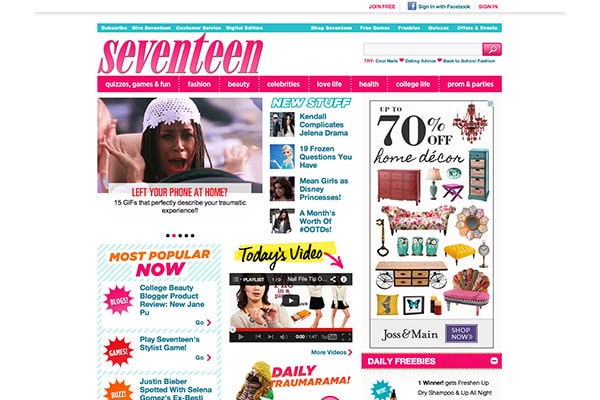 Photo Credit: Screenshot
CF: Did you have any jobs or internships in college? What were they like?
MO: I had a wide variety of jobs and internships in college, all of which helped lead me here! My first internship was at a small local magazine in my hometown, Grand Rapids Women's Lifestyle. It definitely gave me my first glimpse of magazine journalism and reporting.
After connecting with a stellar alum at school the following year, I landed a summer internship in New York with my first national title, Food NetworkMagazine. I worked in the marketing department, and really enjoyed it, but also used my time there to meet and network with professional contacts from other departments and titles within Hearst.
My senior year, I interned with another local magazine in my college town. All of my internships were really valuable for different reasons, I'm just thankful for all of the exposure to new experiences and writing opportunities!
CF: What's your favorite part of your job?
MO: It keeps me on my toes! No day is ever the same and often times it can be really challenging. I have about a million different responsibilities, and it can be hard to juggle them all, but I'm so grateful that it's teaching me so much about time management and teamwork. And it's FUN! Day-to-day, there are so many different things that I really enjoy.
I love hanging out with the celebrities who come visit (we just met all of the adorable Olympic medal winning skiers!), and I also love interacting with with our readers. I'm the person in charge of wrangling and sorting through all of our reader mail, as well as coordinating in-office focus groups for our editors. There's nothing more fun than sitting in a conference room with a room full of teen girls, laughing and eating pizza. It's the best!
CF: What's your least favorite part of your job?
MO: Often times, in magazine publishing, it can feel like there so many great ideas and projects brewing without a spare second to work on them. I just wish I could tackle everything on my to-do list, and still have time for more. There's so much potential in this industry with things like social media and blogging, it can be challenging to keep up. But on the other hand, working hard to keep up is definitely what makes it so fun!
CF: What's been a standout/favorite moment of your career so far? Is there a project you've been particularly proud of?
MO: It might sound funny, but I think the time I felt most proud was when I had to say goodbye to all of our summer interns this past year. They were the first "class" of interns that I supervised and they kicked some major BUTT while they were here! It was such a pleasure seeing them grow, gain confidence and enjoy their experiences here.
I love the fact that part of my job allows me to invest in the lives of college students. It's so rewarding to see their progress by the time they finish with us (and keep in touch!). I'm so excited to see where they go next, and I'm 100% confident that they'll do great things!
CF: What's a typical day like for you?
MO: It starts EARLY! I get up around 5:30am, and usually go for a run in Central Park or hit the gym… I'm training for a half marathon now. I'll usually get to the office around 8am, and start by answering emails and prepping for meetings that day. Since I assist our Editor-in-Chief, Ann Shoket, I have to be organized and ready to expect the unexpected all the time.
I spend the majority of my days managing Ann's calendar, scheduling and coordinating meetings, supervising our team of awesome interns, doing story research for a few of our features editors, and acting as Seventeen's "brand ambassador" when we interact with our readers and host focus groups. No day is ever the same, but I'm usually out of the office in time to catch dinner with a friend or take an evening yoga class. I really enjoy scheduling a little "me" time when I'm out of the office!
CF: What's your favorite piece in your closet?
MO: I'm obsessed with the black leather skirt I bought this fall at H&M. It's a basic circle skirt and goes with almost anything in my closet! This winter, I've been wearing it with different colored tights and chunky sweaters. It's such a staple piece — I don't know what I ever wore without it.
CF: What advice would you give to a College Fashion reader that wants your job?
MO: Work hard, and do whatever you can to set yourself apart. Network like crazy. Meet people who'll fight for you and who'll think of YOU when the right opportunity comes along. Write a lot. Start a blog. Build your personal brand. And most importantly, never stop thinking BIG & setting BIG goals for yourself! You can't achieve what you don't work hard for!
Your thoughts?
Which magazines do you read? What sort of fashion careers are you interested in? Does Meaghan's story inspire you? Tell me in the comments section!