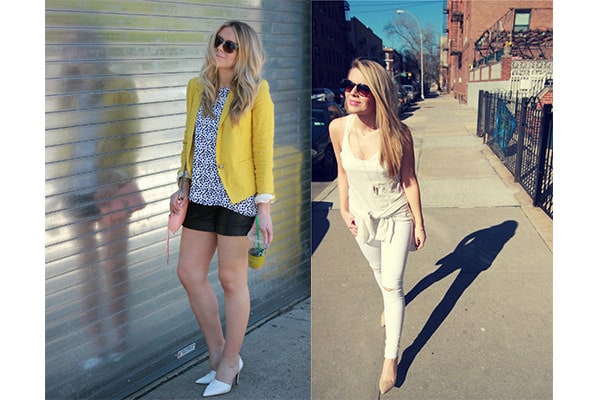 Photos Courtesy of Natalie Renee
Little Too Much's Natalie Renee has the Kate Moss vibe that I'm aiming to emulate this summer, complete with colorful structured blazers, tailored pants, and, of course, Chuck Taylors. When she's not writing her blog, Natalie's works as a buyer at Ralph Lauren, which sounds like a pretty awesome gig!
In this interview, Natalie shares her tips for building a following for your blog, her favorite stores for style inspiration, and why you shouldn't try every trend.
The Interview:
College Fashion: Tell us a little bit about yourself.
Natalie Renee: I am Natalie, a mid-west girl at heart, who moved to NYC five years ago to pursue a career in fashion. After several internships at fashion companies like Barneys New York and Prada, I started working in buying for Ralph Lauren full-time, and then shortly after, created my blog in 2012.
CF: How do you define your style?
NR: I am always trying to achieve an effortlessly chic look with what I wear. I love to look polished, but also a bit edgy and carefree!
CF: How did you find your style?
NR: Trial and error! I feel like I have owned everything once, and now I try to be much more selective when shopping. I stay true to what I love, instead of trying to follow every trend.
CF: What inspired you to start a style blog? What motivates you?
NR: I really was looking for a creative outlet after starting a career in fashion. I was not able to creatively express myself as much as I wanted to in my role, so decided to create a blog!
Photos Courtesy of Natalie Renee
CF: Did you go to college? If so, where did you go to school and what did you study? What was your college experience like?
NR: I went to the Fashion Institute of Technology to study buying and merchandising. I loved going to school in NYC because learning stretched much further than the classroom. There were amazing internship opportunities, and it was just a great culture in NYC.
CF: Where do you like to shop?
NR: Zara is definitely my favorite store to find trendy items. I also love going into stores like Intermix to get inspiration.
CF: What advice do you have for being stylish on a college budget?
NR: Shop secondhand! I love stores like Buffalo Exchange and apps like Poshmark. They are great places to find higher end items at a low price.
CF: What are your favorite pieces in your wardrobe?
NR: Definitely my leather moto jacket. I will literally wear it with anything!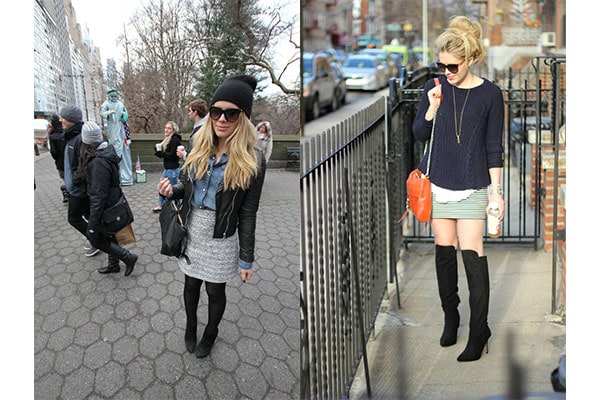 Photos Courtesy of Natalie Renee
CF: Who/what inspires you most?
NR: NYC. I can take a walk downtown and feel constantly inspired by the people and things that I see.
CF: Any advice for new bloggers or college students starting a blog?
NR: Make a plan and develop a voice for your blog early, then be consistent with posting. Consistency is key in developing your following! Also, meet other bloggers through communities like Lucky and IFB. Both of these sites have taught me so much, and have introduced me to a strong network of people
CF: What's writing a blog really like? Could you describe a typical day?
NR: I like to gather inspiration for a post, and then I will put together a few looks and go out to shoot somewhere in NYC. I love to capture the lifestyle of city in my photos, so I am usually taking pictures in a fun area downtown.
Then, all the work comes in… editing photos, turning it into content and promoting the post. It is definitely more time consuming than people may think, but if you are passionate about what you are doing, then it is all worth it 🙂
Your Thoughts?
Does Natalie's style inspire you? Which bloggers and industry experts should I interview next? Let me know in the comments section!