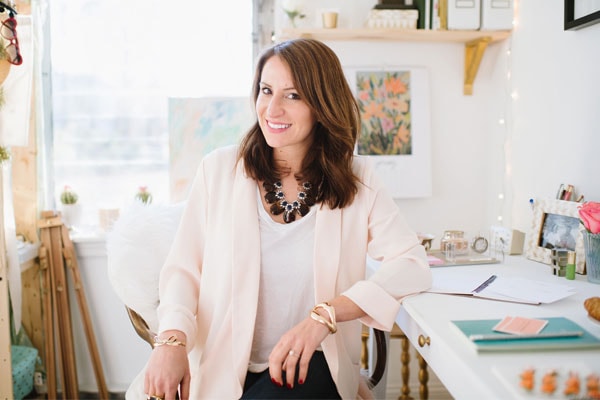 Photo Credit: Natalie Franke
We can't get enough of Caitlin Moran's girly glam style, and lucky for us, she showcases it on not one, but two blogs! This week, the Editorial Director of Glitter Guide and blogger behind Style Within Reachshares why she quit her full-time job to work at home, how she switched jobs within the fashion industry, and why she thinks internships are so important.
The Interview:
College Fashion: Did you go to college? If so, what did you study? What was your college experience like?
Caitlin Moran: Yes! I went to East Carolina University in North Carolina and majored in Apparel Merchandising with a minor in Business. I loved my college experience, going to a big school in a small college town was exactly what I had hoped for and it was so much fun.
CF: What was your style like in college? How would you say it's changed?
CM: Oh boy!! I've been out of college for over 10 years so the styles have changed a ton! I was very into fashion and tried to keep up with the trends and not look like every other girl on campus. I hated Vera Bradley bags and Seven jeans, which were all the rage at the time. Instead I bought my first pair of expensive jeans – Paper Denim & Cloth (which I still have and wear!) and thought I was so cool to have a different kind of designer denim.
CF: Did you have any internships or jobs in college? What were they like?
CM: I had a variety of odd jobs throughout my college career – our campus was in a tiny town with a ton of students all looking for jobs, so they were hard to come by. The summer of my senior year I interned at Nordstrom and had an amazing opportunity learning about the brand and retail industry in general.
CF: How did you get your start working in the fashion industry?
CM: I worked at Nordstrom as a manager post-college and realized quickly that retail wasn't for me – and my dream of being a buyer changed to working at a magazine or for a fashion brand in New York.
CF: What's your favorite part of your job?
CM: I love coming up with ideas for content, styling shoots and trying out new products as soon as they hit the market.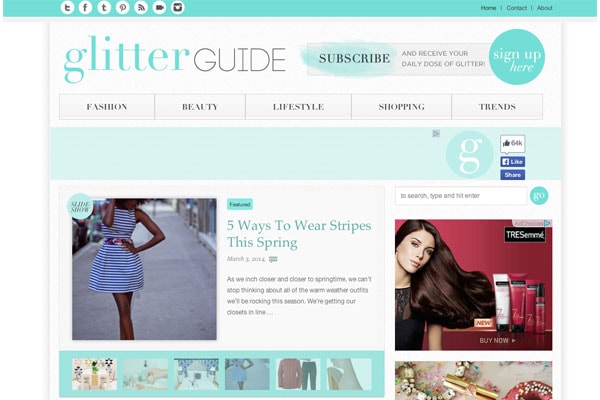 Photo Credit: Screenshot
CF: What's your least favorite part of your job?
CM: Keeping up with email, staying organized and juggling all of my responsibilities.
CF: What's been a standout/favorite moment from your career? Is there a project you're particularly proud of?
CM: My favorite moment thus far is probably a combination of quitting my full-time day job to work for Taylor at Glitter Guide full-time and attending some pretty amazing shows at New York Fashion Week!
CF: What's a typical day like for you?
CM: Every morning I try to be up on my laptop by 7:30 – I work from home so this is pretty easy! I post the 3 posts for Glitter Guide by 9am and also send out our newsletter, then I start working on scheduling our social media for the day and make a to-do list. I try to tackle my inbox in the morning with emails I may have missed or not gotten back to the day before. The rest of the day can vary depending on if I'm working on any shoots, have any meetings or calls or projects I'm working on!
CF: What's your favorite piece in your closet?
CM: A pair of hot pink Miu Miu heels and a black satin party skirt I got from Forever 21 6 years ago.
CF: What advice would you give to a College Fashion reader that wants your job?

CM: Get as much experience as you can in college. I wish I had more internships upon my graduation date. Blogs didn't exist when I was in college – but now there are so many websites you can get experience contributing for or interning at while you are in college to help boost your resume. Also networking is key!! Try to attend as many networking events as you can – and keep your contacts. Hand written thank you notes to anyone who has helped you along the way is key too!
Your Thoughts?
Do you read The Glitter Guide? Does Caitlin's story inspire you? Who do you want to hear from next? Let me know in the comments section!