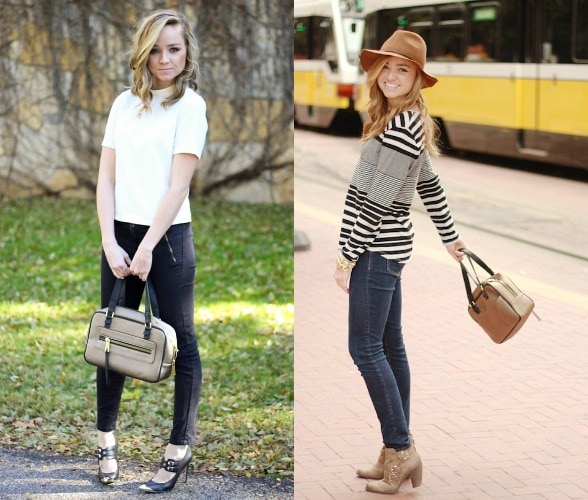 Photos Courtesy of Taylor Gardener
'Tis the season for snow boots, scarves, and eating pants in New York City. This winter, I'm obsessed with blogs that make winter style simple.
Enter Dallastyle, where Taylor Gardener rocks glitter blazers, booties, and brightly colored coats with sass.
Here, Taylor talks how to drive traffic to your site, why she asks other bloggers for advice, and what it's really like to work for a fashion supplier.
The Interview:
College Fashion: Tell us a little bit about yourself.
Taylor Gardener: My name is Taylor and I currently reside in Dallas, TX where I work for a fashion supplier! I live with my boyfriend of 3+ years and our two dogs, Winston and Zeus.
CF: How would you define your style?
TG: I feel like I'm honestly a little bit of everything all rolled into one. It truly depends on my mood that day and the weather outside. It can vary from sophisticated chic all the way to something a little more bohemian.
CF: How did you find your style?
TG: Anything that inspires me. Which is mainly anything I find in fashion magazines, Pinterest, or through other fashion bloggers. I think that's why my style varies so much. I take bits and pieces that I like from all over. I like to think of myself as the melting pot of fashion, ha.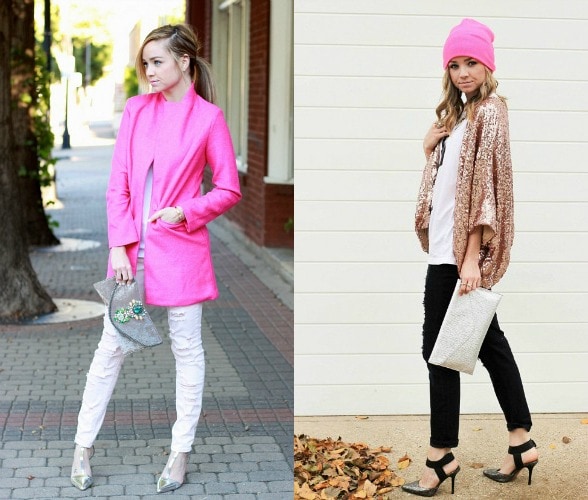 Photos Courtesy of Taylor Gardener
CF: What inspired you to start a style blog? What motivates you?
TG: I discovered fashion blogging through Instagram. I think the first fashion blogger I came across was Chiara Ferragni. I thought 'how cool, I could totally do that. I buy clothes all the time, why not photograph them and share my styling tips for those willing to listen?!' – but on a much smaller scale than Chiara, of course.
My friends are my motivation. They have always come to me for fashion advice. Whether it's for a wedding they're attending or a work party, I always get asked for my opinion on what they should wear.
CF: Did you go to college? If so, where did you go to school and what did you study? What was your college experience like?
TG: I did! I went to the University of North Texas to study Finance. My college experience was amazing and I wouldn't change it for the world.
CF: Where do you like to shop?
TG: My budget limits me to where I can shop. I currently frequent Forever 21, H&M, Zara and Nordstrom the most. I can't get enough of those stores. It's probably a good thing I don't make money hand over fist – or else I'd be in A LOT of trouble!
CF: What advice do you have for being stylish on a college budget?
TG: Dig in your local Forever 21 and H&M stores! I know at times it may seem overwhelming, but you can always find a terrific trendy/affordable piece if you just take the time! If the crowds and mess overwhelm you too much, go on a weeknight when foot traffic is low and the stores are kept a little better.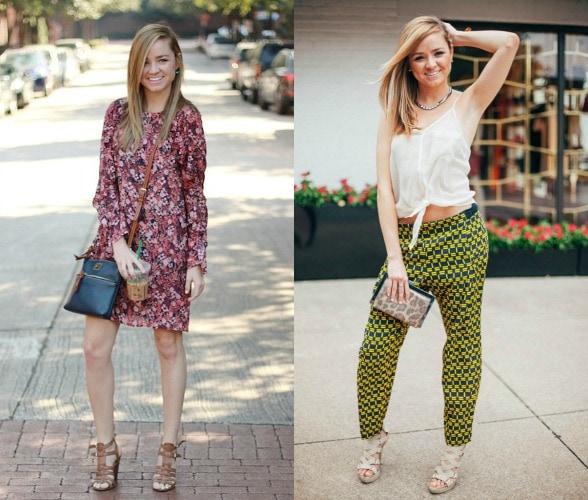 Photos Courtesy of Taylor Gardener
CF: What are your favorite pieces in your wardrobe?
TG: My SheInside pink coat, my Nordstrom seafoam green heels, and my Kate Landry jeweled clutch! Such dreamy pieces. I always get compliments when I take them out for a spin.
CF: Who/what inspires you most?
TG: Fellow fashion bloggers! I honestly get up at about 5:30 am, before work, to surf Bloglovin' posts. It's my quiet time before the craziness of the day starts. I love to find out where other bloggers are shopping and how they style their purchases.
CF: Any advice for new bloggers or college students starting a blog?
TG: Google, Google, Google! I found lots of answers to my questions through the internet. Whether it was a question concerning how to make sales, what camera to use, or how to utilize SEO. Google has really become my best friend through my blogging journey.
Also, don't be afraid to email established fashion bloggers for advice! The blogging community is a great place. In my short amount of time in fashion blogging I've met a lot of talented people who are always willing to lend a helping hand.
CF: What's writing a blog really like? Could you describe a typical day?
TG: I usually start my day off with checking my Google Analytics account. Google Analytics helps me figure out what's driving my traffic, who clicked where, what cities are visitors from, etc. etc. Analyzing your business constantly can really help you achieve your personal goals with the blog.
Next, I will check my website to see if I received any comments. It's always fun to see what sort of feedback I've received from my readers. I'll then dive into emails. And then transition into composing a blog post. I usually only post about twice a week. Then I'll head off to my social media outlets and promote my recent posts or other musings of the day.
Your Thoughts?
Do you read Dallastyle? Who should I interview next? Tell me in the comments section!