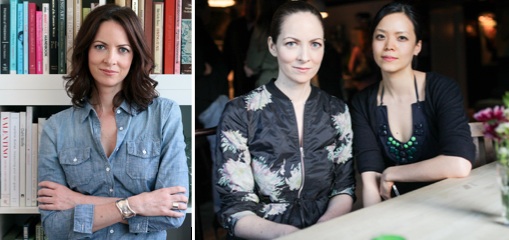 Photo Credit: Kerry Diamond and Claudia Wu
Just a few weeks ago, a man earned $50,000 on a Kickstarter campaign for his potato salad (for reals). But Kerry Diamond and Claudia Wu's Cherry Bombe is just one example of an amazing ideas that comes from a crowdfunding sites.
Just two years ago, the former Harper's Bazaar staffers asked their friends and family to help them raise money for an indie magazine that would combine their loves of fashion and food – and it worked. And if you're not yet convinced you should be reading Cherry Bombe, then you should know Karlie Kloss and Gia Coppola have contributed to the magazine, because it is a genuine arbiter of awesome.
This week, Kerry and Claudia spill what it's really like to start your own magazine, how to survive an unpaid internship, and the activities on campus that make your resume stand out from the rest.
The Interview:
College Fashion: Did you go to college? If so, what did you study? What was your college experience like?
Kerry Diamond: I went to the State University of New York at Plattsburgh. I majored in English and had a concentration in journalism. I loved my college experience. Plattsburgh was a small school, but the professors really cared. I also took advantage of a lot the college had to offer, such as the school newspaper, the radio station and the study abroad program. I know it's hard to find a job these days when you graduate and it's hard to find internships, but students forget to look around them. Most colleges have newspapers, magazines, radio stations, TV stations, etc. Go work for them. That's great experience for your resume.
Claudia Wu: I studied graphic design at RISD (Rhode Island School of Design). I had my issues with the GD program, but we were in a strange generation where computers weren't fully integrated into the curriculum yet. I spent a year painting letters. Not in a creative way. Just tracing and painting letters of classic fonts. It was not terribly exciting and more about who had a steady hand!
CF: What was your sense of style like in college? How would you say it's changed?
KD: I had worn a uniform from first grade through 12th grade, so I was probably the only person who didn't own jeans when I started my freshman year. I couldn't believe people wore sweatpants and pajama bottoms to class. It probably hasn't changed that much. I still love the color black and I love dresses, especially ones with pockets.
CW: I'd say it was a bit alternative and a bit hippie. I remember wearing lots of layers, dresses, skirts. I don't think I wore jeans at all back then. I think now my style is more simple. I don't like to think too much about what I wear so I have a lot of things I can just throw on.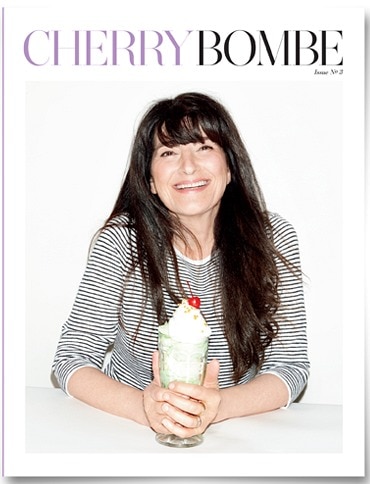 Photo Credit: Screenshot
CF: Did you have any internships or jobs in college? What were they like?
KD: I had several and I credit them with getting me where I am today. In high school, I interned at the Village Voice newspaper. In college, I interned at Spin magazine, the Plattsburgh Press-Republican newspaper and the Staten Island Advance newspaper. Some of the internships were unpaid, so I worked a lot of part-time jobs on the side. It bothers me when people say only rich kids can afford internships. If you're willing to hustle, you can make it work.
CW: No internships for me. But I was a computer lab monitor, I worked at the campus coffee shop, and I was the checkout girl at the library. The coffee shop is still my favorite job I've ever had. I loved the social aspect of the job and making people happy feeding and caffeinating them. The library was fun, too. I spent a lot of time in libraries when I was younger.
CF: What's your favorite part of your job?
KD: I've always liked writing about and celebrating people who do interesting things, so I love that I get to do that today. It's also amazing to work on a magazine and see all the pieces come together. It's almost magical.
CW: I love being my own boss and being creative.
CF: What's your least favorite part of your job?
KD: Schlepping boxes. There's a lot of grunt work involved in having an indie magazine. It makes you less of a princess, but it's not fun.
CW: It's not the most stable, but I think that's okay. Uncertainty is not always a bad thing in life.
CF: What's been a standout/favorite moment of your career so far? Is there been a project you've been particularly proud of?
KD: I've had a lot of favorite moments. Working at Lancôme with the likes of Julia Roberts, Kate Winslet, Daria Werbowy and Michelle Phan was thrilling. I was very proud to have worked at Harper's Bazaar and Women's Wear Daily. Those are two unique, special places and I loved each day there. And now having built a magazine from scratch with Claudia is a big achievement. It means a lot that people love Cherry Bombe.
CW: Launching Cherry Bombe, of course!
CF: What's a typical day like for you?
KD: I'm sure everyone says this, but there is no typical day. Today, for example, we're fulfilling subscriptions and running them around the corner to the post office. Yesterday, we had a really fun party to celebrate the current issue.
CW: I don't have a typical day. Every day is different and I love that.
CF: What's your favorite piece in your closet?
KD: I have a Levi's denim jacket from when I was 16. It still fits and it's still in one piece That will always be my favorite.
CW: I'm not sure I have a favorite piece.
CF: What advice would you give a College Fashion reader that wants your job?
CW: Work hard, pay your dues, listen and learn on the job, be nice to everyone, and take the opportunities that come to you if they feel right.
Your Thoughts?
Do you read Cherry Bombe? Does Kerry and Claudia's story inspire you? Let me know what you think in the comments section!