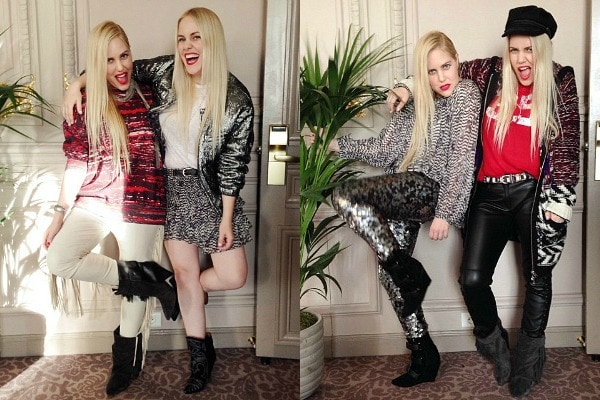 Photos Courtesy of Cailli and Sam Beckerman
Just call Toronto twins Cailli and Sam Beckerman the queens of collaboration: The F.I.T. grads have teamed up with Uniqlo, Aldo, Coach, Juicy Couture, 7 For All Mankind, and Diane Von Furstenberg, just to name a few. Most recently, they covered the launch of the Isabel Marant for H&M collection in Paris (Ooh la la!) and hosted Canada's Much Music Video Awards.
Though the designer sisters first made it big when their senior thesis collection was featured in Nylon Magazine, their blog, Beckerman Blog, chronicles their fashion adventures big and small.
Here, Cailli spills about her college experience at F.I.T., launching her fashion line with her sister, and her surprising source of inspiration.

The Interview:
College Fashion: Tell us a little bit about yourself.
Cailli Beckerman: Sam and I are twins and from Toronto, Canada. As young kids we immersed ourselves in sewing and scrap booking and designing. We are fashion designers turned bloggers.
I'm talking in plural because our blog is about both of us 😉
CF: How would you define your style?
CB: Our style is a mix of rock 'n' roll twisted with surf and a splash of color.
CF: How did you find your style?
CB: Our style is always evolving! We have been every style – skater, raver, hippie, hip-hop, rock n' roller and western. We've been them all, and now we mix it all up.
CF: What inspired you to start a style blog? What motivates you?
CB: We were fashion designers for six years with our line, beckerman, and then it evolved into our blog called BeckermanBlog.com in 2009.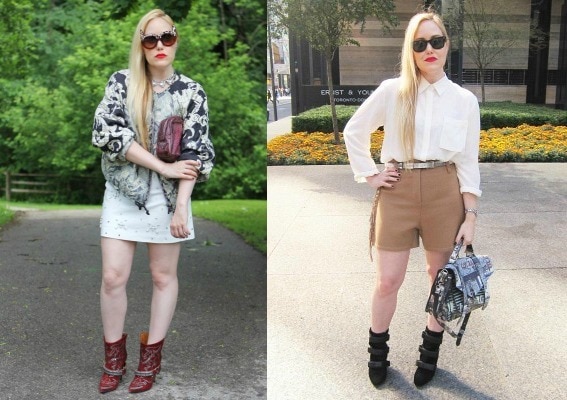 Photos Courtesy of Cailli and Sam Beckerman
CF: Did you go to college? If so, where did you go to school and what did you study? What was your college experience like?
CB: We had the best time ever at F.I.T (The Fashion Institute of Technology). I majored in Fashion Design with a BFA, and Sam majored in Accessory Design with a BFA. While we were there, we interned at Oscar de la Renta, Marc by Marc Jacobs, and Bottega Veneta. Best experience ever!
CF: Where do you like to shop?
CB: We shop online, at H&M, in Toronto and at flea markets 😉
CF: What advice do you have for being stylish on a college budget?
CB: Shop at H&M, it's our fave! And mix it up with vintage and your own stylish pieces.
CF: What are your favorite pieces in your wardrobe?
CB: I would probably say my monster scarf by Jeremy Scott! And Sam's Jimmy Choo surf bag.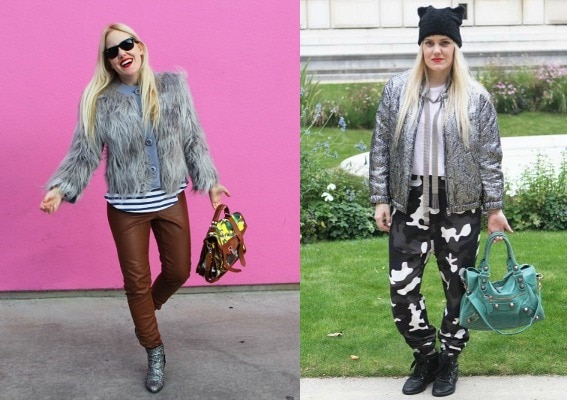 Photos Courtesy of Cailli and Sam Beckerman
CF: Who/what inspires you?
CB: Definitely street style, and my Mom 😉
CF: What advice do you have for any new bloggers or college students starting a blog?
CB: Don't stop blogging! Keep going, even when the weather is crappy and cold! Don't give up if you think nobody is reading. It takes time.
CF: What's writing a blog really like? Could you describe a typical day?
CB: We blog each other's outfits, do collabs with companies and host events. It's loads of fun!
Your thoughts?
Do you read Beckerman Blog? What's your favorite fashion blog? Who are your favorite fashion bloggers? Tell me in the comments section!