This post may contain affiliate links, which means we may receive a commission if you purchase through our links. Please
read our full disclosure here
.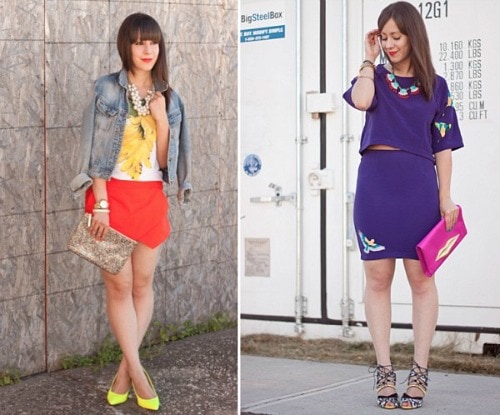 Photos courtesy of Vickie Laliotis
We've met fashion personalities from the U.K. and the Netherlands, and this week, we're interviewing one of our favorite bloggers from Canada, Adventures In Fashion's Vickie Laliotis!
Vickie knows a thing or two about how to kick your winter wardrobe into high gear, and you'll love her girly, preppy look. She's a total pro at finding the perfect accessories and you can count on a totally adorable DIY for good measure. Did we mention she was one of Forever 21's Global B-Style Off bloggers, too?
Read on to find out how Vickie gets ideas for her DIY posts, how she learned to stop comparing herself to other bloggers, and why she thinks YOU should start your own blog!

The Interview:
College Fashion: Tell us a little bit about yourself.
Vickie Laliotis: Hi everyone! My name is Vickie and I'm a journalist and fashion blogger from Canada. When I'm not working (or let's face it, shopping), I love drinking my weight in coffee, painting my nails every five minutes (only half kidding) and hanging out with loved ones. I also have a strong affinity for red lipstick, Instagram and all things '80s… There, now you know everything.
CF: How would you define your style?
VL: I always find this a hard question to answer, but if I had to summarize my style in a few words, it would have to be feminine and classic, but with an edge.
CF: How did you find your style?
VL: Through a lot of trial and error (emphasis on the error!) and experimentation. When I first started blogging, my style was all over the place because I was so heavily influenced by all the different bloggers I was reading at the time. The result was a completely inconsistent hodgepodge of looks that just weren't me. When I stopped comparing myself to others and just paid attention to what I liked and what suited me best, it finally came together for me.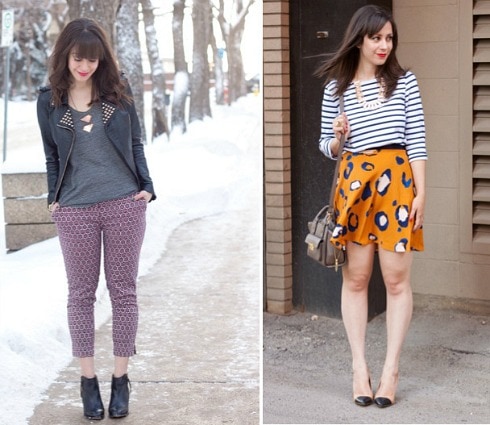 Photos courtesy of Vickie Laliotis
CF: What inspired you to start a style blog? What motivates you?
VL: When I started Adventures in Fashion in 2009, I was working in a job that didn't fulfill me creatively or allow for much experimentation in terms of fashion. I started blogging as a means of filling that void and connecting with like-minded people, and after just a few weeks I was seriously hooked.
So far it has been the single most fulfilling project I've ever worked on, and I'm always amazed by how many amazing connections and opportunities have come my way as a result of it. Blogging has truly changed my life in remarkable ways!
CF: Did you go to college? If so, where did you go and what did you study? What was your college experience like?
VL: Yes, I studied Anthropology and Art History at the University of Victoria before going on to do more schooling in Journalism. I've always loved school, so my college days were some of the best of my life. It's such an amazing time of personal growth and self-discovery, and I wouldn't trade my post-secondary experience for anything in the world.
My advice? Make the most of every opportunity that comes your way and savor every last minute of this time — it goes by so quickly!
CF: Where do you like to shop?
VL: I'm a big fan of shopping online, so you can generally find me creeping on Shopbop, Lulus.com, ASOS and ShoeMint on Saturday mornings (it's become a very dangerous weekend ritual). I'm also a big fan of Zara, J.Crew and H&M, as well as some amazing local and vintage shops in my city.
CF: What advice do you have for being stylish on a college budget?
VL: Looking good doesn't have to cost a ton of money — you just have to be strategic with what you buy. Invest in quality basics each season that will last, and save trend-hunting to affordable stores like Forever 21, H&M or Target. Vintage can be a great way to experiment with your personal style for very little money, and hosting clothing swaps with girlfriends is always a good way to extend your wardrobe on the cheap!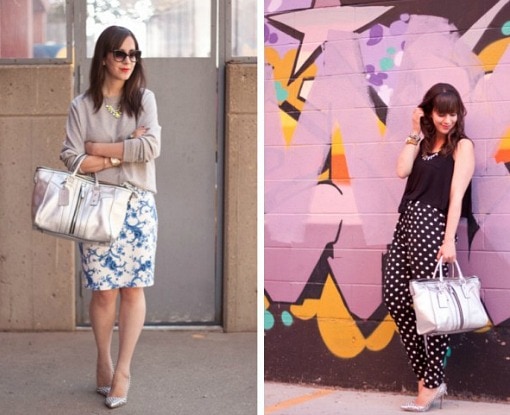 Photos courtesy of Vickie Laliotis
CF: What are your favorite pieces in your wardrobe?
VL: I can't live without my leather jacket, skinny jeans and oversized tote. I love to layer and mix things up, but these are definitely the building blocks of my wardrobe. Oh, and jewelry… Lots and lots of jewelry.
CF: Who/what inspires you?
VL: Everything inspires me, from old movies and books, to blogs and the incredible people you encounter in day-to-day life. I find that the more you start paying attention to the world around you, to more receptive you become to different ideas and sparks of inspiration.
I do a lot of DIYs on Adventures in Fashion, and it always amazes me how ideas randomly come to me when I'm out on a walk or people watching at a cafe… And when all else fails, there's always Pinterest!
CF: What advice do you have for new bloggers or college students starting a blog?
VL: Do it, do it, do it! I think everyone should have a blog because it can be such a fun, rewarding experience, just make sure you're doing it for the right reasons. When I started blogging it never occured to me that I could make money off Adventures in Fashion, let alone build a career, which, looking back, is probably what helped me develop my voice and grow my readership in an authentic way.
If you're not blogging simply because you love it, you'll grow tired of it and readers will grow tired of you (ouch). But if you start blogging on a subject you're passionate about and use your site as a platform to join a larger conversation, there's no limit in terms of content and inspiration. Do what you love and the rest will follow!
I also believe that college is a great time to start blogging, because running your own site can be an amazing tool for leveraging opportunities down the road. Blogging allows you to show professors and future employers alike that you have a diverse skill set (HTML anyone?), dedication, a strong voice and the ability to assemble and grow a community, which are all invaluable skills to have.
CF: What's writing a blog really like? Could you describe a typical day?
VL: Don't let appearances fool you — writing a fashion blog is hard work! A typical day consists of anything from emails, coding, researching, troubleshooting and accounting (not fun), to styling gigs, appearances and branded projects… And that's before any blog posts even get done! Nothing is ever really as it appears, and fashion blogging is certainly no exception, but if you love what you do, it never feels like work.
I hope you all find what you're passionate about in life, and best of luck in all that you do! xx
Your thoughts?
Does Vickie's story inspire you? What blogs do you read? Which industry insider do you want to hear from next? Tell me in the comments section!