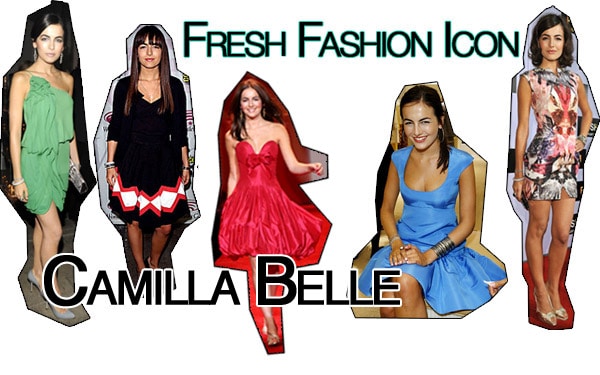 You may know her from movies like Push or 10,000 BC, but Camilla Belle isn't just another boring actress. This girl knows how to dress- and dress well! Whether she's rocking the red carpet in fashion-forward gowns, or walking the streets of LA in a cute cardigan, this week's Fresh Fashion Icon, Camilla Belle, always looks put-together and fashionable.
Want to know how to get style like Camilla's? Read on to get tips as well as outfit breakdowns.
Dressed to Impress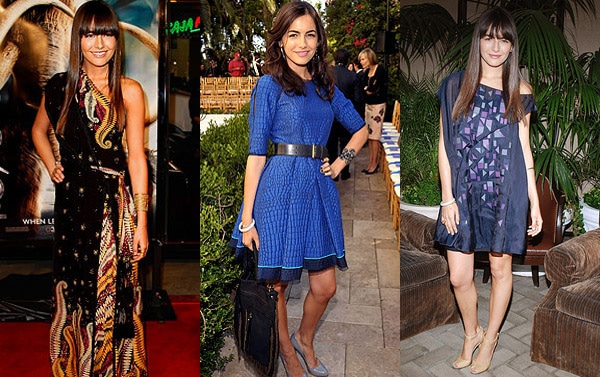 One thing I love about Camilla's style is her love of fun dresses. They're always fun, always flirty, and always adorable. She has a preppy style about her when she chooses her outfits, but somehow she also manages to keep things casual and almost bohemian. To see some cute day-dress outfits, scroll down and check out my casual dress outfit breakdown.
Casual Dress Outfit Breakdown
Outfit 1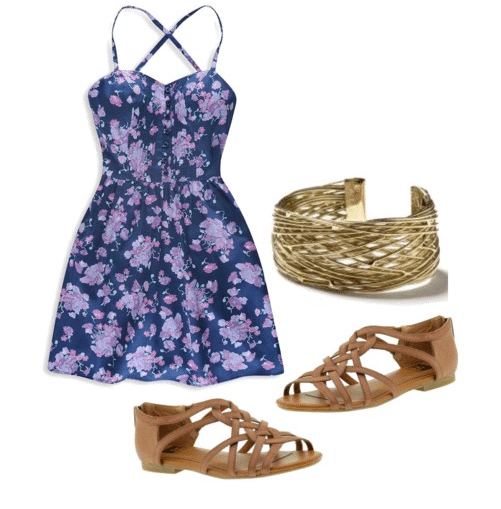 Camilla's day dress choices are very flirty and light. To channel them, I chose an adorable strappy dress in blue- a shade Camilla wears often. Then I chose a cool bangle with wirey details. Lastly, I found a pair of cute gladiator flats in a neutral shade of beige. This outfit is perfect for a jaunt around the park or for grabbing a cup of tea with grandma.
Outfit 2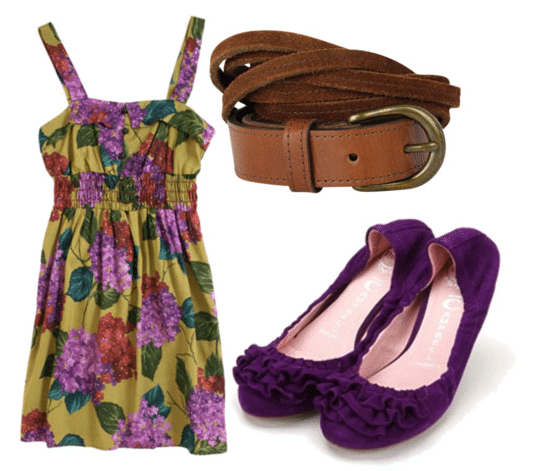 For my second outfit, I followed a similar formula: I chose another floral dress, but this time I paired it with a belt that should be wrapped around your waist. Slip on a pair of purple flats like the ones above and you're good to go. That's what's so great about dresses: 10 seconds and you're done.
Prepped to Go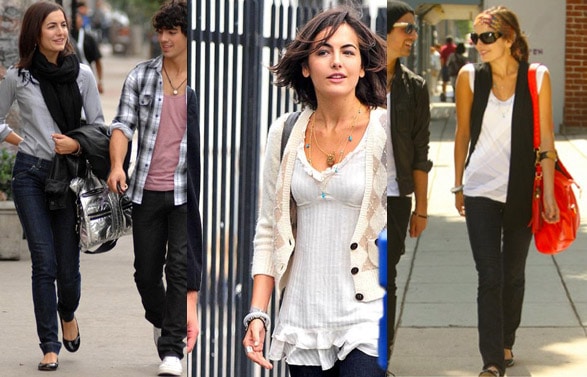 Camilla makes "preppy casual" look cute and effortless, and so can you. All you need are some wardrobe basics that you can throw on whenever you need them. To find out what those basics are, scroll down and check out my outfit breakdowns.
Casual Outfit Breakdown
Outfit 1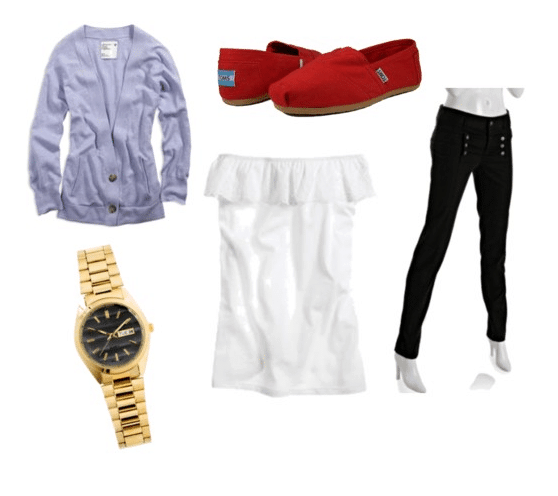 (Cardigan, Watch, Toms, Blouse, Jeans)
For my first outfit, I chose a cute white blouse. White blouses are an important staple for any casual outfit. White is a universally flattering color; it looks good on everyone and gives off a clean, put-together vibe.
Next, I chose a pair of black straight leg jeans. Black jeans, like blouses, will go with anything- making them another important wardrobe staple.
Throw a cardigan (another wardrobe staple) over your shoulders, and you will stay warm while looking cute. For shoes, I chose a pair of red Tom's because they're not only cute but comfortable as well- you can walk a long way in them without getting achy feet. And finally for that last touch of class, I chose a gold watch that gives off a flirty, "I stole this from my boyfriend" vibe.
Outfit 2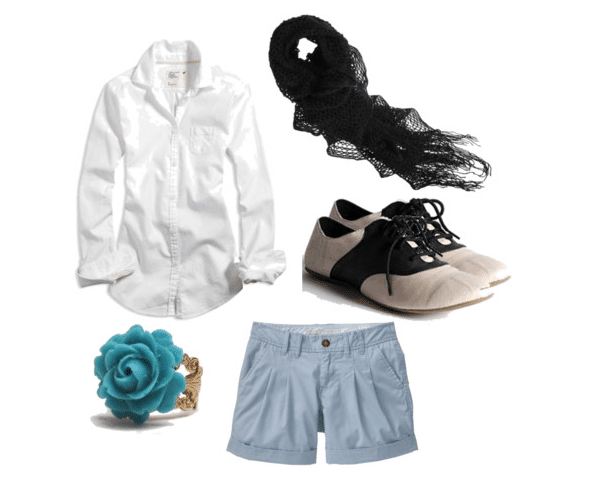 (Button-Up, Shoes, Ring, Scarf, Shorts)
For my second outfit, I chose another white blouse, but this time in a button-up form. Button ups are an important wardrobe staple, and every girl should have at least one. They show off your shape while still looking dressy and chic.
Tuck your shirt into a pair of pleated shorts like the ones I chose above and then slip your feet into a a pair of sneakers or saddle shoe flats. To keep you warm, I also chose a cute knitted scarf in black to add extra interest to the look. Lastly, because I love rings and Camilla loves accessories, I chose a cute blue floral ring to slip onto your finger as you lounge in style.
Red Carpet Ready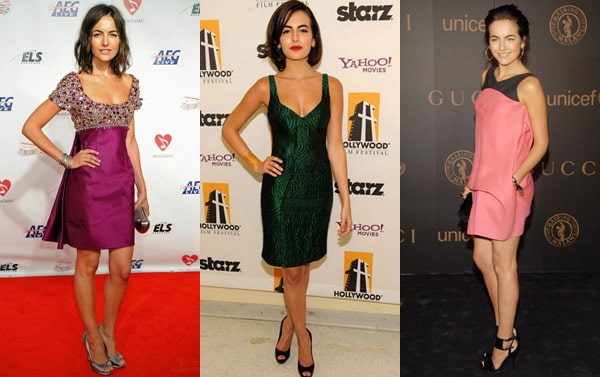 I have always admired Camilla's red carpet style. Whether she's wearing a ball gown or a cocktail dress, she always looks impeccably stylish, fashion forward, and chic.
This is because she sticks to what she knows she looks best in- be it a short dress that shows off her stems or a long gown emphasizing her toned arms. For this wardrobe breakdown, I will focus more on cocktail dresses as I don't know many college students who go to red carpet events often. Interested? Keep reading to see the outfits I chose that were inspired by Camilla's red carpet style.
Dressy Outfit Breakdown
Outfit 1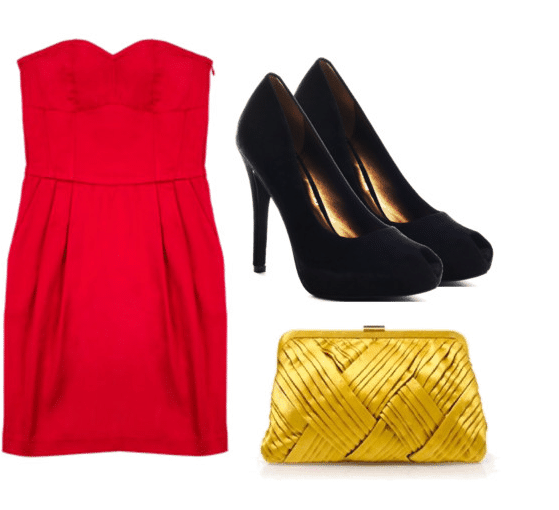 For the first outfit, I went all out, channeling Camilla's Old Hollywood vibe- a look she rocks on a regular basis. First, I chose an adorable red strapless dress. This body-con dress is a wardrobe staple, and is almost universally flattering – most people look great in a strapless number. Pair this dress with some black peep-toe pumps like the ones I chose above and a teeny clutch. Then all you'll have to do is blow your hair out, apply a sultry smokey eye, and voila: you're red carpet (or date night) ready.
Outfit 2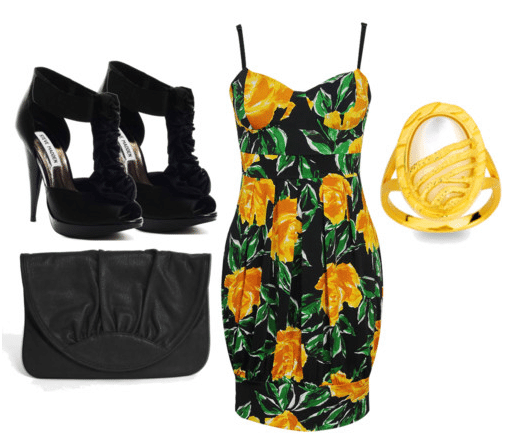 For my second outfit, I chose another floral dress, but this one is more dressed up than the daytime ones I featured earlier. Pair this dress with a statement cocktail ring like the one I chose above, then grab a simple black clutch to stow all your lovely items in. All that's left is to curl your hair, put on some red lipstick, and you'll have va-va-voom Hollywood Glamour down to a science.
Your Thoughts?
Camilla Belle has been one of my style icons since I first saw her in the Vera Wang Princess ads (Circa 2005?). What I love about her is she always looks glamorous and put-together without trying too hard, and is always appropriately dressed for the occasion. She's still an up-and-coming actress, but I know we will be seeing her more and more of her in the future.
What do you think of Camilla's style? Do you like the outfits I put together? Whatever your thoughts, let me know in the comments!