This post may contain affiliate links, which means we may receive a commission if you purchase through our links. Please
read our full disclosure here
.
Welcome to College Fashion's biweekly column, Fashionably Informed. As a CF reader, it's clear that you love fashion. But have you ever wondered about the drama that goes on behind the scenes? To keep you up to speed, this column aims to inform you about important issues and controversies in the fashion industry.
In case you missed them, see past posts on Retouching & Photoshopping, Tanning Promotion in the Media, Hypocrisy in Beauty Marketing, Racism in the Modeling Industry, "White-Washing" & Skin Lightening,Homosexuality in the Fashion Industry, and Cultural Appropriation & Stereotyping in Retail Fashion.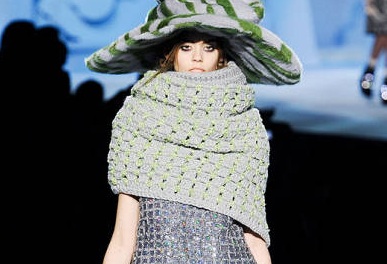 Marc Jacobs Fall 2012 runway show featuring 14-year-old model | Photo Credit
The life of a high-fashion model sounds glamorous and attractive: You get to wear designer clothing, travel the world, and – if you're lucky – have your face seen by millions. However, it's not all glitz and glam: You also have to work long hours, face intense criticism about your appearance, and cope with constant rejection. Most of the mega-popular models facing these challenges are about our age, between 17-21 years old.
However, over the past few years, it has become a widespread practice to use models even younger than this norm. Numerous designers, magazines, and modeling agencies are scouting and hiring girls who are under the age of 16, and as young as 14. While some designers and editors are casting these young models, others are worried about the use of such young girls in this industry.
A major concern regarding the use of underage models is their maturity level and ability to handle everything modeling entails. The modeling industry is filled with rejection and criticism, often relating to a model's weight and appearance. Many in the fashion industry have questioned whether a 14-year-old girl is ready for or should be subjected to that pressure.
Another concern regards the sexualization of these underage girls. In the high-fashion world, models are depicted wearing clothing designed for and sold to a much older customer. Oftentimes, these clothes – and their corresponding ads – can be very provocative.
These concerns, among others, have been used as arguments against hiring underage models. Some major designers and magazines have banned models under the age of 16 from their shows and editorials, while others maintain that models of all ages should be allowed. Below, we'll take a look at the events and history surrounding this fashion controversy.
First, Background Info on Child Labor Laws and Fashion Industry Initiatives
1. Child Labor Laws
Since we are talking about models who are under the age of 16, let's start with some background on federal child labor laws. The United States Department of Labor says the following about employment of minors:
The Fair Labor Standards Act (FLSA) sets 14 as the minimum age for most non-agricultural work. However, at any age, youth may deliver newspapers; perform in radio, television, movie, or theatrical productions; work in businesses owned by their parents (except in mining, manufacturing or hazardous jobs); and perform babysitting or perform minor chores around a private home. Also, at any age, youth may be employed as homeworkers to gather evergreens and make evergreen wreaths.
Along with this regulation, there are also laws about how many hours a child (15 and under) can work on a given day:
Youths between 14 and 15 years old may work outside school hours in various non-manufacturing, non-mining, non-hazardous jobs. They cannot work:

More than 3 hours a day on school days, including Fridays;
More than 18 hours per week in school weeks;
More than 8 hours a day on non-school days;
More than 40 hours per week when school is not in session.
Although regulations regarding models 15 and under vary from country to country, we are spotlighting the United States Department of Labor's regulations because most of the incidents we will be discussing involve American designers, agencies, and magazines. As you can see it is legal to use underage models, however, there are many regulations that need to be followed.
2. Health Initiatives
Over the last few years, leaders in the fashion industry have created "Health Initiatives" to prevent the exploitation of models. These initiatives provide guidelines and best practices for fashion designers, photographers, and magazines utilizing models.
Five years ago, the Council of Fashion Designers of America (CFDA), formed their health initiative. While most of this initiative is devoted to the physical health of models and the possible threat of eating disorders, anage guideline was also included. The CFDA has asked designers to do the following:
Support the well-being of younger individuals by not hiring models under the age of sixteen for runway shows; not allowing models under the age of eighteen to work past midnight at fittings or shoots; and providing regular breaks and rest.
Each season following the creation of this initiative, CFDA President Diane von Furstenberg and CEO Steven Kolb have sent out a letter encouraging those involved in the fashion industry to continue following the initiative's guidelines. In the letter sent out before the start of this Fall's fashion week (Spring 2013), Furstenberg and Kolb continued to stress in the importance of hiring models over 16, saying,
We applaud all of the top modeling agencies who have once again pledged to not send models under 16 for shows. We are excited to share that many leading casting agents are publicly aligned with our mission and have pledged to check IDs.
Following in the CFDA's footsteps, Vogue created their own health initiative in June 2012. Editor-in-Chief, Anna Wintour, stated in her letter from the editor that,
The eighteen other international Vogue editors and I cosigned a letter that furthers the CFDA's amazing work by launching a worldwide health initiative…
Like the CFDA, Vogue's health initiative included regulations on the age of models. According to The New York Times, Vogue's initiative include the following in their "six-point pact,"
1. We will not knowingly work with models under the age of 16 or who appear to have an eating disorder. We will work with models who, in our view, are healthy and help to promote a healthy body image.

2. We will ask agents not to knowingly send us underage girls and casting directors to check IDs when casting shoots, shows and campaigns.
Now that we have some background on the laws and initiatives involved in regulating the use of under-age models, let's talk about some examples of the controversial use of under-age models in runway shows and magazine editorials.
Marc Jacobs Fall 2012 Ready-to-Wear Runway Show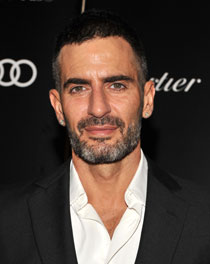 Marc Jacobs | Photo Credit
During Fall 2012 fashion week in New York, Marc Jacobs' runway show came under fire for including two models under the age of 15. The New York Times reported that the top fashion designer "knowingly hired two, Thairine Garcia and Ondria Hardin (shown in first picture), believed to be 14 or 15."
By featuring Garcia and Hardin, the Times stated, Jacobs did not follow the the age-limit recommendations of the CFDA. However, the designer has been a member of the CFDA 's Board of Directors since October 2011, according The Cut.
In response to the incident, Marc Jacobs told the Times,
I do the show the way I think it should be, and not the way somebody tells me it should be. If their parents are willing to let them do a show, I don't see any reason that it should be me who tells them that they can't.
The Times continued their report on the situation, saying,
The fashion council, of which Mr. Jacobs is a board member, did not fault him, responding that it is up to the designers to decide whether to follow its guidelines. Mr. Jacobs argued that there are child actors and child models for catalogs, so he did not see an issue here.
French Vogue Editorial Spread
French Vogue became part of this controversy when they featured an editorial spread in which the models were all children.Jezebel describes the pictures, saying,
The subjects are obviously children, but they're covered in makeup and styled in sexy dresses and too-big high heels. The girls' very adult poses preclude any reading of this editorial as a light-hearted riff on little girls playing dress-up.
Many blogs and news outlets accused the magazine of sexualizing the young models. When reporting on the incident, a writer at Feministing said,
This isn't edgy. It's inappropriate, and creepy, and I never want to see a nine-year-old girl in high-heeled leopard print bedroom slippers ever again.
However, other reporters viewed the spread differently. Jezebel viewed the spread as a parody:
But it's also obvious from the over-the-top styling and the overall lurid quality that this story is a parody and a critique of the fashion industry's unhealthy interest in young girls, not an endorsement or a glamorization of it.
Jezebel provided a quote from modeling agent, Elmer Olsen, who explained the fashion industry use of young models. She said,
"Once a girl has had her 20th or 21st birthday, she's usually very set in her ways. She has a style already, she has a boyfriend, she doesn't want to get braces on her teeth, she knows best. It's much, much easier to groom a younger girl. Sixteen is the perfect age to get a girl started, because she's more confident than a 14-year-old; she's just turning into a young woman. But 14 is great, too, because if I don't sign a 14-year-old one of my competitors is going to."
Vogue implemented the health initiative about a year after this editorial was featured.
Diane von Furstenberg's Violation of CFDA Health Initiative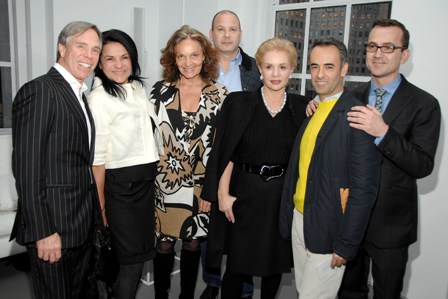 Tommy Hilfiger, Candy Pratts Price, Diane Von Furtsenberg, Reed Krakoff, Carolina Herrera, Francisco Costa, and Steven Kolb, at CFDA nominations annoucement | Photo Credit
Despite her role as President of the CFDA, Diane Von Furtsenberg became part of this controversy when it was discovered that one of models that walked her Fall 2012 runway show was 15, which violated the guidelines of the CFDA health initiative.
However, according to Women's Wear Daily (WWD) and DVF herself, the model's inclusion in the show was an accident. WWD reported that Furtsenberg sent a letter to the othe CFDA member when she found out about the violation, which said,
As you remember, I sent you all a letter prior to the shows, emphasizing healthy models and diversity, and reminding you of our Health Guidelines. One of the guidelines, as you know, is not to hire models under 16 in addition to making sure that all of them are properly fed. Well, it is to my horror, that I discovered last Friday that in spite of me repeating that to my production and casting people, one girl slipped through the cracks. One girl who will be 16 in March walked my show last week!

I was horrified and terribly embarrassed. From now on I will instruct my casting people to demand IDs. I encourage you to do the same. I am trying to be a good leader and set an example…so please please accept my apology.
Vogue's Violation of their Health Initiative
The CFDA is not the only organization to violate their own Health Initiative. Last month, the media reported that Vogue China and Vogue Japan had broken Vogue's guideline regarding underage models.
The Cut reported that the two international magazines had cast Ondria Hardin (15) and Thairine Garcia (14). These are the same models that Marc Jacobs controversially used in his Fall 2012 show.
In response to the controversy, Vogue released a full statement on their website. They called the use of the underage model in Vogue China a "mistake" and said "the article was prepared before the Health Initiative ws announced, and editors failed to catch the slip-up."
According to Vogue, the shoot featuring a underage model cast by Vogue Japan had not been printed. They stated,
Conde Nast International officials clarify that an advertising promotion shoot had taken place but was pulled from the magazine because of the model's age and will not appear.
Both editors of Vogue China and Japan apologized in the statement.
Along with their apologies, Vogue re-established their Health initiative and created stricter guidelines. The statement says,
The Vogues around the world are strengthening steps to ban the use of underage models in the magazine as part of their Vogue Health Initiative which was announced in the pages of the fashion Bible in last June's issue.

All model agencies will be asked to provide documentary proof of the ages of models who are not well known, or they will not appear in the magazine.
What do you think?
Do you think girls under 16 should be allowed to walk the runways or be featured in high fashion editorials? Are girls this young prepared to handle the challenges of the modeling industry? Who should regulate the age limits for models: the agency, designer, editors, or themselves? Tell us your thoughts by leaving a comment.