This post may contain affiliate links, which means we may receive a commission if you purchase through our links. Please
read our full disclosure here
.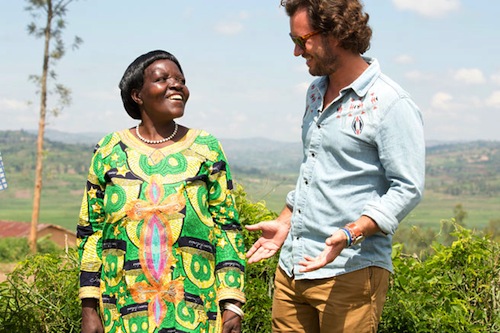 Source: ELLE
For many college students, TOMS shoes are a wardrobe essential. We here at College Fashion are no strangers to these comfy-chic shoes, either! But what about the "buy one, give one model" (BOGO) that's garnered the company so much praise? Is it really as good as it's made out to be?
Read on to learn about more this popular business model, and to discover its positive aspects, as well as its faults.
The Buy One, Give One Model
The premise of the buy one, give one model is this: when a consumer purchases an item, a similar item is donated to another person in need. Though TOMS is widely associated with popularizing the model, they're not the only company that uses it. With the rise of socially conscious consumers, more and more companies are using similar models in order to improve their sales.
In fact, a recent study found that 85% of consumers feel more positively about buying from companies that support a cause they care about. As a result, the BOGO model is used in companies selling everything from solar panels to soccer balls!
These programs are great in theory and have honorable goals. But do they truly help?
Harmful or Helpful?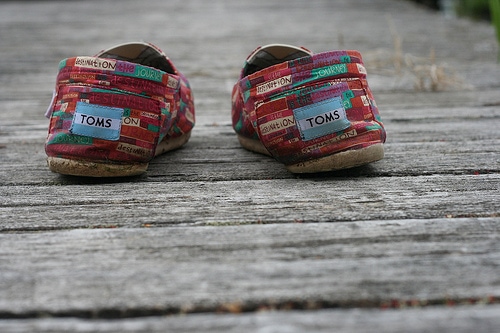 Source: Flickr
Since 2006, TOMS has given more than 2 million pairs of shoes to children living in poverty in over 51 countries. But what this model fails to do, as many critics have pointed out, is alleviate the causes of poverty, namely widespread unemployment.
Instead of creating jobs, BOGO models may actually harm communities in the long run by "pricing out" local entrepreneurs. For example, a recent study found that used-clothing donations in Africa contributed to a 50% fall in employment in the garment sector between 1981-2000. Similarly, the influx of food aid to Haiti immediately after the 2010 earthquake significantly harmed rice-farmers' livelihood.
Another issue with the BOGO model is the often imperfect implementation methods. TOMS actually does a good job of avoiding this error by working with people in the targeted communities to evaluate demographics and needs before donating shoes. Unfortunately, this is not always the case with companies using the BOGO model, and as a result, many companies may end up donating unnecessary or impractical goods.
Without working with their target communities, many programs are also oblivious to cultural barriers. For example, some programs that distribute shoes began handing out those shoes in schools. Yet the most impoverished children (and the ones most in need of footwear) were the least likely to attend school. It is crucial that such programs are attuned to the needs and cultural specificities of target communities.
Positive Alternatives
Of course, that's not to say the BOGO model is completely without merit!
Warby Parker, an eyewear company that also uses the buy one, give one model, offers some positive improvements. Rather than donating glasses directly to those in need, they partner with a local nonprofit in target communities that then trains low-income entrepreneurs to start their own eyeglasses businesses using the donated glasses. Thus, Warby Parker's model creates employment while also providing a much needed good.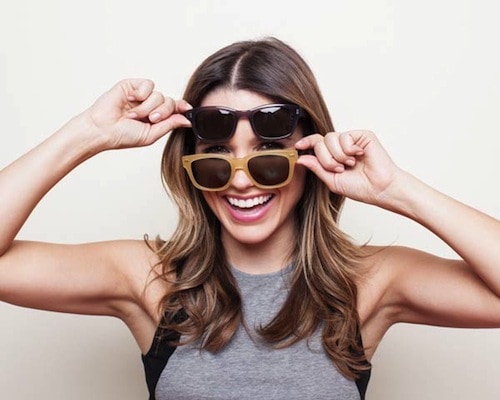 Sophia Bush for Warby Parker | Source: ELLE
Other positive improvements to the BOGO model include producing the donated goods in the countries where they'll be distributed. Not only does this create employment opportunities and reduce production costs, but, since it avoids the carbon expenditures used to ship goods, it is also a more environmentally sustainable model by avoiding
TOMS has also begun making improvements to their model in response to criticism and founder Blake Mycoskie has been very forthcoming in admitting his company's faults. As of this year, though, TOMS has begun producing shoes in Haiti, Ethiopia, and Argentina, with plans to manufacture one third of all its shoes in the countries where they're distributed by 2015.
What You Can Do:
Buying from companies like TOMS is still a great way to give back, but next time you want to be a philanthropic shopper, consider buying from a company that sources labor directly from the communities they are trying to help. You could even buy goods directly from the community!
The ASOS Africa collection, for example, partners with Kenyan non-profit SOKO to provide safe and fair employment for women.Alternative Apparel is another company that provides a number of ethical clothing options. In particular, their Made in Peru collection partners with local Peruvian artisans to create one of a kind items. (Bonus: all of the materials are organic and ethically sourced!)
Also, keep an eye out for the next installment of Fashionably Informed, where I'll recommend some more ethical companies.
What Do You Think?
Does a companies social consciousness contribute to your decision to buy from them or not? Have you purchased buy one give one goods before? Is it the right model for social entrepreneurs and fashionistas with a conscious? Let us know what you think in the comments below!