This post may contain affiliate links, which means we may receive a commission if you purchase through our links. Please
read our full disclosure here
.
Welcome to College Fashion's new biweekly column, Fashionably Informed. As a CF reader, it's clear that you love fashion. But have you ever wondered about the drama that goes on behind the scenes? To keep you up to speed, this column aims to inform you about important issues and controversies in the fashion industry.
(In case you missed it, see the first post on retouching and Photoshopping.)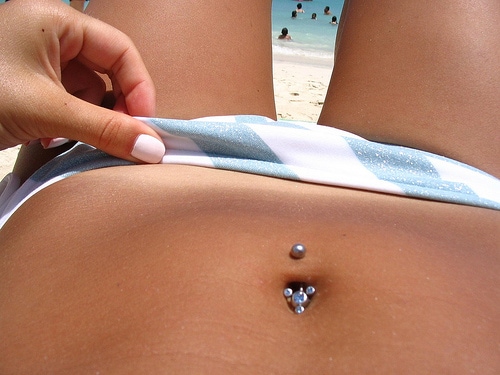 Over the last few months, tanning has been a hot topic in the news. It seems as if every news outlet, from Good Morning America to MSNBC, has reported on the dangers of tanning at least once. We continuely hear about the health risks involved with laying out in the sun or using a tanning bed, and now we're even hearing about the dangers of spray tanning.
Although many women covet that ultra-bronzed look, for most, the health risks required to achieve it are overwhelming. Despite the dangers of tanning, the fashion industry and media seem to be pressuring consumers to achieve that golden hue, no matter the price.
My Personal Experience with Tanning
I know the risks of tanning first-hand. For the past three summers, I have worked as a lifeguard and swim instructor at my city's local pool. My job requires me to spend 5-8 hours daily in direct sunlight. So much time in the sun has left my skin very tan… even though I cover myself in sunblock. Even in the dead of winter, my tan lines are still very visible.
The amount of sun I'm exposed to requires me to be very careful. I always make sure to apply sunscreen every two hours, wear a hat, and use a rash guard. But, there is only so much I can do to prevent sun damage and disease. I have to be extremely cautious about any new mole or sunspot that pops up on my skin, and I will have to remain vigilant for the rest of my life. I know that this summer job has greatly increased my chances of getting skin cancer. Teaching children how to swim and keeping others safe is incredibly rewarding… but I know that it comes at a price.
Given my personal experience with the risks of tanning and sun exposure, I find it incredibly difficult to understand why some retailers and magazines are promoting an overly tanned image.
The Controversy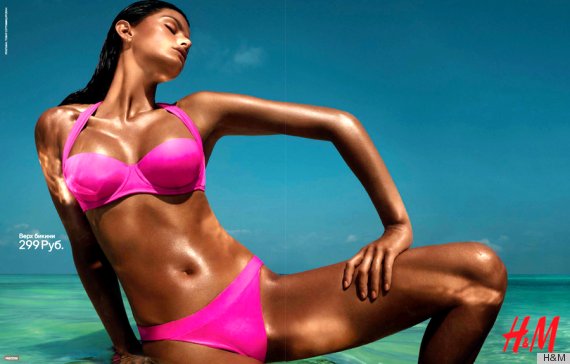 H&M's controversial Summer 2012 swimwear ad | Photo Credit
With tanning being such a hot topic in the news, it is no suprise that numerous news sites and blogs went wild when H&M introduced their Summer 2012 swimwear advertising campaign. This campaign included the expected summer ad cliches: sunshine, a beautiful turquoise ocean, and a thin model sporting a bright bikini. However, this ad included something extra… an extreme tan.
The deep brown color of Isabeli Fontana's skin caused many to accuse the "fast-fashion" retailer of promoting unhealthy behavior. As The Daily Mail and Jezebel pointed out, Fontana's natural skin tone is much lighter than the one she's sporting in the photo (see below), which has lead some to wonder how her dark complexion was achieved. Whether it was created by spray tan, tanning bed, Photoshop (my money is on this one), or lying out in the sun for weeks on end, it is hard to deny that Fontana's skintone is unnatural. The problem is that for those of us without Photoshop, getting a deep tan similar to this one can only be done using extremely risky means.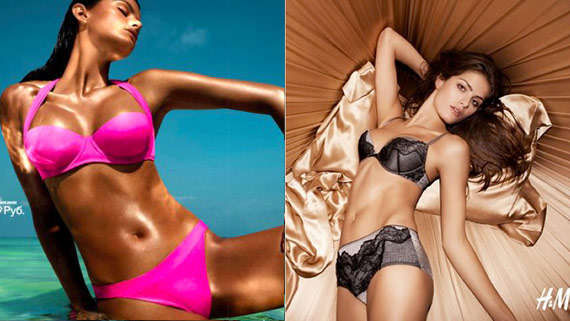 Isabeli Fontana's natural skin color (right) compared with her H&M ad | Photo Credit
According to Daily Mail, the major concern in this controversy is the potential for women to try to mimic Fontana's tan. Dr. Ralph Braun stated,
"Many people, especially the young, will try to emulate this and will try to be just as brown, although with some skin types this is just not possible."
Sadly, Dr. Braun is right. Despite being informed about the dangers of tanning, many girls and young women are still choosing to tan. H&M is not helping by using images that promote unhealthy tanning behaviors.
The Aftermath
Due to the outraged response from consumers, H&M issued a public apology. According to The Daily Star, the apology stated,
"We are sorry if we have upset anyone with our latest swimwear campaign. It was not our intention to show off a specific ideal or to encourage dangerous behavior, but was instead to show off our latest summer collection. We have taken note of the views and will continue to discuss this internally ahead of future campaigns."
Although it is great that H&M has apologized and recognized their influence on consumers, some have questioned their reasoning for showcasing the summer collection in this way. Jezebel writer, Jenna Sauers made an important observation, writing,
"Note to H&M: if you like the way your swimsuit colors 'pop' against darker skin tones, these days they have models who naturally have those skin tones. At nearly all of the major agencies! Maybe hire them?"
Sauers's "note to H&M" makes an important point. Although Fontana is Brazilian, her skintone is much lighter than those of many other Latina models. H&M's choice to darken Fontana is particularly upsetting because models with naturally darker complexions are often ignored in the fashion world.
In this case, H&M could have easily avoided the controversy by hiring a naturally darker model, perhaps a Hispanic or African American woman whose skin tone would make the bright swimsuits "pop" just as well as a fake tanned model without promoting dangerous habits.
Overall, this controversy reminds us of an important principle of body-positive, honest advertising and reporting: the natural skin tone of every person should be appreciated and left untouched, whether it be ivory, beige, olive, or ebony… but that's another issue for another post.
What do you think?
Do you think H&M's campaign has a dangerous effect on women? What is your opinion on tanning and the media's treatment of it? How do you protect yourself from the sun? Tell us your thoughts by leaving a comment.