Welcome to College Fashion's biweekly column, Fashionably Informed. As a CF reader, it's clear that you love fashion. But have you ever wondered about the drama that goes on behind the scenes? To keep you up to speed, this column aims to inform you about important issues and controversies in the fashion industry.
In case you missed them, see past posts on Retouching & Photoshopping, Tanning Promotion in the Media, Hypocrisy in Beauty Marketing, Racism in the Modeling Industry, and "White-Washing" & Skin Lightening.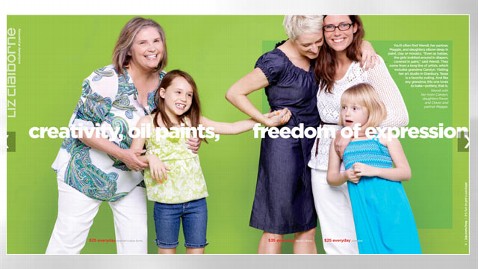 JCPenney's Mother's Day advertisement | Photo Credit
For today's post, we are going to take a break from our series on racial issues in fashion. Our past two articles prompted spirited discussion in our comments section, and today, we are going to cover another topic that is just as controversial.
Homosexuality has been a hot-button issue in America for some time now, and the gay marriage debate, plus TV programs like "The New Normal" and "Modern Family," have only intensified the discussion. The fashion industry has provided more fodder for the debate, most recently through the release of controversial retail advertisements.
The Fashion Advertisement Controversy
So what's the controversy all about? In short, some fashion retailers have started including same-sex couples in their advertisements, which has outraged some opponents of homosexuality.
As we will explain below, some anti-gay organizations and individuals believe that the portrayal of same-sex couples and gay and lesbian individuals in magazines, catalogues, and advertisements is wrong. However, most of the companies that released the ads have not backed down, despite the threat of boycotts, and have continued to portray homosexuality in their advertisements.
Below, we'll explore the history of the advertisement controversy and name a few of the ads at issue.
JCPenney vs. One Million Moms
Earlier this year, JCPenney announced that Ellen DeGeneres would be their newest spokesperson.
In spite of Ellen's countless fans that watch her wildly successful talk show and support her other projects, the announcement of her new role was met with opposition. The problem? Ellen's sexual orientation. As you may know, Ellen is openly gay. She came out as a lesbian in 1997, and recently celebrated her 4th anniversary with her wife, Portia de Rossi.
Among those opposed to Ellen's appointment was an organization called One Million Moms (OMM), who called for JCPenney to remove Ellen as their spokeswoman. On their website, OMM describes themselves as an organization dedicated to protecting children from "the immorality, violence, vulgarity and profanity the entertainment media is throwing at [them]." Their response to JCPenney implies that they believe homosexuality is among those things.
According to the Huffington Post, OMM released the following statement in an "Action Alert" after JCPenney's and Ellen's partnership was announced:
Funny that JC Penney thinks hiring an open homosexual spokesperson will help their business when most of their customers are traditional families. DeGeneres is not a true representation of the type of families that shop at their store. The majority of JC Penney shoppers will be offended and choose to no longer shop there. The small percentage of customers they are attempting to satisfy will not offset their loss in sales.
Following this statement, One Million Moms called for a boycott of JCPenney storesif Ellen continued to act as spokeswoman. However, JCPenney stood behind their choice.
OMM soon ended their push for a boycott of JCPenney stores. In a follow-up article, the Huffington Post stated,
Monica Cole, director of the "pro-family advocacy" group which threatened a JCPenney boycott after the retail chain appointed DeGeneres as its spokesperson, now tells OneNewsNow that members are backing down and have decided to move on to other issues.
How did Ellen DeGeneres respond to this controversy? Check the clip below to see:
JCPenney vs. One Million Moms: Round 2
The controversy between JCPenney and One Million Moms did not end here. After their announcement of their partnership with Ellen, JCPenney began featuring "non-traditional" families in their catalogues. These "non-traditional" families included same-sex couples and their children. These families were photographed for JCPenney's Mother's and Father's Day catalogues.
The Mother's Day advertisement (pictured top) featured two lesbian mothers, their two daughters, and the girls' grandma. The mothers are pictured in a loving embrace with one of their daughters while grandma holds the other daughter. According to Buzzfeed, the text in the corner reads as follows:
You'll often find Wendi, her partner, Maggie, and daughters elbow-deep in paint, clay or mosaics. "Even as babies, the girls toddled around in diapers, covered in paint," said Wendi. They come from a long line of artists, which includes grandma Carolyn. Visiting her art studio in Granbury, Texas is a favorite outing. And like any grandma, this one loves to bake — pottery, that is.
After this advertisement was released, One Million Moms resumed their campaign against JCPenney.The Huffington Post reported that OMM released the following "call to action" on their website:
OMM has so many issues to cover we had no choice but to move on earlier in the year but have decided to revisit this issue and speak out again. It is obvious that JCP would rather take sides than remain neutral. JCP will hear from the other side so they need to hear from us as well.
One Million Moms requested that JCP remain "neutral" by not featuring same-sex couples or homosexuals in their marketing campaigns. However, JCPenney's Father's Day catalog made it clear that they would continue to support the LGBT community:
For their Father's Day catalogue, JCPenney used another "non-traditional" family. This time, they featured two fathers with their two young children (pictured below). As with the Mother's Day advertisement, there is a small caption that, according to Think Progress, reads:
First Pals: What makes Dad so cool? He's the swim coach, tent maker, best friend, bike fixer and hug giver — all rolled into one. Or two.
JCPenney also included a caption that reveals that the photo depicts a real family, not hired models.
JCP's Father's Day advertisement featuring two fathers | Photo Credit
This advertisement, of course, created greater tension between JCPenney and One Million Moms. OMM responded with this "Action Alert" on their website. Part of their message says the following:
It is obvious that JCP would rather take sides than remain neutral in the culture war. JCP will hear from the other side so they need to hear from us as well. Our persistence will pay off! One day we will answer for our actions or lack of them. We must remain diligent and stand up for Biblical values and truth. Scripture says multiple times that homosexuality is wrong, and God will not tolerate this sinful nature.
At the end, OMM asks its supporters to take several steps to send JCPenney a message: return any JCPenney catalogues they receive, unsuscribe from their JCP mailer, call or go to their local store and voice their concerns, and cancel their JCP credit card.
While JCPenney's advertisements are among the most recent controversies of this type, other companies have portrayed homosexuality in their ads. Like JCP, their marketing campaigns, too, were met with opposition.
Macy's Wedding Cake Ad
Before JCPenney featured same-sex couples in their catalogues, Macy's caused similar outrage when they promoted gay marriage in an advertisement for their wedding registry (pictured below). In their advertisement, Macy's depicted a car full of wedding items including a cake. This cake featured a topper with two grooms instead of a bride and groom.
Macy's advertisement featuring same-sex wedding cake topper | Photo Credit
According to The Advocate, there is evidence that Macy's has been in support of the LBGT community for some time now. In 2008, Macy's ran an advertisement that celebrated California's brief legalization of same-sex marriage. The Advocate describes the Macy's support further, saying,
As conservative groups like the Moms encourage a Macy's boycott, LGBT buyers have encouraged support of the company, which gets a 100% HRC rating, has an active LGBT employee group, and celebrates June's LGBT Pride month with their Pride + Joy campaign, which features everything from in-store events and gay tribute windows to ad support, gift registry booths at Pride, and thousands of employees marching in parades.
Macy's support for homosexuality is apparent, which has upset groups like One Million Moms. As in the case of JCP, OMM posted an "Action Alert" on their website in response to the ad, which urged readers to voice their concerns to Macy's.
Ray-Ban, Gap, and Levi's
Department stores are not the only companies in the fashion industry portraying homosexuality. Brands like Ray-Ban, Gap, and Levi's are using same-sex couples in their marketing campaigns, too.
According to Gawker, Levi's shows active support for the LGBT community in many aspects of their marketing campaigns. Levi's even has two commercials featuring gay and lesbian couples.
Ray-Ban also showed their support with their "Never Hide" campaign. The Huffington Post reported that the campaign was "a salute to people from various eras who have flouted conventions in plain sight."
Gap is another brand that has portrayed homosexual couples in their ads. However, Gap didn't use the pages of a magazine to spread their message. Instead, they choose to feature a same-sex couple on their "Be One" billboard in Downtown LA. As in the case of Macy's and JCP, One Million Moms was quick to respond to this advertisement. In another "Action Alert," OMM said the following:
Please send your email to GAP now and let them know you are offended by their disrespect for family values and common decency.
Last Thoughts
This much is true: Companies are increasingly moving towards portraying homosexuality in their ads. And some people clearly feel that this portrayal is offensive and goes against their values.
When evaluating this issue, it may be easy to write it off as a simple matter of marketing strategy. However, we must remember that this issue affects real people, not just companies' stocks and bottom lines. On one hand, some Americans believe homosexuality is offensive and feel uncomfortable seeing images of homosexuals. On the other hand, millions of people in the LBGT community are already fighting to gain the same rights as everyone else – now, it seems, they must also fight for the right to be seen.
What do you think?
Do you think fashion retailers and brands should "remain neutral" or openly demonstrate their support for the LGBT community? What effect do you think these ads will have on their audience? Do you think advertisements portraying homosexuality will become more common with time? Do think it is fair to ask companies to exclude people from their marketing campaigns based on their lifestyle choices? Tell us you thoughts by leaving a comment.