This post may contain affiliate links, which means we may receive a commission if you purchase through our links. Please
read our full disclosure here
.
Welcome to College Fashion's biweekly column, Fashionably Informed. As a CF reader, it's clear that you love fashion. But have you ever wondered about the drama that goes on behind the scenes? To keep you up to speed, this column aims to inform you about important issues and controversies in the fashion industry.
In case you missed them, see past posts on Retouching & Photoshopping, Tanning Promotion in the Media, Hypocrisy in Beauty Marketing, Racism in Modeling, "White-Washing" & Skin Lightening, Homosexuality in Fashion, Cultural Appropriation & Stereotyping, Underage Models, Offensive Halloween Costumes, and Labor Exploitation.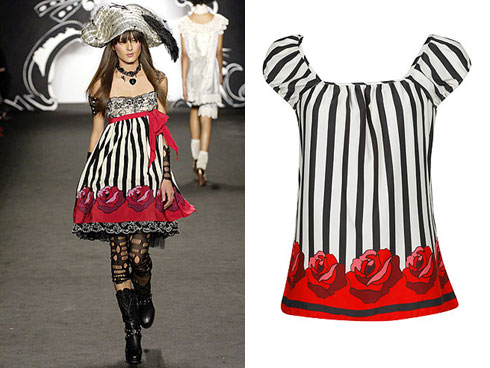 Anna Sui Dress (Ready-to-Wear Spring 2007) compared to Forever 21 Top | Photo Credit
Last time, we discussed fast-fashion retailers accused of violating labor laws. Along similar lines, but in a different legal vein, many fast-fashion stores have also been accused of copying designer items.
Over the past few years, numerous high-end designers including DVF, Anna Sui, and Proenza Schouler have accused retailers like Forever 21, Target, H&M, and others of copying their designs. Smaller fashion houses like 3.1 Phillip Lim and many independent designers have raised similar complaints.
Legal Protections for Fashion Designs in the US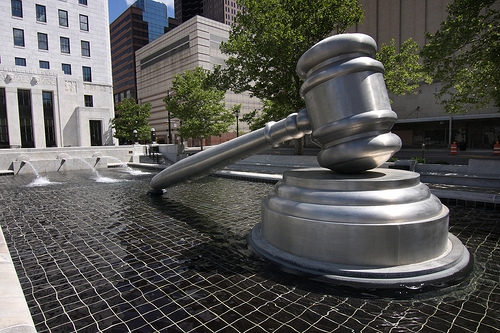 As you may know, copyright protection is a murky issue for US designers, and over the years, there have been many attempts to enact legislation to protect fashion designs.
Currently, no laws exist that explicitly protect a fashion design from copying, which makes it easy for brands to create knockoffs. There are, however, someelements of fashion designs that are protected under intellectual property laws, which designers like DVF are using to win their suits.
Protections Available for Elements of a Fashion Design
If a designer wants to sue a brand for knocking off its items, the Business Law Post explains that there are a few protections they can cite:
US Copyright law "provides a limited exception for certain elements of a useful article, which are physically separable from the article itself (such as images that appear on the front of T-shirts, distinctive fabric designs, features of buckles)."
Trademark protection is available for "logos, symbols on fashion items, and names (for example, Louis Vuitton's "LV" monogram or Lacoste's alligator logo)." However, if a store only copies the design of an item, and not the designer's logo, this protection does not apply.
Trade dress law "protects the product's overall look and feel." However, as the Business Law Post explains, "in Wal-Mart Stores, Inc. v. Samara Brothers, Inc., 529 U.S. 205 (2000), the Court held that the trade dress protection is only available to those who can prove that the clothing design 'has acquired distinctiveness by the consuming public or has developed secondary meaning', – in other words, that an average consumer would identify the designer just by looking at particular fashion design of the clothes." As you can guess, this is extremely difficult for a designer to prove.
Patent law can theoretically grant design patents for fashion items. However, "the designs have to be 'novel' and 'non-obvious'" – i.e. the design must be truly original and not something the average fashion designer would think of. The Business Law Post also explains that "the expense of patent prosecution and the time delays involved in the patent review process often make this an unlikely choice."
As you can see, unless a store copies a fabric design, or uses a designer's logo or name, the designer does not, legally, have much to go on. However, many designers are hoping a new piece of legislation will change that…
The Innovative Design Protection Act of 2012
Over the past few years, a bill aimed at protecting fashion designs has been making its rounds in the senate. The Innovative Design Protection Act of 2012 (formerly called the Innovative Design Piracy Protection Act) aims to do the following:
S. 3523 would provide protection similar to a copyright, lasting for three years, for original fashion designs. Those protections would allow the owner of a protected design to make (or import) and sell any useful article embodying the design.
The requirement of "original fashion designs" dictates which designs are protected under the law. Fashion Week Daily explains:
Under the IDPPA, for example, a strapless black gown worn by a celebrity on the red carpet would not be entitled to protection, but something like a Chanel faux fur boot with a lucite, ice-shaped heel would be considered sufficiently new, unique, and original.
As of the date of this article's publication, the bill is still awaiting a senate vote.
Copycat Controversies: Forever 21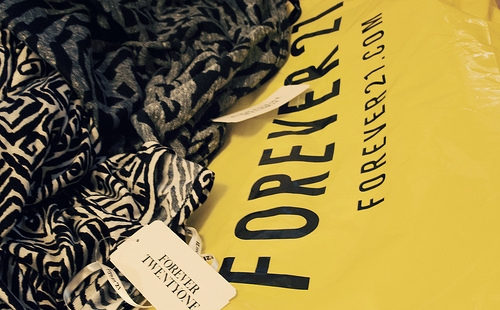 Forever 21 is known for selling trendy items at affordable prices, however it's also known for being frequently accused of selling knockoffs. According to Jezebel, Forever 21 has settled more than 50 lawsuits in which they were accused of violating intellectual property laws.
Anna Sui vs. Forever 21
In 2007, fashion designer Anna Sui filed a lawsuit against Forever 21 for violating copyright laws by stealing her intellectual property. In their investigation of Forever 21, Jezebel claimed that the retailer copied Anna Sui's designs more than 20 times before she brought the issue to court.
If you scroll up to the top of this post, you can see a comparison between an Anna Sui dress and a Forever 21 top. It's hard to deny that the two have a strikingly similar print.
Though the case did not proceed to trial, Jezebel states that Anna Sui won a settlement from the fast-fashion retailer. However, the designer did not settle the matter quietly. She used her unique position as famous fashion designer to publicly accuse Forever 21 of theft.
According to Counterfeit Chic, Anna Sui gave a special gift to guests at her Spring 2008 fashion show:
[attendees] received parchment-colored T-shirts with "Wanted" posters depicting Forever 21 founders Don and Jin Chang, a.k.a. "Don Cassidy and the Sundance Jin."
In the lower portion of the "Wanted" poster, the designer played off Forever 21's religious foundation, with a quote from Exodus saying "Thou Shalt Not Steal."
Diane von Furstenberg vs. Forever 21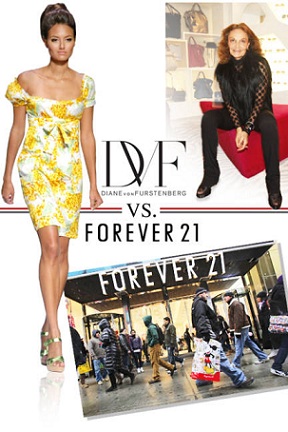 Diane von Furstenberg vs. Forever 21 | Photo Credit
The same year as the Anna Sui incident, Forever 21 was accused of "ripping off" the designs of another high-end designer, Diane von Furstenberg (DVF), the head of the Council of Fashion Designers of America (CDFA).
According to Elle, DVF accused Forever 21 of knocking off four of her dresses. She sued the company for copyright infringement, citing protection of her fabric designs. DVF won a settlement and an injuction was issued against Forever 21 for duplicating the designs.
Smaller Designers vs. Forever 21
While Forever 21 has faced infringement allegations from giant fashion houses like DVF and Anna Sui, they have also been accused of copying the designs of smaller, independent designers like Trovata, Foley+Corinna, and 3.1 Philip Lim.
According to Women's Wear Daily (WWD), Trovata fought Forever 21 for two years before the lawsuit went to trial in 2009.
Since Trovata could not sue for copyright infringement, their lawsuit hinged on proving that Forever 21 had infringed upon their "trade dress". NYMag explains:
Trovata was accusing Forever 21 not of violating copyright laws, but of trade dress infringement. In other words, the jury was supposed to determine whether Forever 21's combined use of certain design elements like button spacing and round zipper pulls were, in the minds of consumers, unique to the Trovata brand.
WWD stated that Forever 21 recognized the similarities between the designs but claimed they did not violate any laws. WWD quoted Forever 21's lawyer, who describe the incident, saying,
"Trovata is claiming that certain button patterns and stripes on a sweater would cause consumers to associate the garments with its brand, but there is no evidence to suggest that consumers would be confused. Forever 21's products are only sold in Forever 21 stores and are labeled with Forever 21's brand. The design features on the Trovata designs are rather generic and are not protected by copyrights."
Although the Trovata incident did go trial, Trovata eventually settled out of court, according to Jezebel.
Copycat Controversies: Urban Outfitters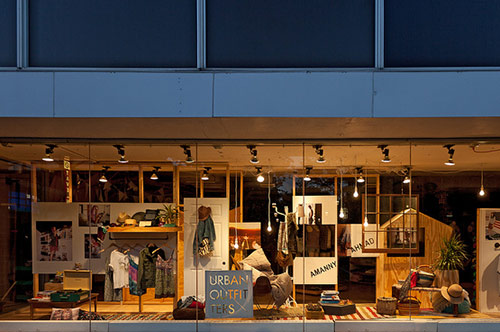 Over the last few years, Urban Outfitters has been accused of copying designs. Unlike Forever 21, however, the allegations against UO haven't come from high-end designers – instead, multiple independent jewelry designers have accused the retail chain of copying their designs.
Stevie Koerner vs. Urban Outfitters
In 2011, jewelry desginer Stevie Koerner accused Urban Outfitters of stealing her "United States of Love" designs. These necklace pendants are cut into the shapes of various states and feature a heart-shaped cut out. They are sold via Etsy.
Jezebel described the Urban Outfitters version of the necklaces, saying, "They look virtually identical to Koerner's."
According to Daily Mail, when Koerner noticed the similarities between her designs and UO's, she used social media to her advantage. The Daily Mail says,
The tweetstorm began after Stevie, from Chicago, posted a link to Urban Outfitters jewellery on her own blog claiming the copies 'were not cool.' Within hours thousands of Twitter users and fashion bloggers had united in calls for a boycott of the US-based giant.
Koerner also discussed the incident on her blog, saying,
My heart sank a little bit. The World/United States of Love line that I created is one of the reasons that I was able to quit my full-time job. They even stole the item name as well as some of my copy.
Urban Outfitters did not remove the necklaces from their stores. According to Yahoo, the retailer felt that "the idea wasn't original" and cited several other artists with similar designs.
Additional Accusations Against UO
This is not the first time Urban Outfitters has been accused of copying independent jewelry designers. In 2010, The Brooklyn Paperreported that vendors from the Brooklyn Flea market had accused UO of stealing their designs.
A few weeks ago,yet another jewelry designer accused Urban Outfitters of copying their designs. Yahoo reported on the incident, saying,
Yesterday, [Urban Outfitters] pulled a necklace from their website after designer Elena Coleman of TOMTOM Jewelry accused them of copying one of her designs via Twitter.
Urban Outfitters claimed they bought the necklace from a vendor and commented on the incident, saying,
"Please know that Urban Outfitters would never intentionally copy a designer's work. We work very hard to avoid situations such as this."
Copycat Controversies: Gap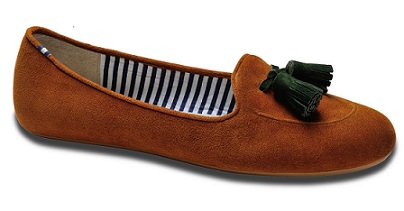 Charles Philip Shanghai Slipper from Fall/Winter 2012 Collection | Photo Credit
Just last month, a lawsuit was filed against Gap, Inc., alleging that the retail chain copied the loafer designs of Charles Philip Shanghai.The Huffington Post describes the the lawsuit, saying,
The suit claims that Gap is guilty of replicating multiple pairs of Philip's loafers and even used a similar name for the shoe styles in question. Style names like "Phillip Moccasin Slipper" and "Phillip Slipper" were stamped inside the insoles, according to court documents.
The slippers from Charles Philip Shanghai (pictured above) are much more expensive than than the Gap versions. According to the NY Post, the Gap loafers are about 80 percent cheaper than the originals.
In response to the incident and lawsuit, Charles Philip told the Post,
"It's upsetting for me. They're using the same stripes, the same colors, the same kind of name. But we have a lot of attention to detail. They sell the shoes without [that]."
The designer is requesting that Gap remove the shoes and compensate him for losses. However, according to Philip's lawyer, the retail chain has refused. The Huffington Post quoted her, saying,
"I can confirm is they [sic] refuse to do what we have asked in the lawsuit and that is to pull the shoes off the market, stop using PHILLIP and compensate Charles Philip accordingly."
When asked for comment by The New York Post, a Gap spokesperson replied, "We do not comment on pending litigation." The shoesin question have also been removed from Gap's website.
What do you think?
What you do you think about these "copy cat" retailers? Will these accusations change your shopping habits? Do you believe that there should be stricter copyright laws to protect fashion designs? Tell us your thoughts by leaving a comment.