If you haven't heard of it by now (which is highly doubtful), Twitter is a micro-blogging site that lets you share bits of your life in 140 characters or less. Millions of people have caught on to the craze and many would say that it's as addictive as Facebook. You can access it from the web and from your phone via BlackBerry and iPhone applications. You can even have updates sent to you by text so that you're always in the know!
But Twitter isn't just a way to stalk random celebrities like John Mayer (@johncmayer) and Kim Kardashian (@KimKardashian). It's a helpful resource for staying connected to friends, catching up with current events, and (most importantly) getting the latest scoop in the fashion world. Fashion mags, retailers, bloggers, and even fashion designers are tweeting. So here's the scoop on who to follow.
The Cut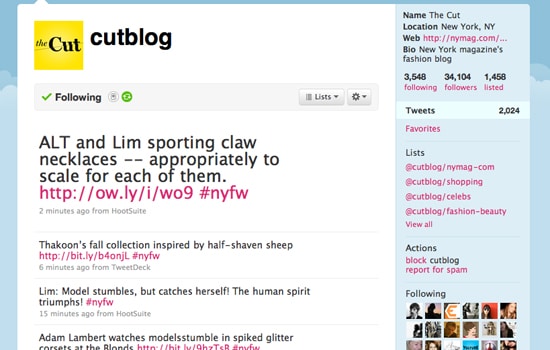 The Cut is one of my favorite fashion blogs. As a branch of New York Magazine, they cover breaking news in the fashion world. By the time I wake up in the morning, I can count on The Cut to fill me in on the runway and celeb fashion from NYC and LA to London and Paris. @cutblog tweets about the latest fashion news, but also takes you inside exclusive events like New York Fashion Week. These ladies have got a keen eye for trends with a side of snarky that is guaranteed to make you laugh.
Forever 21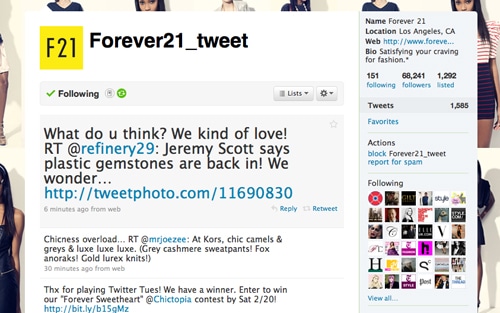 Forever 21 has taken the world by storm with their trendy looks and cheap prices. They've even joined the blogging world with their fashion blog, The Skinny. So what's unique about @forever21_tweet? Every Tuesday, they host their "Twitter Tuesday" contest where you can actually win F21 gear. The contests involve searching for the price or name of something on their website or blog. Sometimes they give you a day or two to get creative and put a look together for them. If you're one of the first few to respond, you can win clothes, jewelry, or a grab bag of other fashionable stuff. How awesome is that?!
DKNY PR Girl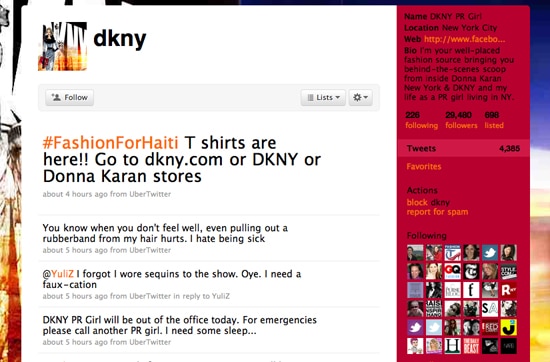 If you dream of working in the fashion industry and wonder what it's like, you've got to follow their PR girl, @dkny! This multitasking girl is living the crazy life in NYC. She does PR for Donna Karan and DKNY and chronicles the stress, the obstacles, and the amazing satisfaction of working in the fashion industry. She tweets about the behind-the-scenes work put into New York Fashion Week and even shares close-up snapshots via her camera phone.
Fashionista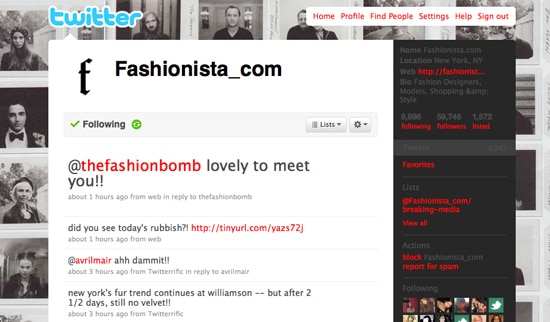 Fashionista is one of the most popular fashion industry blogs out there, and their Twitter has the same insider vibe and signature snark their blog is famous for. Expect lots of updates on all the hottest fashion week shows, celebrity sightings, and up-to-the-second industry news. It's like having a BFF working in the fashion industry to give you all the juicy details from behind the scenes. What's not to love?
College Fashion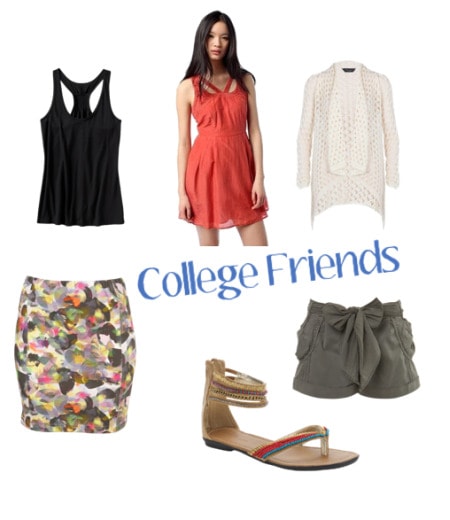 You obviously love the blog, so follow the tweets! @CollegeFashion will let you know whenever a new article comes out. It's written by Zephyr and she does a wonderful job at giving you other fashion scoops like breaking news, sweet online sales, and other nifty links. As a bonus, you'll get bits of Zephyr's personal life and who doesn't love a little bit of stalking with their fashion news?
What do you think?
Do you use Twitter? Do you think it's a great way to express ideas or share news, or is it just an information overload? Who are some celebs or fashion tweeters that you follow? I personally love using Twitter to share and learn information, so feel free to follow me @jennyinjacquard and leave a comment with your thoughts!