Music's biggest stars were honored at last night's Grammy Awards, and we're here to cover the red carpet fashion. Read on to see a few of the most memorable looks of the night.
Top 5 Best-Dressed
In no particular order, here are my picks for best dressed at this year's Grammy Awards:
Gwen Stefani in Atelier Versace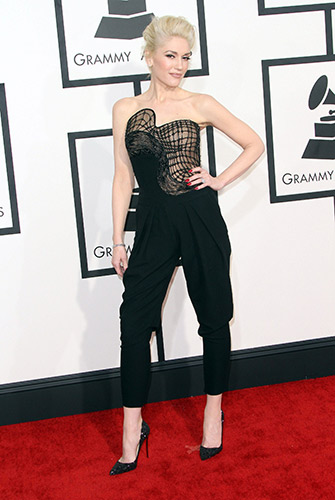 Photo Credit: AdMedia
Gwen Stefani rocked the red carpet in this amazing Atelier Versace jumpsuit. The sculptural bodice looks so fab on Gwen, and I love how it was paired with a tousled updo and minimal accessories. The sheer part of the jumpsuit actually reminded me of abstract music bars, which made it an ideal choice for the occasion!
Taylor Swift in Elie Saab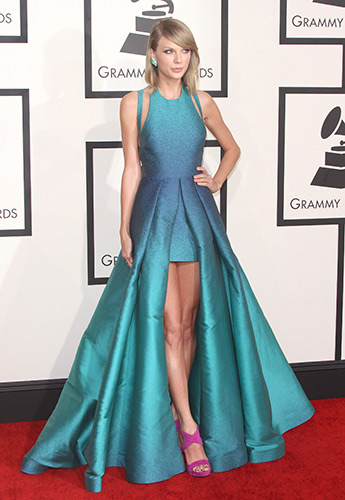 Photo Credit: AdMedia
Taylor Swift brought some major color to the red carpet in this gorgeous Elie Saab gown. From the neckline to the high-low skirt, I adore everything about this dress, but the shoes absolutely made this look. These magenta Giuseppe Zanotti sandals add a contrasting splash of color, and the combination looks fresh and modern.
Jessie J in Ralph & Russo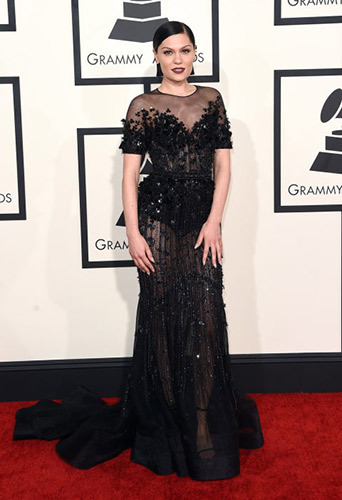 Photo Credit: ELLE
Jessie J looked SO good in this exquisite Ralph & Russo gown. This sheer gown featured plenty of intricate beading, and the resulting look blends vintage and modern elements together perfectly. Jessie continued that vintage-meets-modern vibe with her makeup and accessories by opting for a dark, moody lip and on-trend ear cuffs.
Katy Perry in Zuhair Murad Couture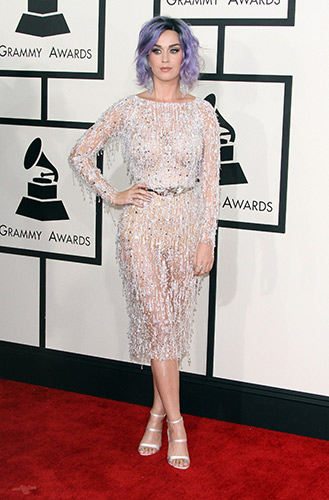 Photo Credit: AdMedia
Katy Perry shimmered down the red carpet in this champagne-colored couture gown. Seriously, pictures aren't doing it justice – this midi-length Zuhair Murad gown looked so sparkly on camera. Katy accessorized with shoulder-sweeping chandelier earrings, which looked fabulous against her lavender bob.
HAIM in Chloé and Stella McCartney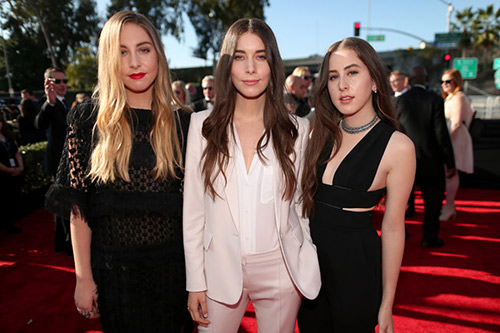 Photo Credit: ELLE
Technically my top 5 is a top 7, but we're going to let that slide because this trio of looks from HAIM is perfection. Este (left) wore Chloé, while Danielle (middle), and Alana (right) wore Stella McCartney. What I liked about these looks is that they coordinated with one another, but not in a matchy-matchy way. Each of the sisters showed off their individual style, plus they just looked cool.
Other Notable Ensembles
From the gorgeous gowns worn by Iggy Azalea and Meghan Trainer to the more costumey ensembles from Madonna and Sia, there were so many eye-catching looks on the Grammys red carpet. It was hard to do, but we've chosen just four more noteworthy looks to talk about:
Nicki Minaj in Tom Ford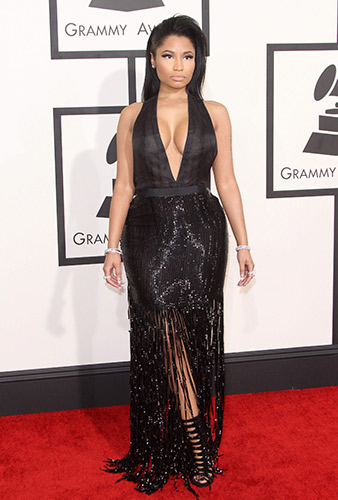 Photo Credit: AdMedia
Nicki Minaj definitely turned heads last night in Tom Ford. While the sequin and fringe skirt is amaze, the plunging v-neck is the standout element of this sultry gown. Nicki complemented this va-va-voom dress with Jacob & Co. jewels and a smokey eye.
Charli XCX in Moschino
Photo Credit: AdMedia
Charli XCX arrived at the Grammys in a full-on tuxedo paired with a fur wrap. This iridescent white Moschino tux is kind of wacky, but it works. Also, the pop of pink from the bowtie adds just the right amount of color. Personally, though, I would have preferred this look without the fur – what about you?
Miley Cyrus in Alexandre Vauthier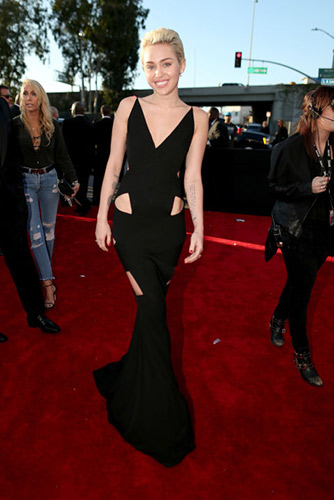 Photo Credit: ELLE
Miley Cyrus absolutely killed in in this showstopping Alexandre Vauthier gown. Between the side cut-outs and strappy back, this dress showed a lot of skin, but if anyone can pull it off, it's Miley. She wisely opted for neutral makeup and a slicked-back 'do to complete her look.
Rihanna in Giambattista Valli Couture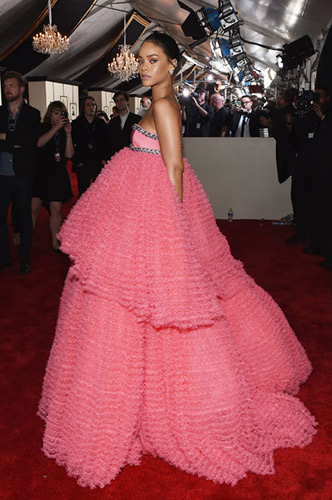 Photo Credit: ELLE
Rihanna didn't walk the red carpet until the very last minute, but she made quite the statement in this confection of a dress. This Giambattista Valli Couture gown is so frilly and pink – it's pretty much the definition of "girly." Did you like Rihanna's ultra-feminine look, or was it too over-the-top for your taste?
Least Favorite Look
You know we can't love everything we see on the red carpet. Here's one look I didn't care for at last night's event.
Kim Kardashian in Jean Paul Gaultier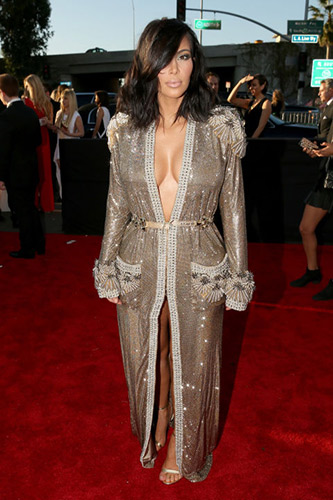 Photo Credit: ELLE
Kim Kardashian showed up at the Grammys in an ornate gold Jean Paul Gaultier gown that ended up being my least favorite look of the night. Many fashion commentators compared Kim's red carpet pick (which Kanye actually picked out) to a blinged-out bathrobe, and I have to agree.
Your thoughts?
Now that you know what we think, tell us your opinion. Did you watch the Grammys last night? Who wins your pick for best-dressed? Any looks you didn't like? Be sure to leave a comment and let us know what you think!