The year's best films were honored at last night's 83rd Annual Academy Awards, so, of course, we have tons of amazing fashion discuss. Read on to find out my choices for best-dressed and other notable red carpet looks.
Top 5 Best-Dressed
Here are my picks for best-dressed at the 2011 Academy Awards, in no particular order:
Jennifer Lawrence in Calvin Klein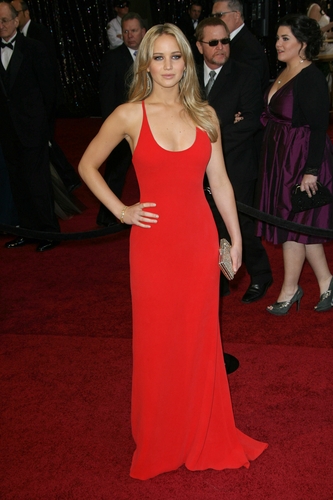 Photo by PR Photos
Best Actress nominee Jennifer Lawrence showed up on the red carpet early in this sleek, sexy red number, and immediately got everyone's attention. The Calvin Klein dress was the epitome of simple and chic and showed off her amazing figure. Jennifer continued her laid-back, yet glam look with low-key makeup and accessorized with a classic gold bangle and sparkling clutch.
Hailee Steinfeld in Marchesa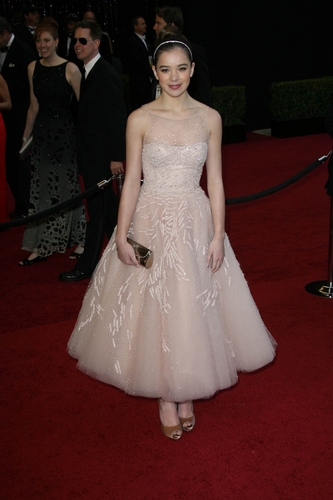 Photo by PR Photos
Sparkling, neutral-colored dresses were big at this year's Oscars and 14-year-old Hailee Steinfeld wore my favorite one of the night. She looked adorable and age-appropriate in a tea-length pale pink dress. This one-of-a-kind Marchesa gown was actually designed in part by Hailee. Who knows? Maybe she'll be a designer one day!
Mila Kunis in Elie Saab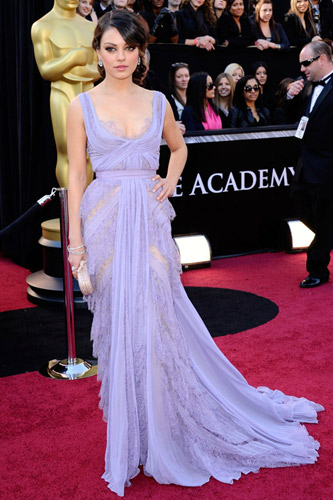 Photo courtesy of Elle
I love me some Mila Kunis, and she definitely didn't disappoint with this trendy lace dress in one of spring's hottest colors: lavender. The gorgeous Elie Saab gown had plenty of sex appeal, but the lavender shade kept it looking fresh and fun, rather than overly sexy.
Reese Witherspoon in Armani Privé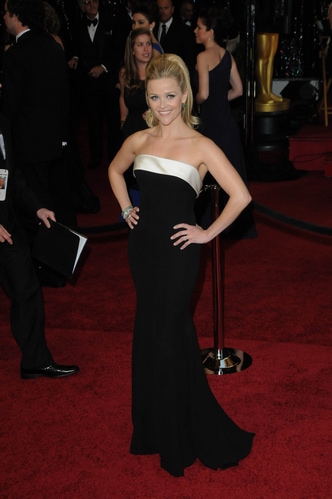 Photo by PR Photos
Reese Witherspoon chose a very classic, Audrey Hepburn-like Armani Privé gown for last night's ceremony. The fitted black gown looked great with her fabulous emerald earrings. My favorite part of her look, however was her unique updo (only Reese could make a ponytail work for the red carpet) and winged eyeliner. The overall look was very '60s chic!
Natalie Portman in Rodarte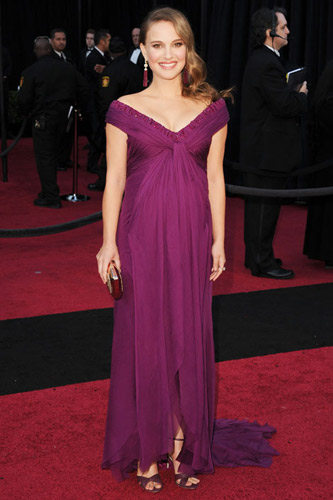 Photo courtesy of Elle
I was so happy for Natalie Portman last night! Not only for her Oscar win, but for her amazing Rodarte gown. (Although sources say Natalie was supposed to wear Dior last night – she's the face of Dior perfumes – she changed to Rodarte last minute, amidst the John Galliano controversy. Scandalous!) At the SAGs and Golden Globes, I was less than impressed with Natalie's choices, but this time she nailed it in the fashion department. She looked effortlessly chic and relaxed in this gorgeous purple gown. What did you think of her dress?
Other Notable Ensembles
As much as we would love to name more than five looks Best-Dressed, we have to draw the line somewhere. However, here are some other gowns that made a stir on the red carpet last night.
Cate Blanchett in Givenchy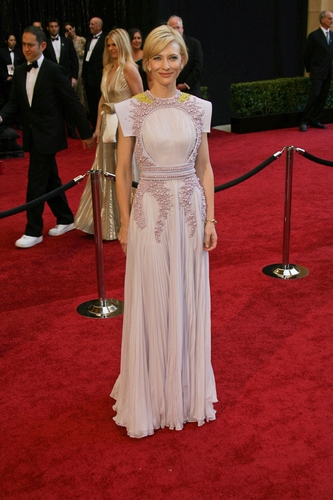 Photo by PR Photos
Always boundary-pushing, the gorgeous Cate Blanchett caused a stir on the red carpet in Givenchy Haute Couture. This was definitely a love-it-or-hate-it look – while many were loving her risk-taking style, others hated the gown and its embellished bib style.
Editor's note: Although I know lots of people hated her dress, Cate was actually my best-dressed pick! It takes guts to wear something like this on the red carpet, and I thought she pulled it off flawlessly.
Halle Berry in Marchesa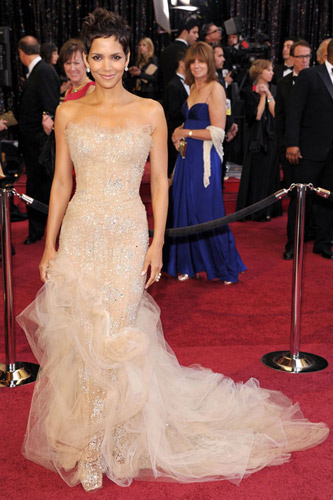 Photo courtesy of Elle
Halle Berry brought the glam to the red carpet in this nude, sparkly Marchesa gown. Although the dress wasn't something you'd normally expect to see Halle in, she totally worked it, letting her fierce confidence shine through.
Scarlett Johansson in Dolce & Gabbana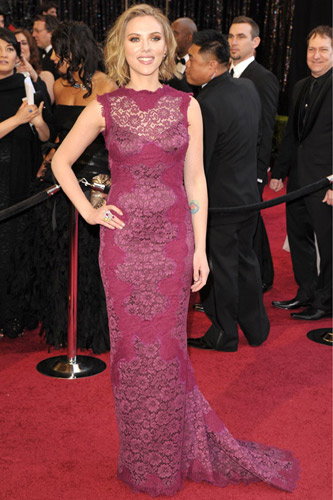 Photo courtesy of Elle
Presenter Scarlett Johansson was on-trend last night in this lace-embellished cranberry gown by Dolce & Gabbana, finishing off her look with slightly disheveled hair and flawless makeup.
Hilary Swank in Gucci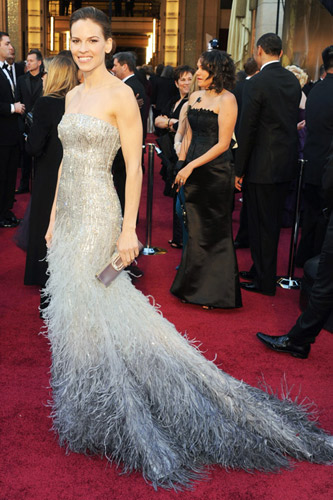 Photo courtesy of Elle
Hilary Swank rocked another love-it-or-hate-it look last night, in this sequin and feather-embellished Gucci number. While some thought she looked glamorous, others thought the feathers were just too much, especially because the dress was already covered in over-the-top sequins. What do you think?
Least Favorite Look
As much as we wish they could, not all celebs can make the best-dressed list. Here's one look I didn't like at last night's ceremony:
Melissa Leo in Marc Bouwer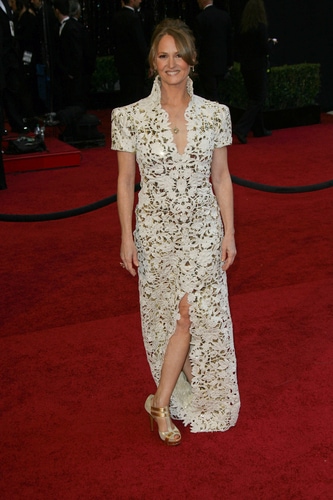 Photo by PR Photos
I really wasn't a fan of Melissa Leo's gown last night. The Marc Bouwer dress was definitely unique, but unfortunately it just reminded me of a sparkle-covered doily with a weird collar. It also wasn't the most flattering. What did you think of her outfit choice?
Thoughts?
Now that you know what we think, tell us your opinion. Did you watch the Academy Awards last night? Who wins your choice for best-dressed? Any looks you didn't like? Be sure to leave a comment and let us know your thoughts!