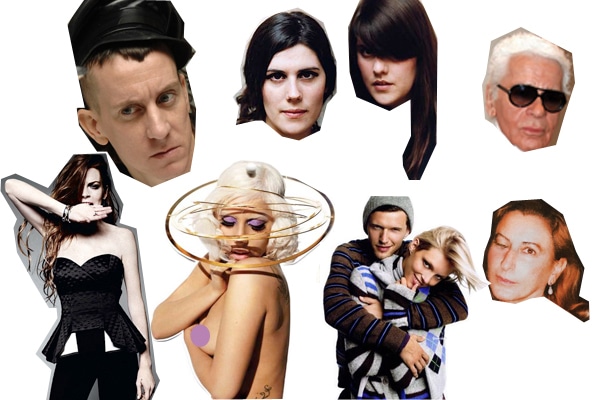 Photo Credits: Rankin for ELLE UK, Andreas Branch for PMc, Sebastian Faena for V Magazine, Rodarte.net, Michael Thompson for The Gap, Eliot Press, Francesco Vezzoli for i-D Magazine
25 MAGAZINE
The fashion elite is not content with merely being written about by the media. Now, they want to BE the media. First Chanel decides to make their own magazine. Now, Anja Rubik and her boyfriend (hereafter known as "The Luckiest Man on Earth") have overhauled 25 Magazine. The Spring 2010 issue debuts in February. Speaking of Anja, what is your favorite editorial featuring the willowy blond?
BRODARTE
CHANEL
Chanel has introduced transfer tattoos to the fashion world. You all remember the inked jewelry on Karl's models at Chanel's Spring 2010 show? If you were too focused on the hay, the menage a trois, Prince in the front row, Lily Allen, or Freya Beha who is known to turn straight women into lesbians with one passing glance, then I forgive you. The tattoos will be available on Chanel's website in mid-February for $75 for 55. Would you wear them?
Chanel has given us some very interesting accessories over the years (i.e. Baptiste Giabiconi, the tweed ipod helmet from the Fall 2009 collection). Which Chanel accessories are your favorite (regardless of whether you can afford them)?
JEREMY SCOTT, PETER JENSEN
LADY GAGA
Lady Gaga was made for every screen: TV screens, phone screens, Mac and PC screens, and of course, camera screens. Yes, Lady Gaga has been named the Creative Director of Polaroid. I just hope she designs a camera that erupts in flames when the film runs out. Or a camera made of red latex. Or cameras that match Alexander McQueen's 12-inch heels. What sort of camera do you want Lady Gaga to create?
Lady Gaga has taken collaborations to the next level. She collaborated with Francesco Vezzoli and the Bolshoi Ballet at MOCA. She routinely collaborates with Stylist Nicola Formichetti. She has collaborated with photographers Araki and Mario Testino. She's collaborating with Polaroid. And now, she's collaborating with fashion model Lara Stone. Maybe. According to Fashionologie, Lady Gaga wants Lara Stone (she of that infamous French Vogue blackface editorial), to be the face of her new music video, "Alejandro." So, after listening to the song who would you cast?
LINDSAY LOHAN
MIUCCIA PRADA
VENETIA SCOTT
Remember that TIMESONLINE article about how every girl wants to be a fashion stylist? Well, Stylist Venetia Scott (who you might recall is the Creative Director of Marc Jacobs and Marc by Marc Jacobs), has much to say about stylists, magazines and advertisers' influence over them. After reading her commentary, every girl will want to be everything but a fashion stylist. What are your thoughts after reading her commentary? If you work or intern with a fashion stylists be sure to tell us what it's really like.
VERSACE
V MAGAZINE
Shots, shots, shots, a video and more shots from V Magazine's much-buzzed Size Issue have been "leaked" giving us almost no reason to buy the issue when it arrives at newsstands on Jan. 14. I said almost. By the way, what are your thoughts on V Magazine's Size Issue?
QUESTIONS? COMMENTS? CONCERNS?
I've posted questions at the end of every news story but feel free to play the journalist and ask your own.