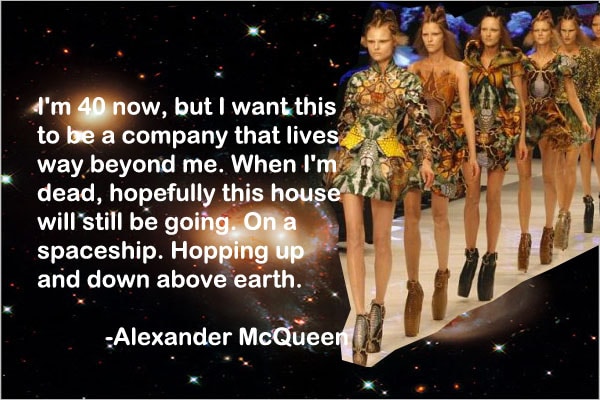 I know I wasn't the only one who thought Alexander McQueen the brand had died along with Alexander McQueen the person. But this was before I read a profile of the late designer in the latest issue of LOVE Magazine. Towards the end of the profile McQueen said,
I'm 40 now, but I want this to be a company that lives way beyond me, and I believe that customers are more important to making that happen than press. When I'm dead, hopefully this house will still be going. On a spaceship. Hopping up and down above earth.
And it seems as though McQueen's requests have been granted because this past Thursday The Gucci Group announced that Alexander McQueen the brand would long outlive its creator.
At the time of his death, McQueen had finished at least most of his fall 2010 collection, which will still be shown at Paris Fashion Week this coming March. So much of the line depended on the distinctive vision and personality of McQueen that many in the fashion community seem to have put an expiration date on the line. But Coco Chanel was and still is a defining force in the Chanel brand and she has been dead for a lot longer than Alexander McQueen. I hope that McQueen's line will continue just as Chanel continued after Coco's death.
What do you think?
Do you think that anyone can step into Alexander McQueen's shoes? Are you happy to see the Alexander McQueen line continue? Did you read the Alexander McQueen profile in LOVE Magazine? Do you think that the line can continue to be as successful as it was before McQueen's death? Leave a comment.