This post may contain affiliate links, which means we may receive a commission if you purchase through our links. Please
read our full disclosure here
.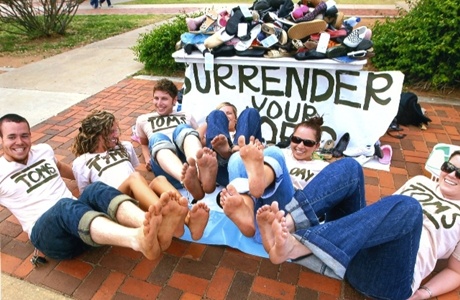 Photo: ELLE
Too often it seems that there's news highlighting the negative aspects of the fashion world. Even though it is extremely important to be informed of the injustices occurring around us, I thought it would be a nice change of pace to focus an article on the good being achieved instead of the bad being done.
Many companies take part in ethical business practices, and the concept of socially responsibility in fashion is rapidly growing. There are a lot of socially conscious businesses in the apparel/accessories sector, and they definitely deserve to be recognized!
Below, I've compiled a list of five socially responsible companies that use their apparel/accessory business to give back to the community in some way. The best part about socially responsible fashion is you never have to feel guilty about buying something great for yourself! Scroll down to learn more about each company:
1. TOMS
TOMS is one of the most famous examples of a company using their business to achieve social change. TOMS currently operates with a simple One for One goal: for every pair of shoes sold, TOMS gives a pair to a child in need and for every pair of glasses sold, TOMS helps one person gain sight.
Recently, TOMS also launched an online marketplace that serves as a springboard for other socially driven companies to make their mark. Go TOMS! Read about all the good this company is doing by clicking here.
2. Della
Della is a socially responsible line run out of Hohoe, Ghana that employs people of the Hohoe community. The company not only provides employment to the people of the community, but Della also operates a number of programs such as literacy classes and sewing classes for a local orphanage.
All Della items are created with authentic African textiles from the Ghanaian region of Volta. Della is really making a splash, and even did a collaboration with Urban Outfitters last summer! Learn more about their mission and goals here.
3. Pura Vida
Pura Vida, started by two college grads, is a line of colorful bracelets crafted by local Costa Rican artisans. Pura Vida donates 1% of all sales of to The Surfrider Foundation, which aims to clean up the oceans and beaches around the world.
Pura Vida also sells special bracelets dedicated to dozens of different charities. Generally, for each one of these bracelets sold, one dollar is given to the charity dedicated to that cause.
Pura Vida also has a college campus rep program if this sounds like something you'd like to be involved with! To learn more about the cause behind Pura Vida, click here.
4. good hYOUman
https://www.youtube.com/watch?v=Kdvd1jX8yBg
What started as a son's dedication to his late father has turned into a full-fledged business spreading positivity through clothing. Good hYOUman is an LA-based clothing brand that showcases positive slogans on their pieces, like "My life story will be a good one" and "We are equal. We are one. We are hYOUman."
Good hYOUman accepts stories sent in from fans and publishes one on their hang-tags each season, with the goal to unite "hYOUmanity" by sharing each other's stories. They also donate a portion of their necklace tags to different charities. Click here to learn more about good hYOUman.
5. Roozt
https://www.youtube.com/watch?v=mSh6AI-V3Zc
Roozt is an amazing platform for many socially conscious brands to push their mission and merchandise in one place. It's a lot like the new TOMS marketplace, but Roozt has many more brands available for you to discover.
Roozt also has its own charitable partnership with Feeding America – for every new member that joins Roozt, a meal is given to an American in need. The tagline for Roozt is "changing the world should be fun" and I wholeheartedly agree! Read about what Roozt does by checking out their "about" page.
Thoughts?
What are your thoughts on socially responsible fashion? Do you have a favorite brand? Do you support social responsibility in fashion? Do you see any potential negatives? Let us know what you think in the comment section!