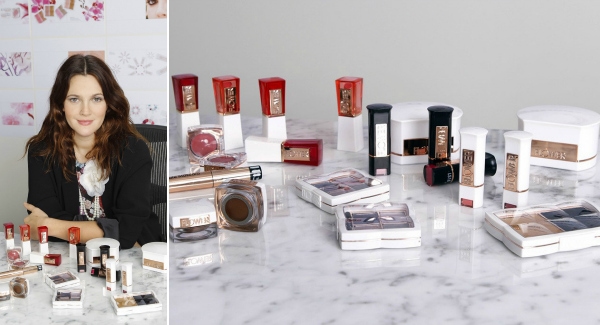 Drew Barrymore with her upcoming cosmetics line. | Photos Courtesy of WWD
Actress Drew Barrymore may have been a Cover Girl spokeswomen for the last few years, but now she's delving headfirst into the beauty world by launching an affordable new makeup line — called Flower — that will be sold exclusively at Walmart.
According to WWD, Drew chose to partner with the discount retailer because she wanted "[the products] to be in people's hands." As such, all 181 items will be priced between $4.98 and $13.98. However, the brand is using the same formulas as luxury makeup lines, meaning Flower will have department store-quality goods for a mere fraction of the price.
Flower will be available at over 1,500 Walmart stores and at walmart.com starting in January.
Your thoughts?
What do you think of this cosmetics line? Are you a fan of Drew Barrymore? What do you think of her decision to partner with Walmart? Will you be checking out the line after it launches? Let us know what you think by leaving a comment below!