For the next part in our Designer Spotlight series, I've decided showcase a female designer whose fun aesthetic and unique approach to design sets her apart from the rest.
Betsey Johnson has been designing clothes for over 40 years, yet her ability to appeal to her audience has never wavered. This knowledge of her customers and eye for what they want is part of what keeps us buying her clothes year after year. She has made great contributions to the fashion industry and is undeniably a designer worth knowing.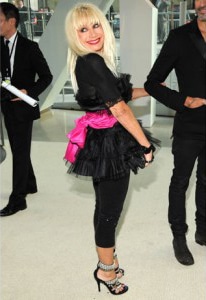 Her Background
Betsey Johnson was born in Wethersfield, Connecticut in 1942, where she spent most of her youth in dance classes. Betsey did not dream of becoming a fashion designer; instead, she aspired to be a dancer. Eventually, however, her love of art, design, and unique costuming led her in a different direction.
Her Breakthrough
After graduating from Syracuse University, Betsey took the New York fashion world by storm. In 1964, Betsey entered the industry when she landed a guest editor position at Mademoiselle, a "young women's fashion and lifestyle magazine." A year later, she became a designer for a clothing boutique called Paraphernalia.
During her early years in NYC, Betsey was heavily involved in the underground scene, along with Andy Warhol and The Velvet Underground. She worked with Edie Sedgwick and even designed the costumes Edie wore in her last film, Ciao! Manhattan.
Her Own Label and Stores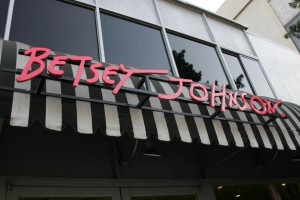 After more than 10 years of designing for other labels, in 1978, Betsey decided to take a more hands-on approach and start a label of her own. Thus, the Betsey Johnson label (yes, the one we're so familiar with now), was born. Being in full control of her own label allowed her to self express her creative ideas through her perfectly executed designs.
With the creation of her namesake label came a slew of Betsey Johnson retail stores. Her first store, in NYC's Soho neighborhood, was quickly joined by sister stores in Los Angeles and other US cities. Her stores quickly became popular shopping destinations; customers could not get enough of her unique, whimsical, impeccable fashions.
The Betsey Johnson Label Today
Today there are over 65 Betsey Johnson stores worldwide, in every city from London to Japan. Betsey's line has also expanded to include many new categories of merchandise, including:
Handbags
Accessories
Lingerie
Eyewear
Footwear
In addition, Betsey, a breast cancer survivor, is very active in the fight against the disease; she has made countless appearances at different events around the nation to raise awareness and money for the cure. She even became an honorary chairperson for the Fashion Targets Breast Cancer initiative. Aside from her contributions to the fashion world, Betsey has made a difference in countless lives through her charitable efforts against breast cancer.
Betsey's Major Recognitions & Awards:
1999 CFDA Awards: Timeless Talent Award
2002: Inducted in to the Fashion Walk of Fame
2005: (Signature Awards and NAWBO-NYC) Lifetime Achievement Award
2005: (Accessories Council) Lifetime Achievement Award
2009: National Club Medal of Honor for Lifetime Achievement in Fashion
What to Expect: Betsey Johnson Spring 2010 Ready-to-Wear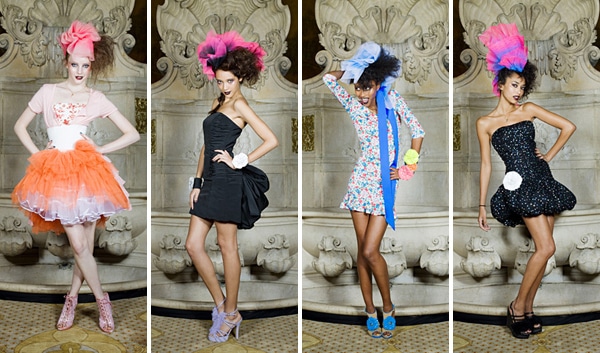 Photos from Style.com.
Betsey's Spring 2010 line, which hit the runway during New York Fashion Week back in September 2009, is full of her trademark whimsical designs, figure-flattering dresses, and fun colors. Nothing less than what you're used to, Betsey Johnson's line is still on TOP! There are lots of color variations and shapes, and the line still has more than enough style to impress even the toughest fashion critics.
Want to learn more?
If you want to know a little more about Betsey Johnson, you should start by checking out her website. (It's very vibrant, colorful, and complex!) Also, you can learn more about and support her efforts against cancer at the Fashion Targets Breast Cancer website.
Your thoughts?
So what do you think of the legendary Betsey Johnson? Are you a fan of her designs? Did you learn anything new about Betsey from this article? Let us know by leaving a comment!