Editor's Note: This article was written earlier this week, prior to the news of Alexander McQueen's tragic death on Thursday. In light of this tragedy, we decided to continue with publishing the article, but have updated it to pay tribute to the life and legacy of this incredible designer. He will sorely be missed.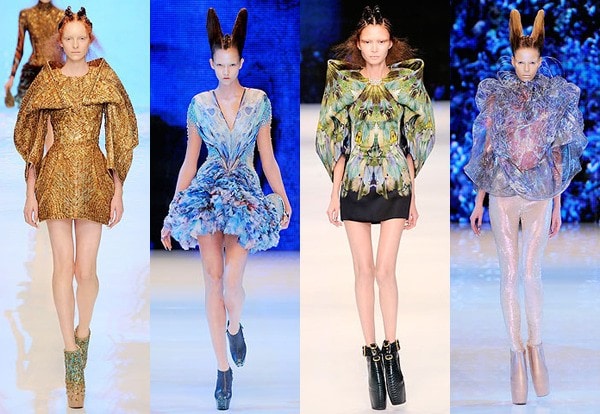 Photos from Style.com
For the third week of our Designer Spotlight series, I chose a man whose extremely unique designs made him a worldwide phenomenon and perpetual critics' favorite.
Alexander McQueen, one of my favorites, was a one-of-a-kind designer. His breathtaking designs contributed greatly to his success in the industry. In my opinion, his spring 2010 collection is one of the best examples of his creative approach to fashion, although all of his collections are notable and certainly worth looking up.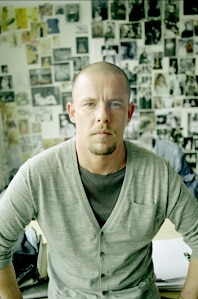 Reign of McQueen
Lee Alexander McQueen was born in London on March 17, 1969. Early on, he was not highly intrigued by the idea of school and dropped out at the age of 16 to pursue his first internship with Saville Row tailors Anderson & Shepppard. There, he worked for clients such as Mikhail Gorbachev as well as Charles, Prince of Wales.
Turning Point
In the years after his first internship, Alexander worked as an assistant for Romero Gigli in Milan, who was also impressed with his raw talent. After returning to London in 1994 to be a pattern cutting tutor, he attended Central Saint Martins College of Art & Design where he later obtained a Master's degree. Although his lack of prior education almost hindered him from attending the prestigious school, his designs are what eventually sealed the deal. The iconic Isabella Blow was a mentor and friend to the designer, and is said to have purchased every single piece of his first collection.
From that point on, McQueen's career skyrocketed: his creative designing abilities and impressive background caught the eye of the media who praised him as a promising young fashion designer. His collections were known for their shock appeal and avant-garde nature, earning McQueen nicknames like "l'enfant terrible" and "the hooligan of English fashion."
In 1996, McQueen replaced John Galliano at Givenchy. Unfortunately, however, Alexander was not welcomed by the press; they did not believe he was experienced enough to take on a Galliano's position and doubted his ability to handle Givenchy's clientele. Although McQueen "toned down his act at Givenchy", he "continued to indulge his rebellious streak, causing controversy in Autumn 1998 with a show which included car-robots spraying paint over white cotton dresses, and double amputee model Aimee Mullins striding down the catwalk on intricately carved wooden legs." (Source)
In 2000, he made the decision to sell a little over half of his Alexander McQueen line to Gucci, where until the time of his death, he was the Creative Director.
McQueen Today
The road to such great success was not an easy one for McQueen, but he managed to pull through and land on top. Today, McQueen's collection is sold in over 39 countries, with stores in Milan, Vegas, Los Angeles, London and New York City. The McQueen brand is also a favorite among Hollywood icons, with fans including Lady Gaga, Gwyneth Paltrow, Kate Moss, and Beyonce.
The End of an Era
In a tragic end to an incredible life, Alexander McQueen was found dead in his home from apparant suicide early Thursday morning. We were all in complete shock to hear about the loss of such a legend; the fashion industry will truly never be the same.
Immediately following his death, there was an outpouring of support from celebrities, friends, and fans, including Lady GaGa, who tweeted a photo of the two of them in a happy embrace, to Andrew Bolton, curator of The Costume Institute at the Metropolitan Museum of Art, who released the following statement:
"Alexander McQueen challenged and expanded our understanding of fashion beyond utility to a conceptual expression of culture, politics, and identity. He was a provocateur and a raconteur who told stories through his clothes – stories that might draw from the past or other cultures, but were relevant to the here and now. He had the mind of a poet and the heart of an artist. He was a true romantic, in the Byronic sense of the word, who channeled the sublime."
It is difficult to express the impact Alexander McQueen had on the fashion industry. He will definitely be missed, yet always remembered for his dramatic & creative impact on fashion.
McQueen's Achievements
The following awards have recognized Alexander McQueen's achievement in fashion:
British Designer of the year 1996, 1997, 2001, and 2003
International Designer of the Year by The Council of Fashion Designer's of America (CFDA) in 2003
A Most Excellent Commander of The British Empire' (CBE) by her Majesty the Queen in 2003
Fashion and Grooming Awards – Fashion Director's Award 2007 for McQ.
Your thoughts?
We'd love to hear what you think – please tell us your thoughts on Alexander McQueen and his legacy, as well as your memories of this designer and his collections in the comments section.