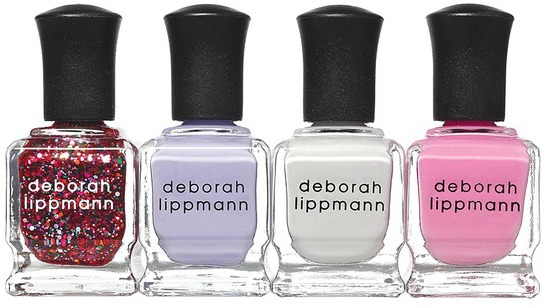 (L to R) 99 Luftballons, Lilac Wine, Chasing Pavements, & She-Bop | Photo Courtesy of WWD
WWD is reporting that Deborah Lippmann has teamed up with Sephora to launch an exclusive collection of nail polishes.
The collection of four polishes (pictured above) will be sold exclusively at Sephora starting this September. Prices will range from $17 for the three cream-based shades to $19 for the glittery 99 Luftballons.
According to Lippmann, this marks the first time her products will be carried in Sephora stores:
"A lot of people think I'm already in Sephora, since it's the place to shop for indie brands. But given Sephora's reach, we wanted to prepare adequately to enter Sephora, to be able to fulfill orders properly and keep up with reorders. That required reaching a proper size and having a fair amount of visibility before entering such a big retailer."
Thoughts?
What do you think of this collection? Do you own any Deborah Lippmann nail polishes? Which color is your favorite? Will you be checking out these polishes come September? Tell us your thoughts by leaving a comment!