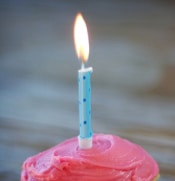 Photo by marinegirl
I'm super excited to announce that College Fashion is one year old today! I can't believe it's already been a year since the first post here; it feels like only a few months since this blog first started!
CF has grown so much in the past year, from a part-time hobby to almost a full-time obsession. I started this site knowing nothing about blogging and have learned so much. Thanks to the people who contributed ideas, helped with general website issues and supported me in keeping this site going! You know who you are!
Of course, College Fashion would be nothing without all you amazing readers contributing, sharing your opinions and making this community so great! THANK YOU all so much for your continued support – I <3 you!
While CF had a fantastic first year, the years to come are going to be even better, thanks in part to all of you! As always, College Fashion is about YOU, the reader! If you have any questions, comments or ideas for what you want to see here, let me know by sending an email or leaving a comment on this post. I promise to read them all!
Again, THANK YOU all so much for being part of this community and being so incredibly fabulous and inspiring! Here's to another year of amazingness!