For the next edition of College Fashion's Mercedes-Benz Fashion Week coverage, here's the latest from Project Runway winner, talented designer, and fierce fan favorite, Christian Siriano.
A quick back story before we get to the collection: When I received my invite to Christian's Spring 2010 runway show, I was ecstatic – he's one of my favorite Project Runway designers EVER, and I've been following his line since it debuted. I can't tell you how excited I was to be invited! Unfortunately, I then realized I couldn't attend – his show was set to begin only an hour after my flight touched down in New York – if you know NYC traffic, you know how impossible it would have been to make it from JFK in only an hour. SO upsetting!
Sadly, I had to watch Christian's runway show online, instead of from inside the tents. I was even more bummed to miss it when I saw the photos – his collection really delivered and is one that everyone seems to be talking about! It's okay, though – hopefully I'll get to see his stuff in-person next season.
Want to know what all the buzz is about? Here are some of my favorite looks from Christian's Spring 2010 RTW collection, followed by a review of the collection and a breakdown of the trends and themes present.
Runway Photos: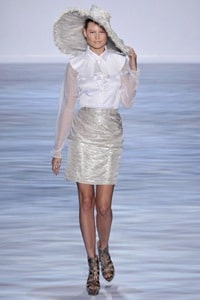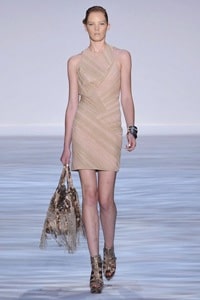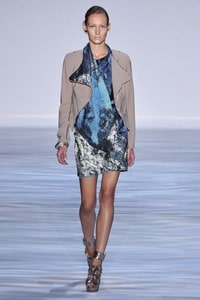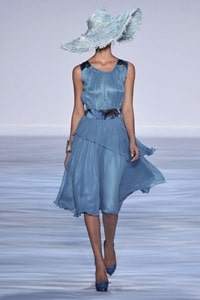 Photos from New York Magazine – Click each photo to enlarge.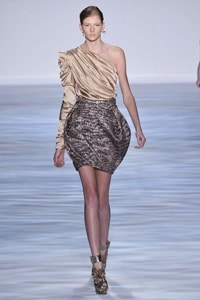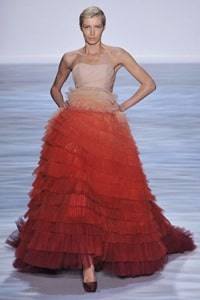 CF Runway Review:
Christian Siriano's Spring 2010 collection was an extremely wearable group of pretty cocktail dresses, well-cut separates, with the occasional high-end gown thrown into the mix. With the right combination of over-the-top and retail-ready looks, it's a collection you'd expect from a seasoned designer, not someone showing at Bryant Park for only his third time!
According to the Associated Press, the collection was essentially a "lush take on Mediterranean travel", which, while perhaps a more appropriate theme for resort collections, seemed to work splendidly for spring.
The color palette was decidedly Mediterranean – cool sea blues mixed with pearly aquas, neutral khakis, and firey volcanic shades of red, all offset by crisp white. If you've ever seen photos of Santorini, for example, you can see where his color influences came from.
As for the pieces, in typical spring fashion, dresses were the basis of the collection – from pretty cocktail numbers adorned with Christian's signature pleating, to long, draped statement gowns ideal for the red carpet. Accessories included big, floppy, wide-brimmed hats, chunky silver cuffs, and a printed bag embellished with tons of silver chains that I'd love to have in my own wardrobe.
Footwear was also a major focus – Christian's models were all wearing shoes from his Spring 2010 Payless line, including fierce metallic gladiator heels, satin platform pumps, and printed ankle booties, all finished with a curved, horn-like heel. Who knows if we'll see the shoes in any actual Payless stores (you know how that goes), but here's hoping the designs available in stores will at least be similar!
If there was a doubt in anyone's mind about Christian's staying power after Project Runway, this collection surely erased it. Far more than just a follow-up from a former reality show contestant, Christian's Spring 2010 collection proved his indisputable talent as a designer, and will surely keep his momentum and buzz going into next season and beyond. He's surely one to keep any eye on – I know I'm a fan!
Fashion Cliff-Notes:
Overall Themes: Mediterranean travel Volcanic colors Wearable pieces Texture




Key Trends: Wide brim hats Mixing textures "Fierce" footwear 1980's silhouettes One-shoulder dresses Painted prints Cinched waists Grecian draping Sparkle Ruffles and pleats










What do you think?
Check out the rest of the Christian Siriano Spring/Summer 2010 collection, at Nymag.com and don't forget to look at the detail shots to see his amazing shoes!
Now I want to hear your thoughts! Do you love Christian as much as I do? What about this collection – did you think it was fierce? Which look was your favorite? Let us know by leaving a comment here!