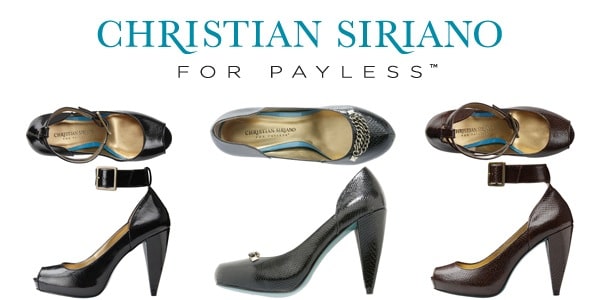 The limited edition Christian Siriano for Payless collection is now available in stores, according to style blog nitro:licious. But is it a fabulously affordable line or just a disappointment from the Project Runway winner?
When the Christian for Payless shoes debuted last year at Christian's fall 2009 fashion show, fashionistas everywhere were excited for a "fierce" collection of heels featuring ultra-high platform heels, studs, spikes, and chains galore. You can check out the original Christian Siriano for Payless shoes here. They were so hot, don't you think?
Unfortunately, though, the shoes in stores today are very different from the ones on the runway. Apparently, Payless decided to tone down the original designs, making them less edgy and more mainstream – a bad decision in my opinion!
There are currently two styles available on the Payless website: the Sandstrap Peep Toe (left and right above), and the Strut Pump (center) which both retail for $34.99. More shoes will likely be available soon.
EDIT: As of today, 8/18, another shoe is available on the Payless website: the Slither Boot in black, which retails for $49.99. Here's a photo: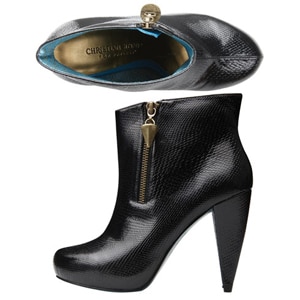 Personally, I love Christian's designs, but I'm going to pass on these shoes. I think of Christian as such a fashion-forward, boundary pushing designer and this line just doesn't reflect that to me. I wish they had released his original designs – those I would have bought in a heartbeat!
I can't say I'll be picking anything up from Christian's Payless collection but what about you? Do you like what you see or do you wish they would have released his original shoe designs? Leave a comment with your thoughts!