This post may contain affiliate links, which means we may receive a commission if you purchase through our links. Please
read our full disclosure here
.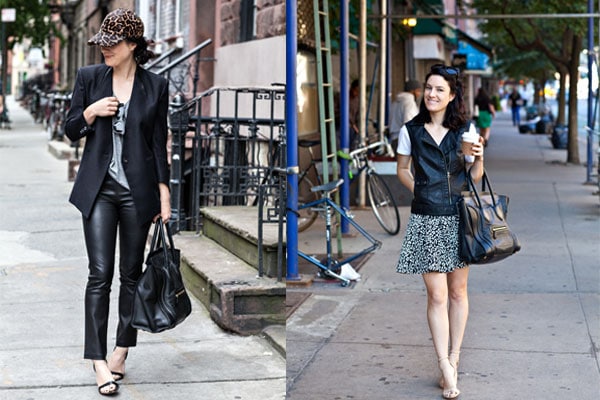 Photos Courtesy of Alicia Lund
Nobody works a blazer or a leather jacket quite like Cheetah Is The New Black's Alicia Lund. The Cali blogger just moved back to her home state after living in New York City, and her relaxed-meets-urban vibe is so cool, you'll be making room in your closet for some cheetah print of your own, stat.
This week, Alicia dishes about what it's like to be a contributing editor at ELLE, how her cross-country move has changed sense of her style, and her surprising source of blog inspiration:
The Interview:
College Fashion: Tell us a little bit about yourself.
Alicia Lund: I'm originally from Northern California and just recently moved back to the area after 2 1/2 years of living on the East Coast. I had always dreamed of living in New York and am so happy to have had that experience! It's nice to be back closer to family and now I'm just counting down the days until we get a French bulldog. (Fingers crossed for this spring now that we're in a pet-friendly apartment!)
I was working at ELLE when we left New York and still contribute fashion market stories to ELLE.com as well as MarieClaire.com. Hmm, what else?! I'm a total Libra. I'm happiest when I'm surrounded with my friends. I obviously love clothes and to shop, and my favorite pastimes are: getting lost in vintage stores, getting lost in a great book, or experiencing new things (I love spontaneity and am always up for anything).
CF: How would you define your style?
AL: My style has become a bit more classic this year but with a slight tomboy-ish edge.
CF: How did you find your personal style?
AL: I've always loved shopping and dressing up since I was a little girl, but I think I really came into my own style this past year while living in New York. It's funny – since we've moved back, just this last month, I've been going through a phase where I'm not really into dresses or skirts, and have been wearing a sea of black. I think it's my way of expressing how much I miss New York.
CF: What inspired you to start a style blog? What motivates you?
AL: I started my blog (4 years ago this month!) because I was feeling unfulfilled by my day job. My boyfriend at the time (now husband) encouraged me to start a blog because he knew I loved to write and create collages. At the time, I didn't read any blogs and I didn't start my blog as a style blog. It was more just an inspirational outlet, and still is, but later grew into more of a personal style blog.
I'm motivated and continue blogging because it's creatively inspiring and fun! The best part about blogging has been the supportive community. When I moved to the East Coast, I met most of my friends through my blog!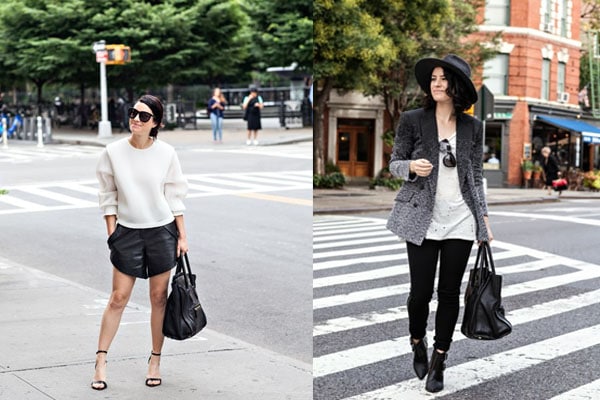 Photos Courtesy of Alicia Lund
CF: Did you go to college? If so, what did you study? What was your college experience like?
AL: Yes I went to Santa Clara University (located in Santa Clara, CA). I wasn't sure what to major in, but knew I was good at science and math, so I majored in Combined Sciences. It was a pre-medicine major (a mix of Biology and Chemistry). I obviously am not in medicine now, but as much as it was a challenging major I'm glad I stuck it out. Oh and I loved college. I made the best friends and met my husband there! Sometimes I wish I could go back…
CF: Where do you like to shop?
AL: I love well-edited boutiques and funky vintage stores the best. In New York I would walk to my neighborhood spot, Otte, a little too often. Oh and I love to shop in London. Liberty and Matches are two of my favorites. I'm also a big online shopper (mainly: Shopbop and Net-a-Porter).
CF: What advice do you have for being stylish on a college budget?
AL: College is the best because you're living in such close proximity to all of your girlfriends' closets! When I was living in the dorms, my friends and I swapped clothes and accessories all the time. I also babysat a lot in college for extra money so I could save up for the items I wanted. I would rotate the same blouses but get a new fun necklace to spice up my look.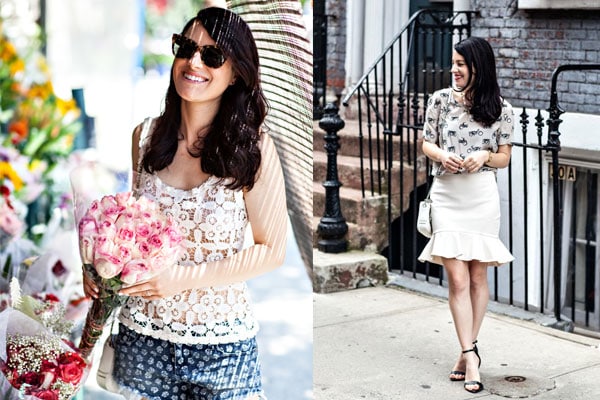 Photos Courtesy of Alicia Lund
CF: What are your favorite pieces in your wardrobe?
AL: On the weekends I live in boyfriend jeans. And I have a growing collection of Isabel Marant sneakers and black leather jackets–those are probably my favorites, along with my Helmut Lang blazers. If I could wear one label head-to-toe it would probably be Helmut Lang.
CF: Who/what inspires you?
AL: My girlfriends continuously inspire me! They are all doing so many different and amazing things right now and I'm so proud of them. They're starting their own brands, companies, designing handbags and clothing lines, living abroad, advancing in their careers, having babies… miraculously juggling a million things. Most of all, I'm inspired by their confidence.
I'm also most inspired when traveling and discovering new places/experiences. I'm on a constant high!
CF: What advice do you have for new bloggers or college students starting a blog?
AL: Just have fun with it and keep true to yourself. Try not to worry about what everyone else is doing and create something that's completely YOU.
CF: What's writing a blog really like? Could you describe a typical day?
AL: It's fun, and it's also more work than it might seem. Since I'm working on my blog and other freelance opportunities, as well as some personal styling, my schedule is all over the place. Every day is different–which I love. My schedule was much different in New York, as I was in the office all day, and I still don't really have a regular routine here right now.
I'd like to start my day with yoga or a Pilates class, but I have yet to find a studio I like. I have been trying to start my day by reading (with coffee of course). Next I'll check my emails, post my blog to my social media channels, work on upcoming posts or stories for ELLE. I'll usually have a few phone calls or a meeting in the afternoon or will try to take some photos. More emails… and a dinner or event in the evening.
Your thoughts?
Does Alicia's story inspire you? Do you read Cheetah Is The New Black? Which bloggers and fashion industry celebs do you want me to interview next? Let me know in the comments section!