This post may contain affiliate links, which means we may receive a commission if you purchase through our links. Please
read our full disclosure here
.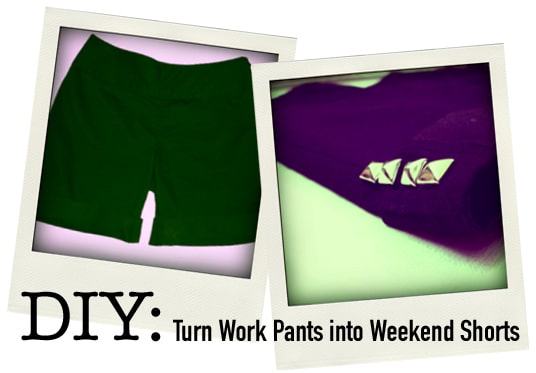 At some point or another, everyone has had to buy a pair of not-so-ideal black pants for work or an event. Then, of course, those pants sit in the back of your closet, never to be worn again. With summer on the horizon, why not recycle those old pants instead of throwing them away? Here is a simple and inexpensive way to make a pair of cute, edgy shorts from your old pants – no sewing required!
Supplies:
Here's what you'll need to pull off this easy project:
Old pants
Scissors
Seam ripper
Ruler
Studs (found at any craft store in the leather or embellishment section)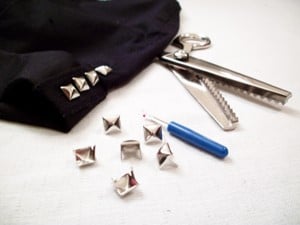 Click each image to enlarge.
1. Measure the pants.
Put on your old pants and decide how short you want your shorts to be, then mark this length with a piece of tape. Take the pants off, and lay them on a flat surface. Then measure 2 and 1/2 inches down the leg from your piece of tape, as shown below. This 2 1/2 inch section will be the cuff of your shorts. Mark this length across each pant leg with tape.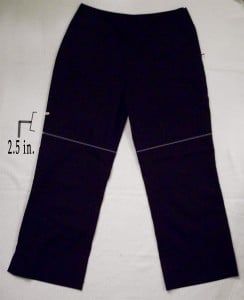 2. Cut.
Cut the shorts on the line marked.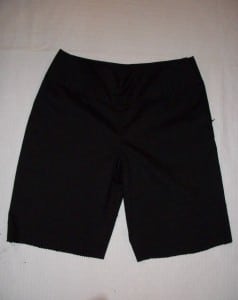 3. Fold and press.
Fold the bottom of the shorts 1 inch up, then press with an iron as shown below. Ironing is very important, as it it makes the cuff crisp and helps it last longer.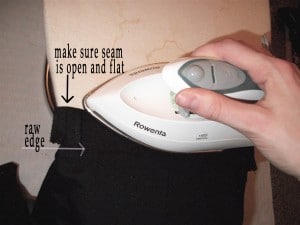 4. Fold and press again.
Fold the 1 inch cuff up another 1 and 1/2 inches, so the raw edge is on the inside of the cuff and hidden, then press again.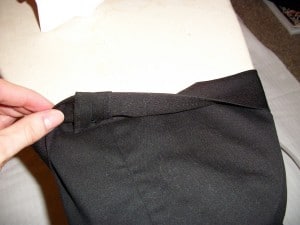 5. Apply the studs.
Think about the style you want your shorts to have. I chose a simple row of four silver pyramid studs but the options are limitless; be creative!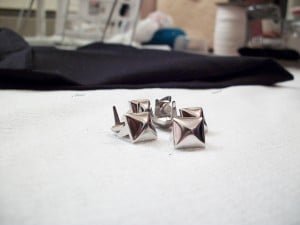 To apply the studs, use a seam ripper to poke two very small slits through the cuff according to the width of the prongs on the back of the stud.
Insert the stud prongs to these holes and fold the prongs in, so that they hold the stud in place.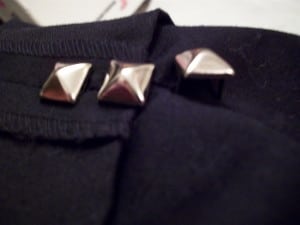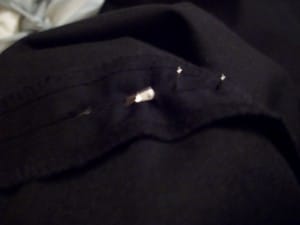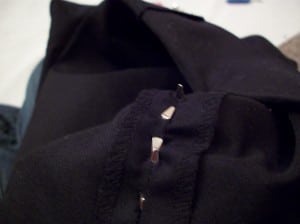 Be careful to line the studs up evenly; this makes it look less "craftsy" and more like you bought the shorts that way. Have fun with the stud size, color and shape. This is a great way to make a very unique and personalized pair of shorts.
6. Admire your finished product!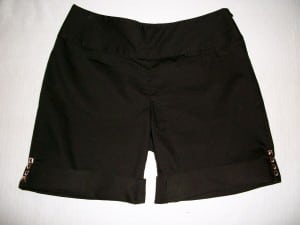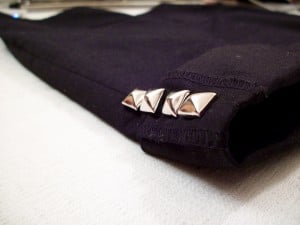 Your thoughts?
Will you try this DIY and recycle your old pants into new cuffed shorts this summer? Were these instructions helpful? If you do try this out, please link to your pictures in a comment; we would love to check out your design!