This post may contain affiliate links, which means we may receive a commission if you purchase through our links. Please
read our full disclosure here
.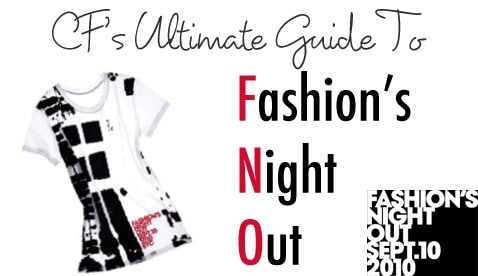 Last fall, the fashion industry had a city-wide party in New York, with special guests ranging from the Olson twins bartending at Bergdorf to Miss Anna Wintour herself making an appearance in–gasp–Brooklyn. Stores stayed open late, free food and drinks were flowing, special shirts were made, and best of all, everyone was invited.
What was this magical event? Fashion's Night Out, of course!
This year, FNO (tomorrow, September 10th in the US) has extended its reach across the globe, with many events happening in popular college spots. The only problem is, with so many fabulous events going on and a free invite to every one, how do you choose?
Below, I've featured the must-attend Fashion's Night Out events in cities across the US. In selecting these events, my criteria were: events that would be fun, open to people of all ages, and those that could be attended by those on a budget.
Read on to see my picks, and for more info on all of these events and more, visit FashionsNightOut.com!
California: Rodeo Drive Ferris Wheel

Photo courtesy of The Huffington Post
I don't know about the rest of you, but I'm a sucker for the old-fashioned, kid-style kind of fun. So to me, there is nothing better than the carnival-esque themed events on California for FNO.
There will be a huge Ferris wheel exclusively for FNO participants on Rodeo Drive (show a receipt from one of the FNO-participating stores for a spot). Not a big fan of heights? Stick around the Ferris wheel until 6 PM, at which point a life-size game of Fashion Rules (a fashion trivia board game) will begin. Watch to see the fashion knowledge of celebs like Kelly Osbourne and West Coast Vogue editor Lisa Love put to the test!
Washington DC: bluemercury

Photo courtesy of the Marin Independent Journal
Love the beauty looks for fall but unsure of how to do them? Head over to bluemercury with a beauty look you love from Vogue or choose one from their Vogue lookbooks to have it recreated for you by a makeup artist for Bobbi Brown, Laura Mercier, NARS, and more.
Those of you who are 21 can sip champagne while being beautified, and those of you who have been saving up for FNO and spend over $100 can get an exclusive gift with any $100 purchase.
Illinois: Macy's (at Water Tower Place and State Street)

If you're an aspiring fashion designer, head over to Macy's for their 10th Annual Distinction in Design Competition. Industry professionals will check out your sketches and give you advice, and the winner will get $1,000!
For those who are looking for a (pseudo) celebrity sighting, Vicki Gunvalson from The Real Housewives of Orange County will be handing out signed copies of her new book to customers who spend over $75 that night. Spending will be easy with deals and incentives from hot brands like Joe's Jeans and Franco Sarto!
If you're simply looking for some fashionable fun, Macy's will have that as well, with a Vogue backdrop to take pictures in front of, as well as mini spa treatments from one of our fave beauty brands, Lush Cosmetics.
New York: Take Your Pick!

NYC will still be the center of FNO this year, with more celebrities, sales, events, pop-up stores, and freebies than I can even count! There is literally something for everyone here, from marshmallow guns and candy necklace-making at Dylan's Candy Bar to the largest fashion show EVER being staged by Vogue to multiple karaoke contests and ping-pong tournaments happening all over the city at major department stores. (I'm serious!)
If you're lucky enough to be in NYC this Friday night, your best bet is to go to www.fashionsnightout.com or to look for events on Facebook so you can find out what your favorite stores are doing/where your favorite designers and celebs will be/what's going on in your neighborhood! Team CF will also be there to cover some of the events – maybe we'll see you there!
Pennsylvania: King of Prussia Mall

The King of Prussia Mall is going all-out for FNO, and almost all of its stores are having some sort of fun event or sale.
Some of the coolest promotions: American Apparel is having a "Most Fashionable Person" photo contest with a $,1800 wardrobe prize (!), Kiehl's is offering free skin analyses (as well as product demos and discounts), Macy's is rolling out a red carpet and serving up free refreshments, and Nordstrom is offering major sales as well as complimentary shoe shines and hemming.
If you're bummed about missing CA's FNO Ferris wheel, indulge your inner child here, where Hello Kitty will be making a special appearance at Sanrio and sweet stores will also be featuring promotions (I suggest stopping by the Sweet Factory for a complementary gift bag and Sur la Table for cake and cookie samples.)
From Your Dorm Room: CBS and CW

Photo courtesy of CBS.
Can't make it out to any FNO events? Stay up-to-date on all the action by checking outCBS's FNO documentary hosted by the always-adorable Neil Patrick Harris. This behind-the-scenes look at FNO will give you an insider's look at how some of the hottest designers prepared for the event, as well as some time to marvel over the power Anna Wintour has over the fashion industry. Check it out on September 14th!
The CW will also be featuring FNO on their most stylish show, Gossip Girl. The show will recreate FNO for a two-episode special airing on September 13 and 27. Besides the beautiful fashion sure to be seen on the GG stars and the ample amounts of glamorous drama, the show will also feature some cameos from prominent fashion industry professionals.
What are YOU doing for FNO?
Is FNO coming to a city near you? What are your plans for the night? Are there other events you are excited for? What events would you like CF to cover? Let us know in the comments!