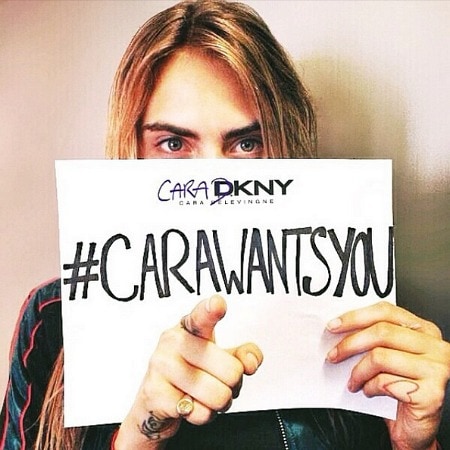 Photo Courtesy of Cara Delevingne's Instagram account
WWD is reporting that model Cara Delevingne has designed a capsule collection for DKNY.
The 15-piece collection will include some of Cara's street style faves, like tank tops, leather bomber jackets, and beanies. Most of the pieces are unisex, and prices range from $70 to $735. Cara Delevingne for DKNY will be available in stores this November.
Cara, who's been modeling for DKNY for several years, spoke with WWD about her collection:
"I can't believe that some random, rough ideas have finally turned into my own collection… designs with my own name on them and in collaboration with the iconic DKNY brand. It is so wild to realize that it has been an entire year since we began planning this project together… [it] goes to show that time does fly when you're having fun."
Wondering why Cara's holding that sign in the image above? Well, according to her Instagram account, she's looking for fans to model her DKNY collection, and the winners will get to be in a photo shoot with Cara! Today's the last day you can enter, so be sure to check out the full details here.
Your thoughts?
What do you think of this collaboration? Are you a fan of Cara Delevingne's street style? Would you splurge on anything from this collection? Tell us what you think by leaving a comment!