This post may contain affiliate links, which means we may receive a commission if you purchase through our links. Please
read our full disclosure here
.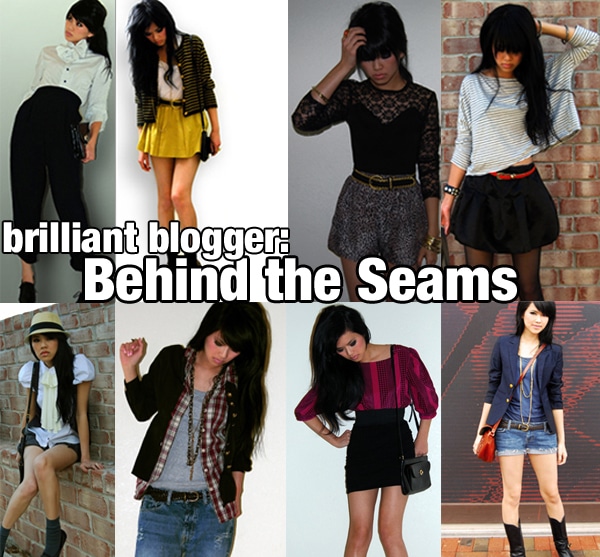 While some of us struggle to translate the trends into our everyday wardrobes, fashion blogger Trang Huyen of Behind the Seams manages to take each one and make it her own. What's great about Trang is that she does not limit herself to only one type of style. One day she's wearing a chic striped shirt with some killer red heels, and another day she could be seen rocking out in some vintage boots and denim cutoffs.
Instead of sticking to one distinct style, this blogger takes it all in by adding a touch of color, hint of grunge, and classic styling to all her looks.
Interested? Read on to find out how to get Trang's eclectic sense of style.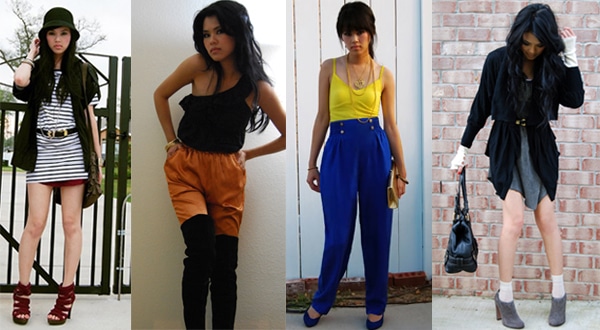 1. The New Standard
One of the best things about Trang is that whatever she's wearing, she always looks polished. How does she do that, you ask?
Well for one thing, she collects simple yet classic pieces and then adds her own flair to them. Take for instance the first outfit on the left. Trang is sporting a cute classic striped tee shirt, but what makes it new and hip is that she adds a pop of red to her entire outfit using both her shoes and her skirt. In the second picture, you can see that she's wearing a look that is more of a"new classic". Trang chooses one of the right-now trends; the "one shoulder tank" and pairs it with a pair of orange trousers. While these pieces are not totally old school, they still have an old school flair to them; Trang just updates them by choosing of-the-moment colors and silhouettes- which is what you should do too!
Trang chooses solid colors (ie: solid blue, orange, gray, and black) to give her wardrobe meat; this ensures that her look is sleek and stylish because she always has a basic go-to piece to wear with her more dynamic pieces. Then all she has to do is pile on accessories like necklaces, bangles, or put on cute pair of shoes. And because these classic pieces are chosen in fun colors like orange or blue (like her super cute blue high-waisted trousers) her outfits look both fresh and fashion forward. Her classic pieces will take her a long way and can be used from season to season as they will never go out of style.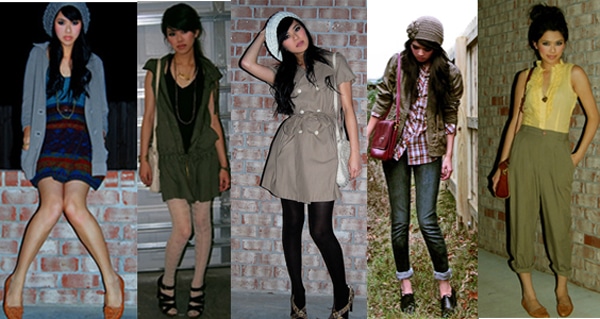 2. Urban Outfitter
While Trang rocks the the classic look to a tee, like a chameleon she can effortlessly switch up her style for a hip downtown street vibe. To get this look, she chooses neutral tones like grays, khakis, browns, and army greens, then pairs them with things like a slouchy knit or cute lace tights.
The key to looking cool is to make sure you have both a fitted and a loose look. The slouchy piece shows that you're not trying too hard and gives you a more effortless vibe. However, your whole outfit should not look loose or else you'll just come off as shlumpy. So whether you're wearing a flowy skirt or some slouchy boyfriend jeans, make sure another part of your outfit shows off your killer legs or your nice shoulders. After all, spring break shouldn't be the only time you show off your amazing body!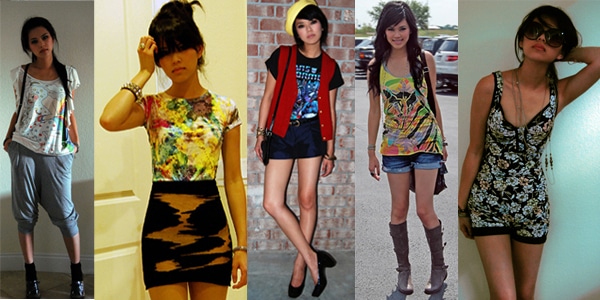 3. Graphically Inclined
While many people think of graphic prints as juvenile, that is really not the case. In fact, this season lines like DKNY and Luella have embraced the graphic tee as a great addition to any girl's wardrobe. By choosing the right pattern, color, or graphic, one can make a bold statement without much effort at all. I cannot sing enough praises about the graphic tee; just pop one on and instantly you're halfway finished. But, instead of pairing your tee with your tired skinnies, try opting for a pair of shorts (since it's winter you can pair them with tights), some cute slouched trousers, or a sleek bandage skirt like the one Trang is wearing above.
When it comes to graphic tees this season, try to find tee shirts that are just that; graphic. Tee shirts with cool designs, patterns, or artwork are your best bet. Think of it this way: your torso is going to be a piece of artwork, showcasing your tastes; so keep it classy. Stay away from the "I Love My Boyfriend" or "Too Cool for School" slogan shirts (those are so 2007), and look for more subtle artistic shirts, you're in college now; those slogan shirts should stay in your middle school algebra class.
Blogger Inspired Wardrobe: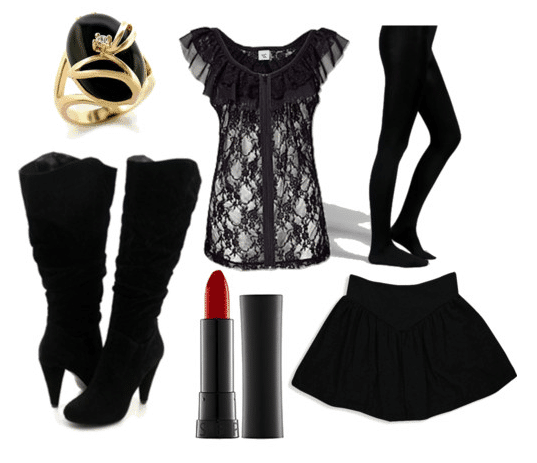 Shorts- Walmart, Tights- UO, Teeshirt- F21, Boots- F21, Ring- Modcloth, Blazer- F21
For this edition's Blogger Inspired Wardrobe, I tried to tie together all the tips I gave you into one.
To center this piece, I chose a unique and whimsical graphic tee with minnie mouse on it; a perfect example of how a tee shirt can make a great statement without being cheesy. Then I chose a pair of high waisted denim shorts that you can tuck your teeshirt into. For that hint of jewelry, I chose a cute vintage rose ring. And depending on "weather" or not you're cold (haha, I'm pun-ny), you can don this season's newest take on the classic black tight; tights with polka dots. After that, slip your toasty legs into this season's new "it shoe", the urban cool black laceup bootie. Finally, to keep your shoulders company, I chose the always versatile, always cool, black blazer to keep you warm. And there you have it; a look that incorporates graphic tees, key classics, and urban edge all in one!
Thoughts?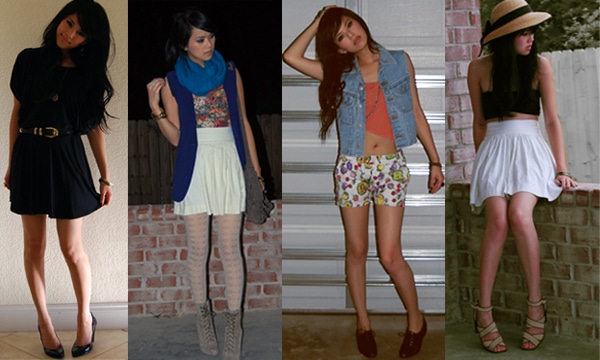 All of my past featured bloggers have had a very clear and distinct style, but Trang is different. What I like about her is that she doesn't subscribe to one type of style or stick to only one trend. After all, who says that you have to have one distinct "style" all the time? In the world of fashion, there are so many different looks, why not try them all? Experimenting with different trends is fun, and I encourage you to mix it up when you dress yourself. It's your body and you should be able to dress how you want.
What do you guys think of Trang's style? Do you like it, or are you on the fence about it? Either way, let me know in the comments section. And if you want to see more of Trang, check out her blog Behind the Seams!