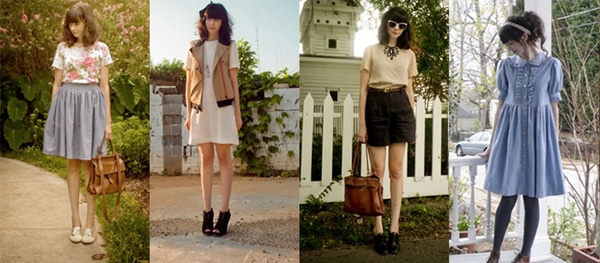 If you love decade-inspired wardrobes, then you'll love blogger Rhiannon Leifheit's blog Liebemarlene Vintage. With doe eyes and doll-like features, this blogger manages to pull off any outfit with ease and a cute pair of vintage booties on her feet.
Interested? Read on for tips on how to get her vintage-style wardrobe.
1. Dress it Up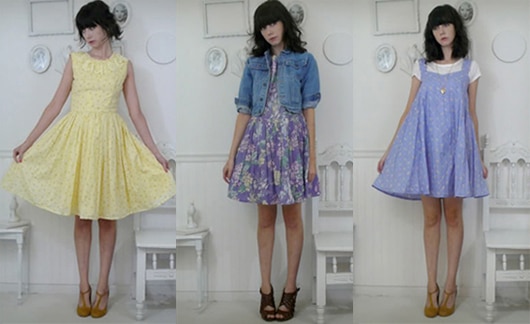 Rhiannon has the ultimate collection of vintage dresses. Whether they're long sleeved, short sleeved, or sleeveless, they're always cute, full of whimsy, and paired with the perfect pair of shoes. In fact, Rhiannon has admitted that she actually doesn't like wearing pants of any kind. Not. Even. Jeans. (I can hear a thousand college girls collectively gasping as I type this.)
Put your raised eyebrows down girls, I can hear your arguments now, "It's so much easier to just slip on a pair of jeans!" and "They're comfortable!" I have news for you ladies, dresses are way easier to slip on, and they're ten times more comfortable, so save it for the judge.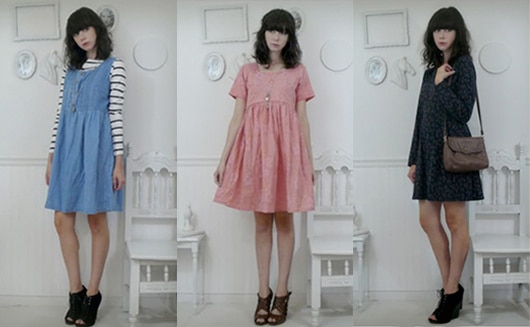 How can one go through life without a pair of jeans on her stems? Simple, Rhiannon picks and chooses statement dresses instead. How many times have you found yourself stumbling into your trusty jeans and then rummaging through your closet for a good 20 minutes pillaging for a decent top to complete your outfit, only to find that you're going to be late to Chem Lab? (Every day, right? I know- I've been there.) There's an easy way to fix that: wear a dress. It's an entire outfit in one piece. Boom- 20 minutes early to class AND you can chat up the cute guy who sits in front of you.
I'll level with you, you don't have to forgo your jeans forever; I'm just trying to give you options and save you 20 minutes of pulling your hair out. The bottom line is dresses are an easy way to save time when you're in a rush. Pop one on and violà, outfit complete, and you're out the door.
2. Baby, It's Cold Outside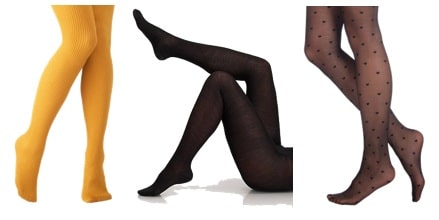 Summer is over and it's way too cold to wear dresses, right? Oh, you don't know how wrong you are, my friend; you don't have to abandon your dresses just because the sky is cloudy. Dresses are the ultimate layering staple and are a snap to transition into fall with. Do you have cold feet? Just do what Rhiannon does; slip on a pair of tights and your legs will be warm and toasty. And if you're feeling really daring, you can forgo basic black tights for reds, blues, grays, even polka dotted or lace- yes, you too can be Blair Waldorf!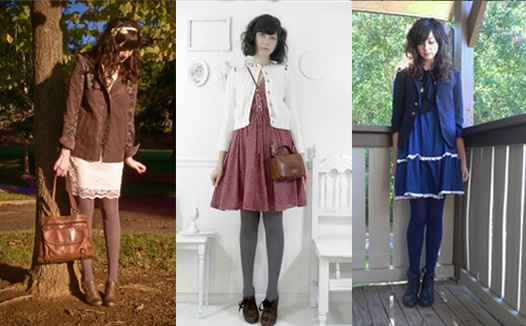 Tights aside, the rest of your outfit is a snap, just follow the "Rhiannon Formula of Dressing" and you'll easily look just as cute as her. What's the formula? Take this down class, I expect you to know this for midterms: (Cute Dress + Tights + Boots) + Cozy Cardigan + Warm Overcoat = Style Success. Easy as pie.
3. Skirting the Issue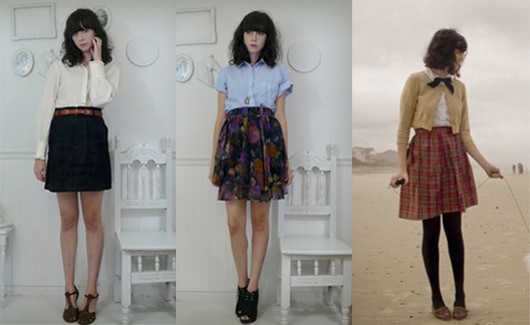 While Rhiannon loves her dresses, she definitely isn't one to shy away from skirts. And I can see why- they dress up your outfit instantly, and revive you from skinny jean drudgery. How can you mimic Rhiannon's skirt style? Look for skirts with interesting colors or patterns (like florals, checkers, or pleats- yes, the black secretary skirt with the tucked in blouse is nice, but it's just been done too many times now, you should make a statement not blend in!) Instead try tucking a simple blouse into your red checkered skirt, and throwing on the ever versatile cardigan, you'll look sophisticated and be comfortable!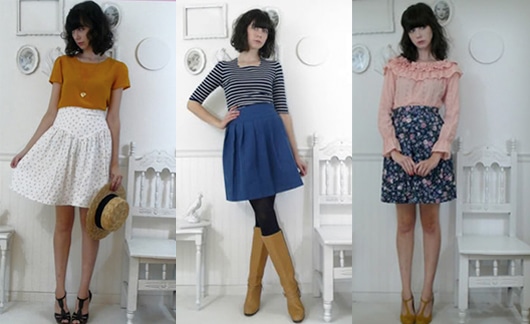 One thing I do recommend when wearing a skirt is to keep things balanced. Think of it like this: your body is turned upside down. Instead of your top being the focal point of your outfit, your bottom should be (especially if you have a floral or some other type of print). One last tip I have to recommend with skirts is to belt it. Skinny or thick, belts add interest to your outfit, and sometimes are the finishing touch you need to pull it together. Still want more tips on sporting a skirt? Check out Kristina and Meggy's blurbs on skirts and how to wear them.
Blogger Inspired Wardrobe: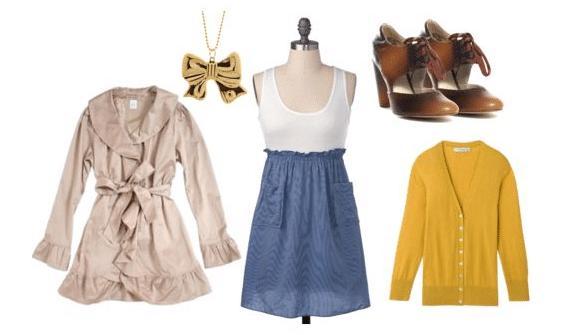 Coat- Shop Ruche Necklace- Modcloth Dress- Modcloth Booties- Heels.com Cardigan- John Lewis
While Rhiannon's clothes are mostly pulled from vintage or thrift stores, I know that most of us college girls don't have the time to go scouring for clothes. Because of this, I pulled things from all over the interweb instead. (I do recommend trying out thrifting though! It's the best way to save money and look cute- plus you'll have one-of-a-kind pieces!)
For today's blogger-inspired wardrobe, I pulled together a bevy of neutral tones and paired them with cools and brights. To start off, I wrangled up a cute empire waisted dress from Modcloth. Then I chose a mustard yellow cardigan for you to throw on oh-so casually when it gets nippy. Still cold? If that's the case, to battle those blustering winds of December, I chose a chic ruffled overcoat to layer right on top. And to give you an ounce of refinement, I picked a little golden bow necklace and some brown chunky-heeled booties, to add some interest to your outfit and keeps things cute and whimsical. I like to think that Rhiannon would approve.
Thoughts?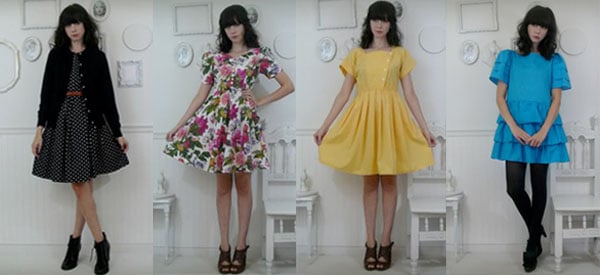 I remember discovering Rhiannon's blog way back in my Junior year of high school. (Boy, time flies!) After a couple visits to her blog, she quickly became one of my daily reads. While I know that her style isn't for everyone, I can't help but admire her for her one-of-a-kind point of view. She pulls things from her closet so effortlessly, yet always looks so put-together. I can't help but admire her for it.
So what do you guys think? Did I convince you to leave the skinny jeans in the closet once in a while, or are you gonna keep on keeping on? Do you like Rhiannon's style, or is it too old-school for you? Either way, let me know in the comments, and don't forget to check out Rhiannon's blog, Liebmarlne Vintage, for more decade inspired looks.