This post may contain affiliate links, which means we may receive a commission if you purchase through our links. Please
read our full disclosure here
.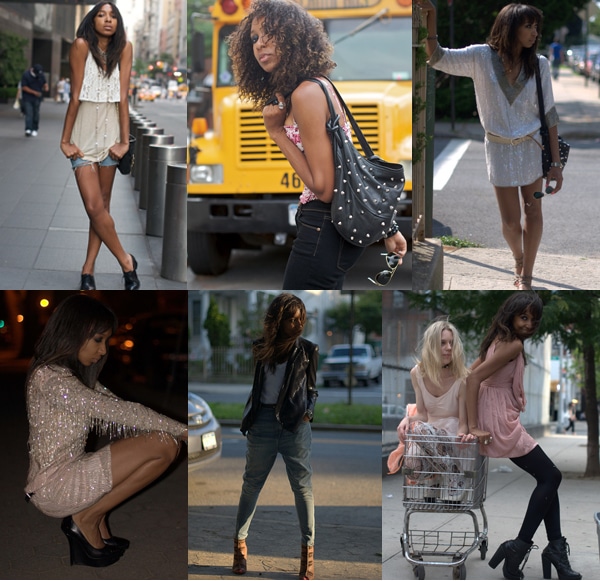 Take one look at Britain-turned-New Yorker Karen Blanchard and you'll think she just walked off the runway (which might just be the case since she's a model- but that's not the point). With fashion street smarts on her side, this girl makes the city her personal runway and takes us along for the ride as she shares pictures of her wardrobe on her blog WhereDidYouGetThat.
Interested? Read on to get tips on how to get her punky rock and roll style.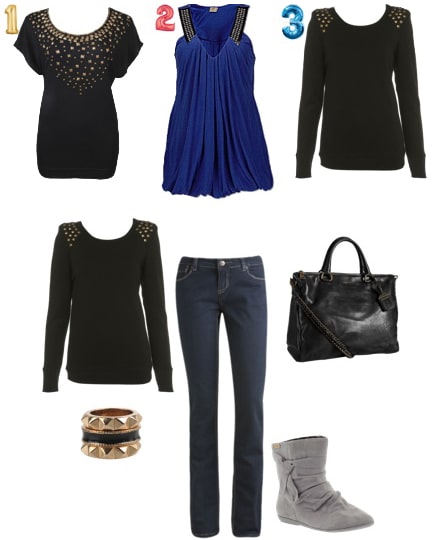 1. Studs Aren't Just for the Rockers Any More
As you guys might have noticed, studs are all over the place this season. Designers like Alexander McQueen and fashion houses like Balmain have brought them from obscurity into the high fashion scene. Stars like Leighton Meester and Rachel Bilson have been seen out and about rocking their own versions of the trend. And why not? Why should punks have all the fun?
From the looks of things, Karen likes her metals too. After all, she works this trend like a pro. Her love of studded high tops, bracelets, and leather jackets makes even her most simple outfits sparkle.
I love this trend because it's so easily accessible to the public. It's actually pretty simple to stud your own clothes, bags, or even shoes. If you want to know more about DIY studding, check out Sass & Trash's tutorial on shoe studding. And if you don't know where to get studs, you can buy them in bulk for cheap at Crustpunks.com. Alternatively, just do what I did and recycle those studded belts from your embarrassing middle school punk rock phase. You know you had one.
So what is a good tip when trying out this trend? I recommend keeping it cool and trying to avoid looking like you walked out of Hot Topic. To do that, try to keep the studs to a minimum and limit them to one or two pieces in your look – overkill is never chic.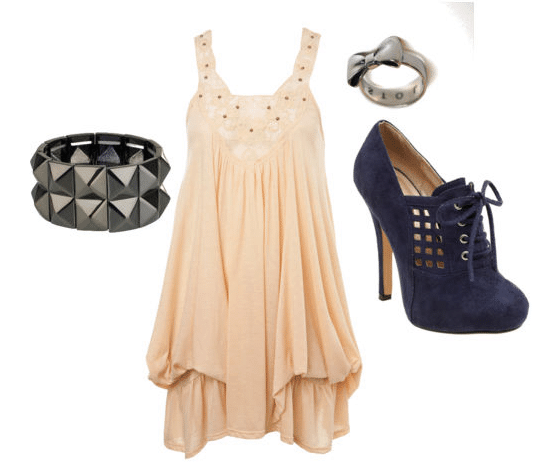 Bracelet- Peacocks Dress- MissSelfridge Heels- Modcloth Bow Ring- ThanksYo
Studs can either be an outfit focal point or an accent to tie your look together. One interesting way to wear them is to pair your cutest, flounciest dress with a studded bracelet or studded boots. This instantly adds an edge to your look (see example above). This way, you look cute while keeping your street cred intact.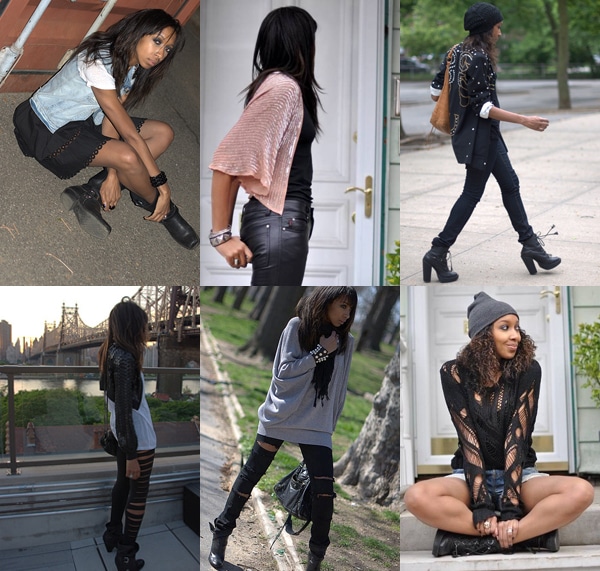 2. Rock and Roll Forever
Look through Karen's wardrobe and you'll start to notice a pattern: effortless rocker-chic style. How does she pull it off? With cutout tees, leather, faded denim, and lots of black. Taylor Momsen, eat your heart out.
To get this type of style, you need to look for pieces that aren't too perfect or straight-laced. Instead, seek out slouchy tops and extra fitted bottoms, or vice versa.
When mimicking Karen's look, pay attention to proportions: usually one part of her outfit is skintight, while the other part is loose and flowy. Also, it seems like Karen gravitates toward monochromatic colors, which gives her that darker, edgy look. Be on the look out for lots of black, gray, and washed-out colors to mimic her color palette. Denim is also important to this look. Whether it's black, gray, or blue, it always should be fitted to your body for a sleek, rockstar-esque aesthetic.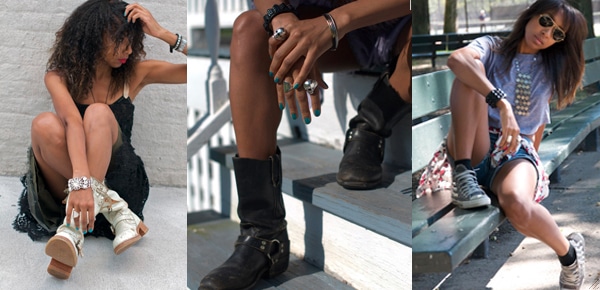 3. Jewelry is Your Best Friend
Karen is the perfect example of a talented accessorizer. As you can see, she piles on the frills. From rings to bangles to necklaces, the girl has it all. That's why it's important to have a good basic jewelry wardrobe. Accessories are great because they allow you to wear the same tee shirt and jeans all week (not saying you should, do your laundry girls!). With the simple addition of a cool studded bangle or layered necklace, the same basic outfit will look completely different.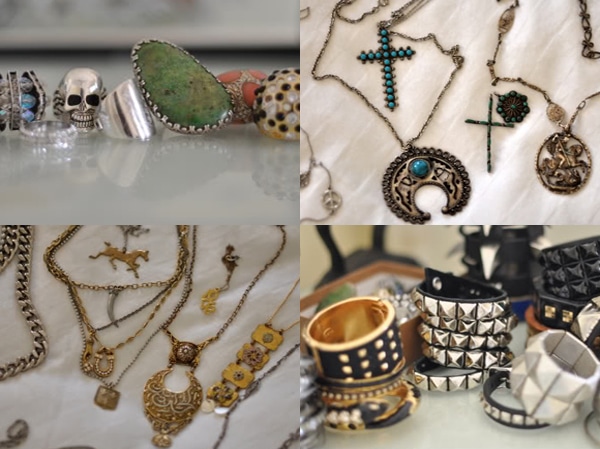 One thing I do recommend when trying to find pieces is to look for unique jewelry rather than the typical trendy stuff. After all, that's what makes Karen so great – her stuff is different and not ordinary. I recommend checking out sites like etsy or ebay and searching for "vintage jewelry". Also, try stopping by your local thrift store or flea market for the really rare (and cheap!) stuff. Who doesn't love saying "Thanks, I got it at a thrift store!" when someone compliments their outfit. If you ask me, it totally ups your coolness factor.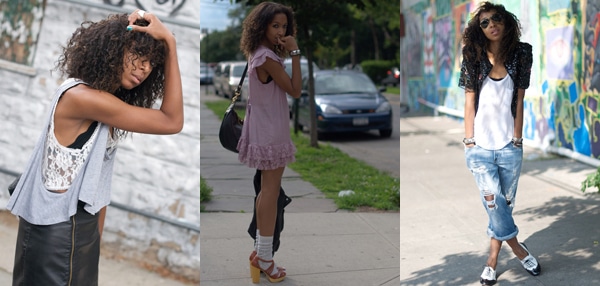 So what can we learn from Karen's style? Overall, the key idea is to keep it cool. The whole rock and roll aesthetic depends on the imperfections of your outfit. Who wants to look perfect anyways? So when you're looking for clothes to imitate this look, find stuff with fades, rips (tasteful ones of course), fringe, and anything black. Then, when you're done choosing your clothes, pair them with a cute boot, some studded jewelry, and a healthy dose of self-confidence. You're sure to be rocking campus all day.
What do you think?
What do you guys think of Karen's style? Do you love it or not so much? Either way, let me know in the comments section! And make sure you check out Karen's blog, WhereDidYouGetThat, for inspiration and to get new perspective on New York street style.