This post may contain affiliate links, which means we may receive a commission if you purchase through our links. Please
read our full disclosure here
.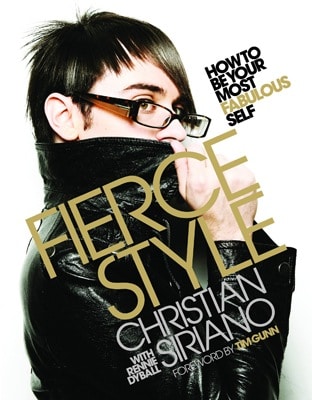 I'm a HUGE Project Runway fan, and one of my all-time favorite PR designers is Season 4 winner Christian Siriano.
So when the publishers of his new book, Fierce Style: How to Be Your Most Fabulous Self sent me a free copy to review, I was beyond psyched!
To be honest, though, I didn't know what to expect from the book. I've read celebrity-penned style guides before, which are often overly self-indulgent and lackluster (Rachel Zoe's book comes to mind).
But Fierce Style surprised me in a good way – it was really entertaining – chock full of inspiration and useful tips, and I couldn't put it down!
What to Expect
The book is divided into four sections:
"Lady, You Look Fabulous!!!!" – A section on finding your personal style and looking fierce
"Finding Your Inner Ferocia" – Tips on how to feel confident at all times
"Every Day Is a Runway… Work It" – A section on acting fierce – succeeding at work, being social, and keeping it all together
"Inspire Me!!!!" – Material to get your fashion inspiration going – from celebrity muses to must-see movies
Each section is divided into mini chapters, with fun features like "10 Things Not to Wear If You Want to Be Fabulous" (sweatpants and UGG's are on there), and "Top 10 Dream Pieces", where he details the must-have designer items for when you become rich and famous, as well as their low-end substitutes, (or "reality pieces"). He also includes plenty of style tips from celebrities like Victoria Beckham and Heidi Klum for good measure.
In addition to the tips, expect to learn a lot about Christian's life. These days, he's a successful designer who has made a name for himself in the fashion world – but his success didn't happen overnight.
The book details the many struggles he overcame to get to where he is today (including being rejected for fashion school, having to leave NYC, having plenty of fashion mishaps, and quitting an internship with Marc Jacobs!). It's an inspiring tale that's surprisingly honest and relatable, as well as a great addition to the book.
Possible Drawbacks
Since I'm a big fan of Christian, I loved that the book was written in a conversational style, with plenty of his famous vocab words ("fierce", "tickity tack", "ferosh", etc.) sprinkled across the pages. Reading this book makes you feel like you're having a conversation with him. And for the uninformed, there's even a glossary at the end that explains what his words mean!
Although I thought the addition of Christian-isms made the book fun, I can see how the writing style might annoy or confuse those who aren't familiar with him. It definitely takes a little getting used to.
So proceed with caution if you find his way of speaking annoying – the word "fierce" is repeated a LOT!
My Overall Rating of "Fierce Style"
Overall, I highly recommend this book if you're a Christian fan or just want some tips on how to look, act, and feel fabulous. It's an inspiring and informative book that will leave you feeling motivated, inspired, and, yes, pretty fierce.
I give this book a 4.5/5, because although I loved the book, I think the writing style might annoy non-fans.
Get Your Copy: You can buy Fierce Style: How to Be Your Most Fabulous Self for $16.31 at Amazon.