Over the past few months, we've been interviewing some of our favorite fashion bloggers and finding inspiration in their styles. In case you missed them, see our past interviews with Maria of Lulu Letty, Elizabeth of Delightfully Tacky, Georgina of Cupcake's Clothes, Tieka of Selective Potential, Rebecca of The Clothes Horse, Keiko Lynn, Kendi of Kendi Everyday, Sally of Already Pretty, Mel of Idee Geniale, La Carmina, Julie of Orchid Grey and Alicia of Cheetah is the New Black.
Today we're meeting Andrea of Blonde Bedhead.
About Andrea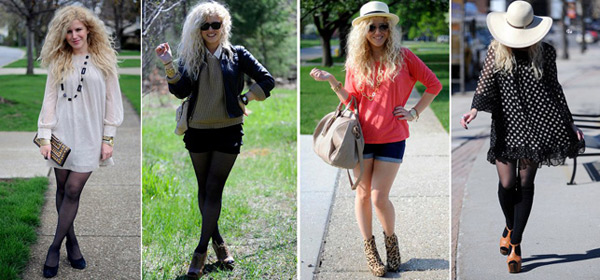 Andrea is a a Midwestern girl living in the big city of Chicago. Her style is always really fun, but her outfits are surprisingly simple to recreate. Andrea's blog was one of the first fashion blogs I ever read, and I still consider it a major source of inspiration. She always helps me bring new life to the things I already own by mixing new combinations of patterns and colors. She always looks perfectly put together and her outfits never fail to make me smile. Let's meet her!!
Our Interview with Andrea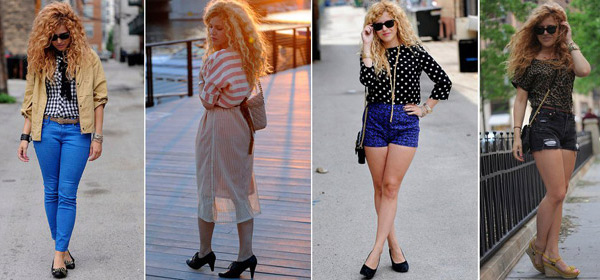 1. Tell us a little bit about yourself (who you are/what you do/where you're from etc.)
I'm Andrea of Blonde Bedhead! I'm an account executive at a digital ad agency, but I'm also a wedding photographer and of course, blogger. I grew up in a small town in western Michigan, but love big city living!
2. How would you define your style?
I'd describe my style as edgy, fun and always changing.
3. How did you find your style?
It's evolved over the years, but it's what I feel most comfortable in. I've tried a variety of styles and I've learned even if it's cute or other people like it, if I don't feel 100 percent comfortable in it, it's not for me.
4. What inspired you to start a style blog? What motivates you?
I love writing, photography and fashion – it was just simply inevitable.
5. Did you go to college? What was your college experience like?
I went to Michigan State University and I absolutely loved college! I was the girl always spending weekend nights at the coffee shop, shyly flirting with the barista. I didn't really go out to parties or bars at all, but hung out with a small group of incredibly fun and entertaining friends. I also always worked at least two jobs, so I kept myself busy!
6. Where do you like to shop?
I love to do a lot of shopping online, particularly at The Outnet, Nasty Gal, Threadsence, etc and also American Apparel, Nordstrom, French Connection, etc.
7. What advice do you have for being stylish on a college budget?
My advice is just hold out for that sale! I had to practice patience and wait for pieces I loved to go on sale and it was totally worth it. I'd also say mix in splurge items with affordable basics. You can look like a million dollars without having to spend that much. Also, I know a lot of colleges will host events to sell discounted designer clothes, look into those! You have to do a lot of digging, but it's worth it!
8. What are your favorite pieces in your wardrobe?
Some of my favorites are my staples: Marc Jacobs small quilted bag, Jeffrey Campbell Warsaw boots and my H&M leopard print scarf.
9. Who/what inspires you?
Caroline of Caroline's Mode constantly inspires me with her basic, but edgy looks. She looks effortless and chic.
10. What are the pieces you couldn't live without?
I can't live without a quality bag and a good pair of ass kickin' boots, whether they're a flat motorcycle boot or platform wedge boot.
11. You recently moved from Michigan to Chicago. Have you noticed a difference in style between the two places? Has your style changed since you moved?
I've definitely had to become more practical. In Michigan, I drove everywhere and wore whatever I wanted. In Chicago, I have to either carry my 6-inch heels to work or just hang out in a pair of flats all day. I really can't wear flowy dresses because I've learned the hard way, I'll easily flash people my underwear with both the wind and subway vents on the sidewalk.
I'm still trying to figure out how to maintain the way I like to dress without hurting myself or being uncomfortable while walking, busing, and generally being more on-the-go.
12. You hair is a big part of your blog – how do you keep it looking so amazing?
That is so nice of you to say! I've learned to let it be what it is naturally — curly and out of control. I used to fight the curl and constantly straighten it and get hair cuts that only worked when my hair was straight. Now, I invest in quality hair cuts, go for a more natural color/highlight and I always let it air dry!
13. What advice do you have for new bloggers or people considering starting a blog?
My advice is to start it for the reason. If you think you're going to start it just to "get big" or get free stuff, the lack of passion and integrity will be easy to spot. If you want to start a blog and take it seriously, update consistently with quality content and photography and make sure you have a clean, professional design and layout. It's the first impression for the readers!
How to Dress Like Andrea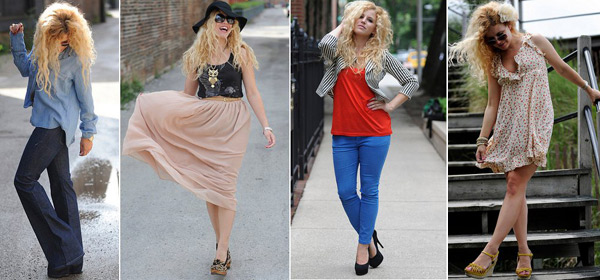 1. Relaxed with an edge
Andrea's outfits are always quite simple and relaxed – she wears lots of separates and uses neutral accents to pull everything together. But, every one of her looks has an edge – think touches of black, stripes, leather and layered jewelry. Her punky touches make rocker chic look super wearable.
2. Bright, fun prints and colors

Andrea's look is all about unexpected prints, colors and combinations. I love the way she mixes prints and pairs unexpected colors together – like the blue jeans and red top above. Her favorite prints are leopard, stripes and polka dots, often worn together.
3. Girly touches
Recently, Andrea has been really into maxi skirts and dresses and I love how she balances these feminine pieces by pairing them with her edgy wardrobe staples. Floaty skirts, soft colours and delicate blouses work really well with leopard print and black and create that perfect edgy-girly juxtaposition.
4. Who wears short shorts?
One thing I noticed when going through Andrea's blog for photos is how often she wears shorts! She has amazing legs and always adds heels to make them look even longer. She wears them year round, pairing them with tights in the winter. If you're nervous about wearing shorts, take a page from Andrea's book – pair tight shorts with flowy blouses, sweaters and loose layers on top for balance.
5. Fabulous shoes!!
Andrea is almost always in heels, which always add a sophisticated touch to even the simplest of outfits. Her shoes are always unexpected and fun – leopard and floral printed shoes are her favorite. They definitely take her outfits to the next level.
Outfit inspired by Andrea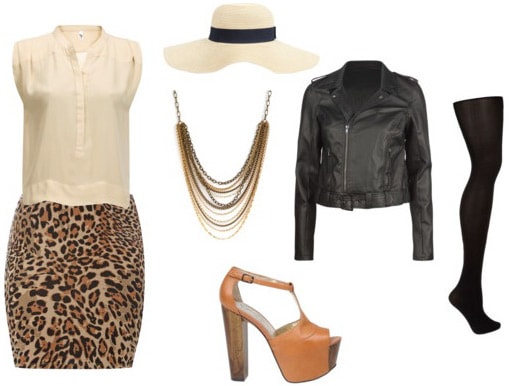 blouse/leather jacket/leopard print skirt/tights/layered necklace/floppy hat/heels
This outfit is a toned-down version of something Andrea would wear, but if you want to be more daring, you could definitely swap the pretty blouse for something patterned or bright! I chose a leopard print skirt as a nod to Andrea's love of animal print, and added a silky blouse to give it a girly touch. The leather jacket and black tights keep it edgy, and I had to add these Jessica Simpson shoes – Andrea loves them! They're very high but absolutely gorgeous, and will definitely make a statement.
What do you think?
Are you a fan of Andrea's style and blog? Do you always wait for items to go on sale before purchasing? Do you wear shorts in the winter? What other fashion bloggers would you like to see interviewed next? Leave a comment and let us know!