This post may contain affiliate links, which means we may receive a commission if you purchase through our links. Please
read our full disclosure here
.
Over the past few months, we've been interviewing some of our favorite fashion bloggers and finding inspiration in their styles. In case you missed them, see our past interviews with Maria of Lulu Letty, Elizabeth of Delightfully Tacky, Georgina of Cupcake's Clothes, Tieka of Selective Potential, Rebecca of The Clothes Horse, Keiko Lynn, Kendi of Kendi Everyday, Sally of Already Pretty, Mel of Idee Geniale, La Carmina, and Julie of Orchid Grey.
Today we're meeting Alicia of Cheetah is the New Black.
About Alicia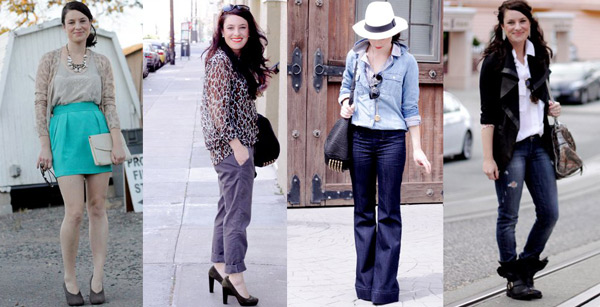 Alicia's blog is a wonderful mix of outfits, inspiration, collages, photography, food and fashion. Based in San Francisco, but soon to be moving to New York, Alicia has a fun and laid back sense of style – just like San Francisco itself. Her blog is full of her adventures, outfits and life. I love reading about what she's doing, and equally importantly, what's she's wearing! Let's meet her…
Our Interview with Alicia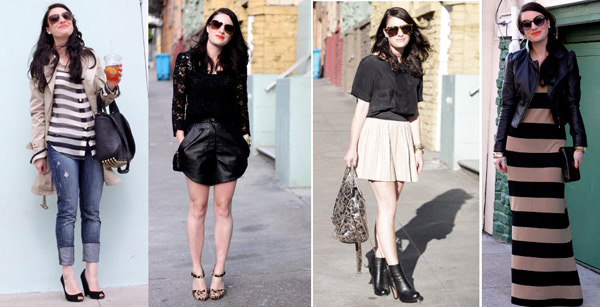 1. Tell us a little bit about yourself (who you are/what you do/where you're from, etc.)
I write Cheetah is the New Black, a lifestyle / fashion blog in which I feature anything I find particularly inspiring from fashion to food as well as the rather obvious cheetah / leopard print. I'm from northern California and have been living in San Francisco for the past 4 years but I'm actually moving to New York this week! I'm excited to explore and see what the east coast has to offer.
2. How would you define your style?
My style is a mix of girlie meets edgy tomboy. I like to be comfortable and usually prefer jeans, but I also love heels, jewelry and fur!
3. How did you find your sense of style?
I've always loved shopping and experimenting with clothes / accessories but I think my style is constantly evolving which is what makes fashion so much fun.
4. What inspired you to start a style blog? What motivates you?
I started my blog for a creative outlet and have thoroughly enjoyed doing it. It has always been so much fun for me that I've been naturally motivated. A blog takes a lot of time so I wouldn't do it if I wasn't passionate about what I was writing.
5. Did you go to college? What was your college experience like?
Yes, I went to Santa Clara University. I loved my time there, it was definitely the perfect school for me. I made lifelong friends and had a great academic experience – plus I met my now husband at Santa Clara… such fun memories! 😉
6. Where do you like to shop?
I like to shop in small boutiques and vintage or consignment stores. Of course, I also love Bloomingdales, Nordstrom, JCrew, Zara and Shopbop for online shopping.
7. What advice do you have for being stylish on a college student budget?
Find local vintage and consignment stores for unique and affordable pieces. Spend your money on key investment pieces like nice jeans or a warm coat and less on trendier items (ie: shop at Forever 21, H&M, Zara for those items). Accessories are a great way to update an outfit when on a budget.
8. What are your favorite pieces in your wardrobe?
I have a favorite pair of Current Elliot boyfriend jeans (a staple in my wardrobe). I love my Equipment blouses and my leopard print Miu Miu heels that I wore on my wedding day.
9. Who/what inspires you?
I'm inspired by anything I read (magazines, novels, fashion websites, blogs etc.), movies, the people around me, travels or the city I am in.
10.What are the pieces you couldn't live without?
Gosh, I don't think I could part with my jewelry collection or sunglasses. I also have a few favorite silk blouses that I wear constantly.
11. What advice do you have for new bloggers or people considering starting a blog?
Not only is blogging an excellent outlet for writing / expression but it's also a fun community that is completely inspiring. I always encourage others to start a blog! My advice would be to reach out to other bloggers who write on a similar topic and build some sort of network. Meeting other bloggers when I first started was so encouraging and motivating!
12. What is it you love so much about cheetah print? What is your favorite animal print piece?
Cheetah print is such a fun and playful print! I always feel a little more spunky when wearing cheetah and leopard prints. 😉 I have a lot of favorites, but I'm currently loving my Rebecca Minkoff and Current Elliot leopard print jeans.
13. You're always rocking vintage clothes – do you have any advice on vintage shopping?
If you find a favorite vintage store – go often and keep an open mind. I don't shop for anything in particular when I go, I just browse. I think people get easily overwhelmed by vintage and consignment stores, but I suggest just sticking to a few racks or browsing just the jewelry or a different color palette each time you come in. You don't have to pull every time off the hanger to inspect, but instead only look at the pieces that jump out at you this way you won't get overwhelmed. And never look at the sizes. Vintage items fit differently and can be shorted, taken in, etc.
14. You're moving from San Francisco to New York soon – how do you find the fashion and style differs from coast to coast?
I haven't moved yet but from my experience visiting New York City, you can get away with more high fashion looks. In San Francisco I'd sometimes feel out of place wearing furs for instance, but in Manhattan, anything goes! I love that.
How to Dress Like Alicia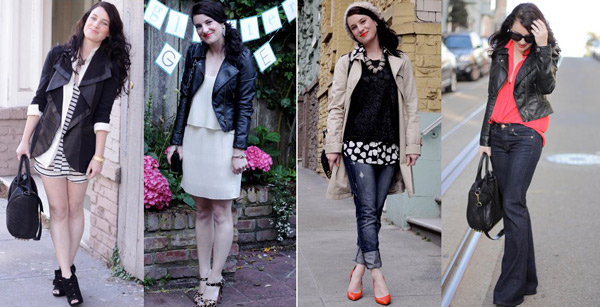 1. Have fun with denim.
Jeans and denim shirts are usually casual pieces, but Alicia always dresses them up fabulously. She loves wearing cropped jeans with heels, and often opts for fabulous wide-legged jeans as opposed to the ever-popular skinny jean. Alicia's blog is proof that jeans don't have to be a lazy weekend option.
2. Mix masculine and feminine.
I love the way Alicia always adds a tough leather jacket to a pretty dress, or plays down a feminine blouse with masculine tailoring. I also love that she always pairs her jeans with heels.
3. Dress up a laid-back look with fabulous accessories.
Alicia's look is always casually sophisticated, which she achieves by focusing on pretty jewelry. She often adds some fabulous earrings or a great necklace to a simple white button-up or basic dress. Similarly, a splash of red lipstick adds some extra oomph to an all-black ensemble.
4. Tone down animal prints by wearing them with neutrals.
Leopard print can be quite bold and over-powering so Alicia always pares it down with black, cream and white accents, allowing the print to remain the focus of the look.
5. And of course, always include some cheetah print!
Cheetah print is Alicia's trademark print and she works it in with shoes, bags, cardigans, skirts, shirts… everything! Cheetah print actually goes with everything and works really well as a neutral. It's fun and a little bit sexy, and never goes out of style.
Outfit inspired by Alicia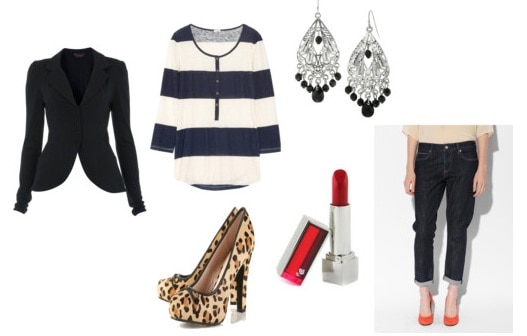 striped top / blazer / jeans / leopard heels / earrings / lipstick
To recreate Alicia's aesthetic, I chose a great pair of dark wash cropped jeans that I think Alicia would love – as a bonus, they're also perfect for the cooler fall months! I paired the jeans with this great striped shirt, and added a blazer for definition and a masculine edge. I finished off the look with some of Alicia's favorite touches – red lipstick, fab chandelier earrings and, of course, animal print pumps.
Your thoughts?
Do you like Alicia's style? Are you happy we finally found a fashion blogger who rocks jeans and pants on a regular basis? Do you consider animal print a neutral? Let us know with a comment!