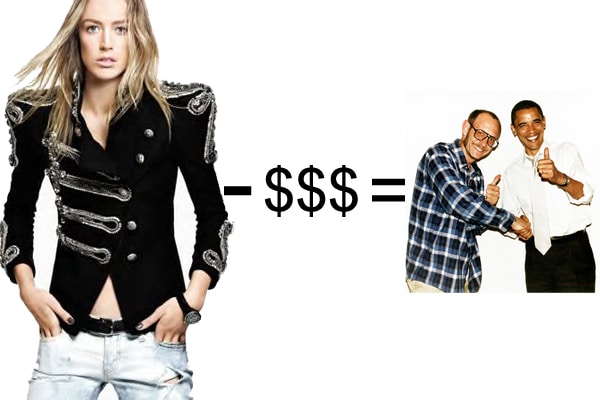 Balmain isn't exactly known for its wallet-friendly pieces. The Michael Jackson-inspired military jacket that opened the S/S 2009 show and sent us into a frenzy sold for upwards of $11,000. And most of Balmain's shoes, tops, pants and accessories have at least three digits following the dollar sign.
Now, I have a tendency to obsess over clothes that I cannot possibly afford so when I heard that Balmain is quietly testing a lower-priced line called Blue Label, my wallet and I were both satisfied. Finally, I thought, Balmain Chairman and Executive Director, Alain Hivelin, has realized that the line can grow only if they broaden their customer range. Granted, Blue Label won't be as cheap as Old Navy or Target. But the pieces will be 40-50 percent cheaper than Balmain's usual astronomical prices. And this is something we should all be absolutely giddy over.
What do you think?
What other high-priced lines should launch lower-priced lines? What are some of your favorite collaborations between high-priced lines and low-priced clothing stores?