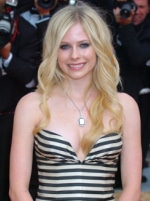 If you've ever wanted to dress like a pseudo punk rocker but couldn't find the right stuff at Hot Topic, now is your chance! Pop singer and wannabe rocker Avril Lavigne is jumping on the celebrity clothing line bandwagon, releasing a line of juniors wear for Kohl's.
The line, called Abbey Dawn, will be released in July – just in time for back to school, reports Women's Wear Daily.
Abbey Dawn will feature "a rock & roll feminine edge" that is reminiscent of Avril's own style, and will release new pieces every 60 days. Prices will be affordable, with pieces going for $24-$48 each.
Personally, I'm definitely not a fan of Avril (although that "Girlfriend" song is one of my guilty pleasures!) I don't really see her as a style icon, so I'm not really sure what to expect from her collection. A line of plaid mini skirts and pink wifebeater tanks? Not really my thing.
However, I'm sure that fans of Avril will be buying this line up like crazy come July. There's also always a chance I'm wrong – maybe Ms. Lavigne will surprise non-fans like myself with a collection that's actually cute and stylish? Only time will tell, I suppose..
What do you think? Do you like the idea of an Avril fashion line? Will you be buying? Or are you with me in thinking nothing good can come of this? Discuss in the comments!