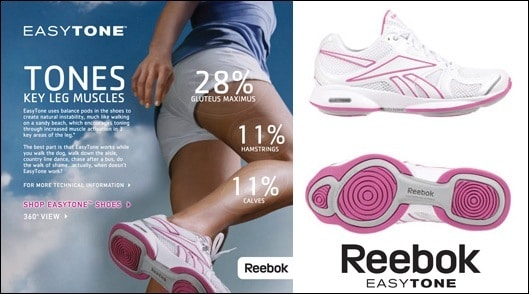 I'm excited to announce another promotion I'm going to be participating in over the next few weeks! Since summer is so close and I'm trying to get in bikini shape, I've decided to participate in the Reebok EasyTone Challenge.

What is EasyTone?
EasyTone is Reebok's new line of sneakers that tone your legs as you walk around in them. They have "balance pods" built in under the heel and forefoot of the shoes, which are designed to create natural instability with every step. This instability forces your leg and glute muscles to work harder, increasing muscle tone and giving you a workout when you're just walking around the house or doing everyday activities.
According to Reebok, "While wearing EasyTone shoes, a person will experience increased muscle activation* in her glutes (28%) and in key muscles in her hamstrings (11%) and calves (11%). (*Based on tests comparing EasyTone to a typical foam based walking shoe.)" Pretty cool, huh?

What is the EasyTone Challenge?
Reebok wants to get the word out about these shoes, so they sent me a pair of EasyTone sneakers to test out for 30 days and review for you guys! I'll be wearing the shoes around the house during the day for all of my regular activities (because you know how I feel about athletic shoes and jeans in public), and I'm going to update you all on my progress as the month goes by.
Overall, I'm excited to test the shoes out but am also a little skeptical. I'm a big believer in diet and exercise, so I'm not sure if I believe that a pair of shoes can make that much of a difference in the tone of your legs. But you never know – maybe these shoes will work well for me!
I'm going to update you all again with my honest thoughts on EasyTone in a few weeks, so check back here to learn more about these new shoes.