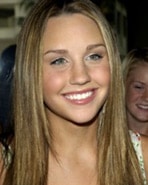 Sarah Jessica Parker is going to have some celebrity fashion competition on the racks at Steve & Barry's. Before you ask, yes, I do mean THAT Steve & Barry's, as in the place that sells college hoodies and sweats for 10 bucks each.
Amanda's clothing line is going to be called Dear, and will feature items that "reflect Bynes' personal sense of style and comfort." Each piece in the line will retail for about $19.98, which is actually expensive for S & B's.
What was the inspiration behind the name "Dear"? The original idea behind the line was to make clothing and accessories that would be "dear to the wearer for years to come." Aww.
I don't know about you, but I'm curious to see what this line is going to look like. Amanda isn't exactly regarded as a fashion icon, but she does have a pretty large teen following. While this line probably won't beat out Kate Moss for Topshop in terms of celebrity clothing line popularity, I wouldn't rule Dear out just yet. More details on this line as they come.
Dear will hit stores on August 10, just in time for back to school shopping.
Source:Women's Wear Daily
Where To Buy Dear By Amanda Bynes: