Images Courtesy of Target
Between Elie Tahari for Kohl's and Alexander Wang for H&M, we were already pretty excited about fall's designer collaborations. Now that Target has announced a collaboration with Altuzarra, we're downright thrilled.
According to the press release, the limited-edition collection features a mix of iconic Altuzarra silhouettes and designs created specifically for Target. The collection consists of around 50 items, including women's clothing, accessories and shoes. Prices will range from $17.99 to $89.99 for apparel and lingerie, and $29.99 to $79.99 for shoes and accessories.
Designer and creative director Joseph Altuzarra said this about the collaboration:
"As a designer, I believe firmly in the transformative power of fashion. It has the ability to not only change how you look, but also how you feel. I've admired the elegance that Target brings to fast fashion. By working together on this capsule collection, we hope to instill a sense of power, confidence and beauty in women everywhere."
Altuzarra for Target is set to launch at most Target stores in the United States and Canada, as well as Target.com starting on September 14. An assortment of items from the collection will also be available to buy globally on Net-a-Porter.
Curious to get a peek at the collection? Here's an official sketch, courtesy of Target: (Click to enlarge.)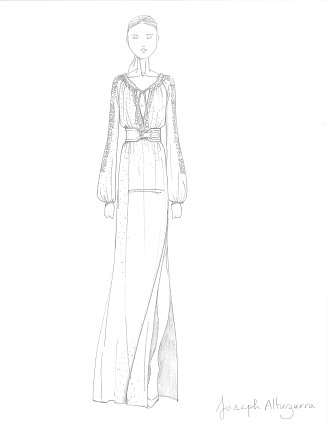 Your thoughts?
What do you think of this collaboration? Are you a fan of Altuzarra? Do you like the sketch? Will you be buying anything from this collection? Remember to tell us your thoughts by leaving a comment!