Continuing College Fashion's Mercedes-Benz Fashion Week coverage, here's the latest from everyone's favorite New York City fashion prodigy, Alexander Wang.
Those of you who are used to Alexander Wang's grunge basics and all-black ensembles may be surprised at his Spring 2010 collection – I know I was! While some people don't like the new direction he went in, I personally think it's a good thing – no designer should be a one-trick pony, and showing versatility, as well as taking risks, is what fashion is all about.
Curious to learn more? Keep reading to see photos from his Spring 2010 RTW collection, as well as to read my review and learn about the key trends and themes from Saturday's show!
Runway Photos: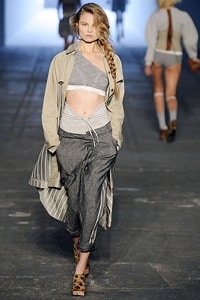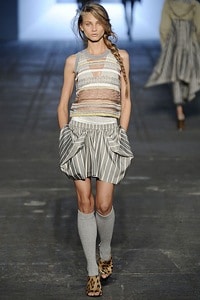 Click each photo to enlarge. Photos from Style.com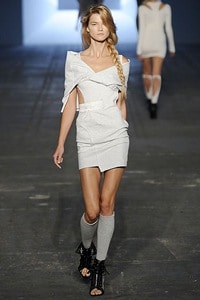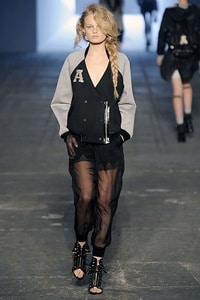 CF Runway Review:
As a huge Alexander Wang fan, this collection had me pleasantly surprised – it was very different from anything he's ever shown before, and it really shows his versatility as a designer, not to mention his sense of humor.
90's fans, take note: gone are the days of the Wang grunge girl, decked out in shredded sweaters and lots of black. This season, she's been replaced by a preppier, sportier, decidedly less serious woman.
In typical Wang fashion, sports were a major theme in his Spring 2010 collection. While American football was definitely the main influence, there were also references to rugby, soccer, and baseball as well. In an interview prior to the show, Alexander said he was inspired by "the deviant side of American teen culture", which certainly showed through in his collection. Fittingly, the overall vibe was high school sports with a sexy twist – soccer-style knee high socks were cut out in the back for a hint of skin, while a classic varsity jacket was taken up a notch, paired with sheer black pants and fierce ankle boots.
There were certainly some costumey pieces (like a heavily shoulder-padded sweatshirt meant to resemble a football jersey and a Lady Gaga-esque white leotard with sheer panels on the sides) in the show, but there were practical options mixed in as well. It's hard not to covet Alex's new line of sunglasses, while sweatshirt-material basics and pretty striped knits will undoubtedly be on every girl's wish list come spring.
While perhaps not his most wearable collection, Alexander Wang's Spring 2010 show displayed his versatility, as well as his fun side, while still conveying his unique point of view – not exactly an easy feat! While devoted fans of his very wearable grunge looks may not like the new direction he went in this season, it's hard to deny that Alexander Wang is a true talent in American fashion, sure to remain an industry favorite for years to come.
Fashion Cliff-Notes:
Overall Themes: American football uniforms Varsity references 1930's and 40's Naughty schoolgirl




Key Trends: Khaki Knee-high socks Leopard print shoes Cutouts Strong shoulders Horizontal stripes Leather panels Lace-up everything Deconstruction









What do you think?
If you want to see the rest of Alexander Wang's Spring/Summer 2010 collection, check out Style.com's photos.
In the meantime, I want to know what you think! Are you a fan of Alexander Wang? Did you like the new direction he went in this season? Which look was your favorite? Let us know in the comments!