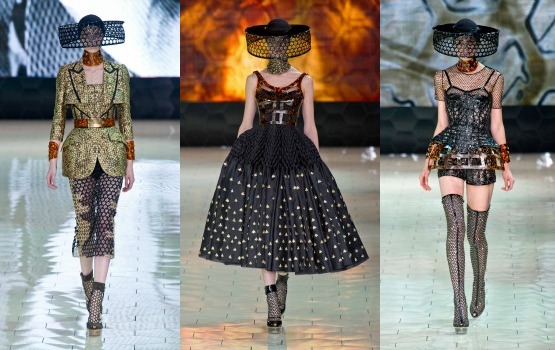 Alexander McQueen Spring 2013 | Courtesy of ELLE
Recently, WWD announced that fashion house Alexander McQueen has signed a fragrance deal with Proctor and Gamble. P&G will develop and market men's and women's fragrances for the fashion powerhouse.
Although it isn't McQueen's first foray into fragrance (two previous scents, "Kingdom" and "My Queen" have been discontinued), this marks a significant step in the evolution of the McQueen brand.
Sarah Burton, creative director for Alexander McQueen, spoke to Vogue UK about the collaboration with P&G:
"Creating a fragrance feels like a natural progression as it enhances the world of Alexander McQueen. I'm very excited by this opportunity to collaborate with P&G Prestige, to work together to create a scent that captures the unique sensibility of the house."
Since the project is still in early development, there's no word yet on a possible launch date or price points for the fragrances.
Additionally, WWD also reports that P&G has also inked a beauty deal with designer Stella McCartney.
Thoughts?
What do you think of Alexander McQueen launching a fragrance? Are you a fan of the McQueen brand? What do you think the fragrance will smell like? Do you think you'll be checking it out when it's released? Let us know your thoughts by leaving a comment!