This post may contain affiliate links, which means we may receive a commission if you purchase through our links. Please
read our full disclosure here
.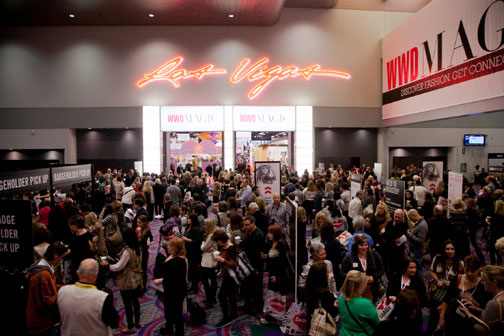 While perusing your favorite local boutique, have you ever wondered how the owner came up with the collection that makes up their store? Or have you ever been curious where internet shops like Nasty Gal or Lulu's find their pieces?
Last week, I got the opportunity to go to the MAGIC Trade Show in Las Vegas, Nevada. MAGIC (and WWDMAGIC, the main fashion portion) is a convention that store owners, buyers for multi-chain store corporations, bloggers, and vendors all attend. This three-day long event features panel discussions and seminars for boutique owners, hundreds of vendors showing their new lines for 2012, and marketing strategy workshops, and even hosts a few celebrity appearances.
Interested in working in fashion one day, or just want to know a little bit more about how you ended up with that cute skirt you picked up at your favorite boutique last week? Read on for a behind-the-scenes look at MAGIC!
Why did I go to MAGIC?
A little back story first: I work for my parents' company, which designs and manufactures both collegiate and themed fashion jewelry. Our products do great in Hallmark stores, hospital gift shops, and college bookstores–traditional gift shop type places, but this year we went out on a limb and decided to see how a higher fashion crowd would respond to our line. I was beyond thrilled when I got the news that I would be attending — three days surrounded by other people who work in the fashion industry?! Sign me up!
Before last week, I had a vague idea about how high-fashion design houses marketed their lines — through events like New York, Milan, London, and LA Fashion Weeks. Little did I know that was just the tip of the iceberg when it comes to the overall multi-billion dollar fashion industry itself! It was a crazy week, but I learned a lot about how the more accessible clothing brands distribute the products that eventually reach eager consumers, like us!
Vendors and Fashion Shows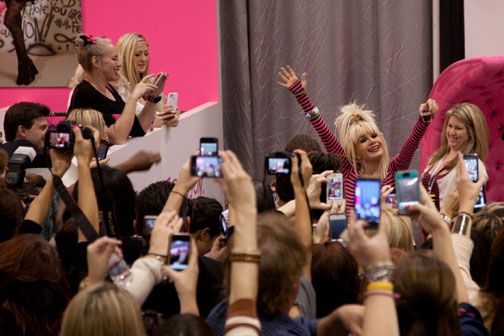 Although I was mainly there to work, I still got a chance to walk around and absorb what was going on at the convention. I was excited to see brands such as Betsey Johnson, Baby Phat, Chinese Laundry, Jessica Simpson Accessories, Free People, and BB Dakota all there showcasing their new lines.
Introducing New Lines
Buyers source their store's stock based on their findings at shows like these, so vendors do whatever they can to draw customers to their brand. Most lines did this by running a special sale for people who purchased at the show. Some brands attract buyers with giveaways or games. Larger clothing companies often produce full-on fashion shows!
Many celebrity-endorsed clothing and accessory lines are showcased at Magic, and brands will create hype by bringing in that famous face. Paris Hilton and Eva Longoria have been know to show up, sign autographs, take photos, and hawk their lines at Magic in the past. This year, Booboo Stewart from Twilight held a meet and greet with fans to support a line of Twilight inspired accessories, and Betsey Johnson herself introduced her Fall 2012 line!
Trickle Down Effects
Of course, not every vendor at the Magic show is a recognizable branded line. Many companies (like mine) manufacture goods for branded companies, or sell products that don't necessarily need a recognizable name to appeal to a fashion crowd. These items include casual jewelry, purses, belts, scarves, and themed clothing items.
As I'm sure you all have gathered (especially us girls in the "flyover" states!) it take months, and sometimes a year for trends created by top fashion houses and celebrity tastemakers to slowly trickle to the midwest United States. Many vendors at this show exhibit pieces that are rising in popularity — think box clutches, Madonna-esque cross earrings, "mullet" dresses, etc — that boutique owners in less fashion-forward cities will receive right as they are peaking in popularity.
Workshops, Networking, and Seminars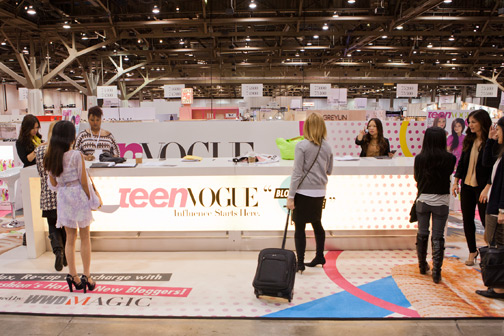 The Magic show is a dream come true for anyone interested in the business side of fashion. There were seminars on how to start a retail store from the ground up, and a workshop on how to better utilize Google, social media, and eBay to market your products. Some of the events were no-brainers for fashion girls like us — for example, one panel discussion was on how to tell a classic piece from a trendy one — but most of them were very relevant and interesting.
The coolest event I witnessed? Teen Vogue sponsored a special lounge just for bloggers to network with each other (seen above)! Last year, style blogger favorites such as Jane from Sea of Shoes, Erica Domesek of P.S. I Made This, and many other recognizable faces were spotted hanging out there!
Forecasting The Future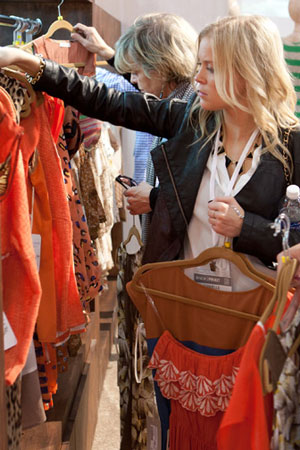 What I loved most about going to the Magic convention (other than my company's line doing well!) was getting a glimpse at what's to come in everyday fashion.
Unlike those at New York Fashion Week, the fashion shows held at Magic are all about showcasing a brand's best and most universally appealing pieces, and less about creating a spectacle.
There was aslo inspiration to be found in the other conference attendees. The outfits buyers wore might not have been as crazy as the notorious street style looks during NYFW, but their ensembles were all very wearable, and would translate perfectly onto a college campus or a day of running errands around town.
Here are a few trends I noticed while at the convention:
J Brand Leopard Jeans. I swear, one out of every five girls walking past me was rocking a pair! I'm not sure whether or not leopard print pants will still be hot next fall, but patterned pants — from faded plaid to geometric prints, lace to animal print — will definitely be back next season!
Fancy Shorts. Shorts fancy enough to wear with heels will be big again this summer! I saw silky tap shorts and lacy hotpants, flowy linen varieties and loud patterns.
Head Wraps. Thick hippie headbands, "turbands," and scarves fashioned as hair wraps were all over the show. These have been around for a few seasons now, but it looks like they're here to stay.
Pin-up Girl Style. I was shocked at how many vendors featured vintage-style dresses and swimsuits. They all looked exactly like something Evan Rachel Wood or Dita Von Teese would wear!
Fitted Maxi Dresses. Many brand-name clothing lines featured long sleeved, fitted maxi dresses. Betsey Johnson's version was pink and black striped! These look sort of tricky to pull off, but I'm excited to try them out.
Crazy Shoes. Here at CF, we've debated whether "flatforms" or sneaker wedges would make it to mainstream fashion. Well, get used to them – it seemed like every vendor had a version of these!
Flared Pants. They say fashion is cyclical, and as such, it looks like you might get a little more use out of your favorite pair of flares from high school. Instead of just jeans, though, there were flared pants in almost every kind of material — I even saw a pair of leather flares!
Takeaways
This convention was really eye-opening for me. Typically when we think about having a career in fashion, we picture either being a model, a designer, or a magazine editor. Going to MAGIC showed me that there are literally hundreds of fashion career paths to explore. Next time I go (in August!), I'm going to be sure to allot myself more time to attend the free seminars and workshops. Oh, and I'll also bring my camera — the fuzzy photo my Blackberry took of Betsey Johnson just wasn't satisfactory!
If you are interested in attending the convention or learning more about MAGIC and WWDMAGIC, make sure to visit their official website!
Thoughts?
Have you ever been to a fashion convention similar to this one? Have any question about the event itself? Would you like to attend MAGIC one day? Leave a comment and let us know what you're thinking!
* All photos courtesy of MAGIC via Elle Communications.