This post may contain affiliate links, which means we may receive a commission if you purchase through our links. Please
read our full disclosure here
.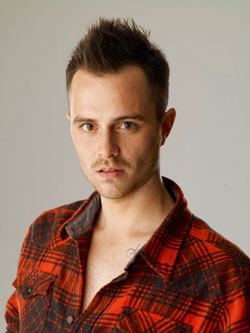 May I just say that there is no better way to spend a free Friday morning than listening to Project Runway's Anthony Ryan Auld be all southern and stuff for an hour? Because I know from experience; there isn't.
A couple of weeks ago, I attended a Creative Louisiana lecture (based on the Creative Mornings lecture series) given by Anthony Ryan. I know what you're thinking when I say "lecture", BUT this was one of those fun lectures where you actually learn something and stay awake. Like the day your history teacher talked about the Kennedy assassination conspiracy and you were practically drooling out of amazement. Or was that just me? Anyway…
A Little Background…
Anthony Ryan, who was eliminated from Project Runway Season 9 in episode 10 (the night before the lecture), graduated from Louisiana State University (GEAUX TIGERS!) in Baton Rouge, Louisiana. The story goes that he started out in graphic design but found himself restless sitting at a computer all day. He switched to fashion design because he wanted to make art that people could wear… and the rest is history.
Read on for more about Anthony Ryan and to hear the six reasons why I love him and you should, too.
1. He Believes in Using Local Talent
For his NYFW collection for Project Runway, Auld contracted local jewelry designers. How awesome is THAT? When you keep products local, it helps your friends stay in business doing what they love! So let him inspire you – if you have creative talent, why not use it and tell your friends about it? It may just show up on the runways at NYFW!
2. He Uses Unconventional Materials in His Designs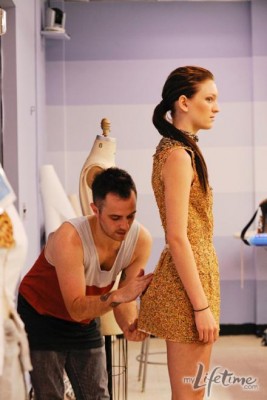 If you have ever seen Project Runway, you know they make contestants create fashionable items from some cuh-ray-zee stuff! Garden supplies, pet supplies, a lampshade… whatever. But Anthony Ryan takes this to a new level.
My personal favorite piece of his from the competition was from the pet store challenge. He glued bird seed to muslin. HE. GLUED. BIRD. SEED. TO. MUSLIN. And it was BEAUTIFUL! Seriously. The seeds cascaded down the dress like couture beading. Check out a better picture here.
And for his NYFW collection, he used sunflower seeds in some of his jewelry. These unconventional materials are not only inexpensive, but interesting too. And they make for enviable creations. Imagine this conversation:
Girl 1: "Oh, I like your bracelet!"
Girl 2: "Thanks! It's made out of sunflower seeds."
Girl 1: Glares with jealousy.
3. He Wants to Make Clothes for the Everyday Woman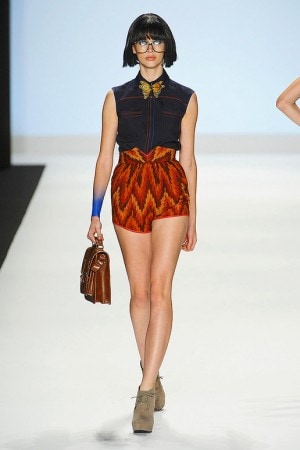 Anthony Ryan doesn't want to design for high-paying celebs or magazine editorials – he wants to design for us. He wants to go out on the town and see a girl across the street wearing a dress he designed.
But just because he wants to design for normal people, that doesn't mean he plans to leave his talent at home – Anthony Ryan brings couture techniques and high quality to all of his designs. Knowing this is so nice, since so many of the ready-to-wear adaptations from high-end designers tend to lack the quality and creativity that we reg'lar folks deserve.
4. He's Colorblind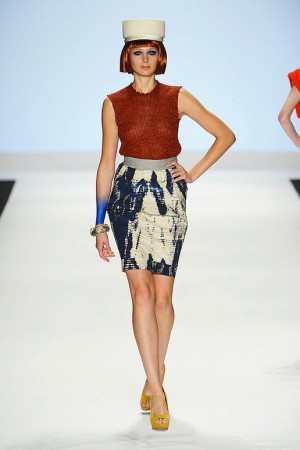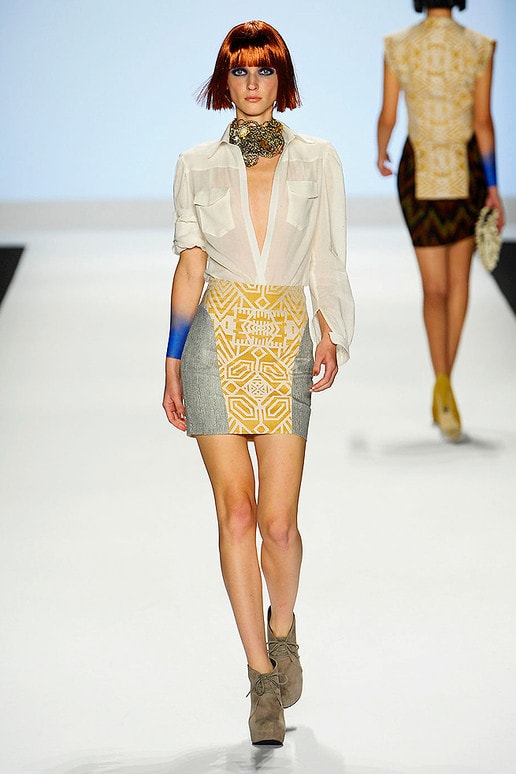 Yes, A-Ry (which is what I'm going to call him now, since we are practically BFFs) is colorblind. COLORBLIND. He designs clothes and loves using prints and… he has trouble telling the difference between certain colors. I still cannot wrap my head around that!
His hometown of Baton Rouge does not have much of a selection in the fabric department (I can vouch for that since I live there), so he often has to add his own prints to solid fabrics – and he doesn't let his colorblindness stop him. So take a cue from Mr. Ryan himself – despite your real or perceived limitations, challenge yourself to do what you love anyway. And hey, don't see a print you love in the store? Make it yourself!
5. He Took a Chance
After being awarded Fashion Group International's Best in Show in May 2010 at their Career Day in Dallas, Texas, Anthony Ryan had that "Uhhhh… what now?" moment so many graduating seniors have. So, he went out on a limb and auditioned for Project Runway. As a person that has taken just a handful of chances in her lifetime, his story inspires me to go out and do what I am passionate about without fear!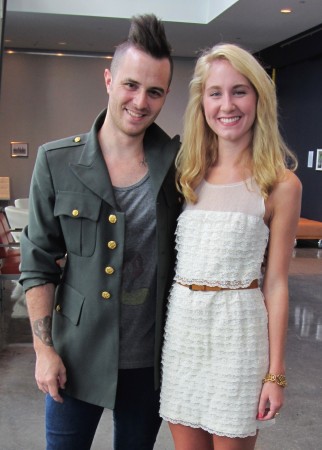 Anthony Ryan (yes, he is wearing a Mickey Mouse tank) and me
6. He's Contributing to a Worthy Cause
I guess I should say that I am partially writing this because Anthony Ryan is the only Project Runway contestant I have ever met, which is true. But, honestly, he is doing more with his life than just designing clothes. He wants to use his success to benefit his newly founded Rock One Movement, which brings awareness to testicular cancer. Because Anthony Ryan is a survivor of testicular cancer and "rocks one", this is close to his heart.
With all of the "famous for being famouses" plastered on billboards across the globe, it is nice to know that some good is coming from someone's instant success. Anthony Ryan's experience on Project Runway has given him an opportunity to pursue his passions and spread the word about a worthy cause. So, now that you know that someone your age is doing something great, what are you going to do?
Thoughts?
Who is/was your favorite on Project Runway season 9? Were you sad to see Anthony Ryan go? Who do you predict will win the competition? What was your favorite look of Anthony Ryan's? And has his story inspired you? Let me know by leaving a comment.