This post may contain affiliate links, which means we may receive a commission if you purchase through our links. Please
read our full disclosure here
.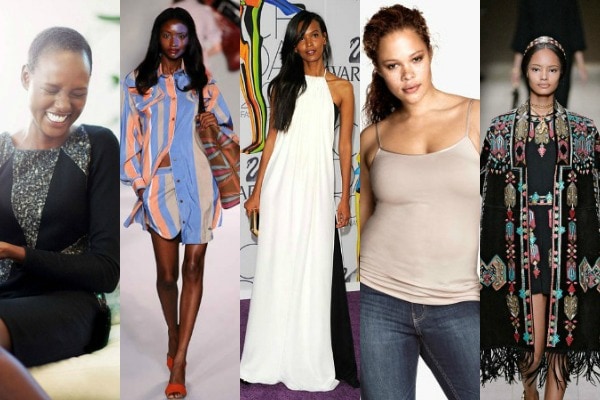 As we're sure many of you know, February marks the beginning of Black History Month. In the fashion industry, as we've mentioned before here at College Fashion, race is of particular importance. Yet despite constituting a large share of the fashion and beauty markets, black models and other women of color continue to be severely underrepresented on the runway and in advertising. For example, at New York Fashion Week Spring/Summer 2014, just 8% of models were black, while a full 80% were caucasian.
This lack of representation has significant effects. The whitewashing of the fashion industry further contributes to Euro-centric beauty standards. And while we know how harmful unrealistic beauty standards are for all women, studies show the effects are particularly compounded for black women and girls. The Clark Study, for example, first conducted in 1950 and since replicated with similar results, revealed that when shown a white doll and a black doll, black children overwhelmingly identified the white doll as the "pretty one," which hints at the internalization of negative beauty standards.
It's important that we recognize women of color all the time, and not just for one month of the year. So, though this list is by no means exhaustive, here are five black models to watch in the coming Fashion Weeks and beyond:
Malaika Firth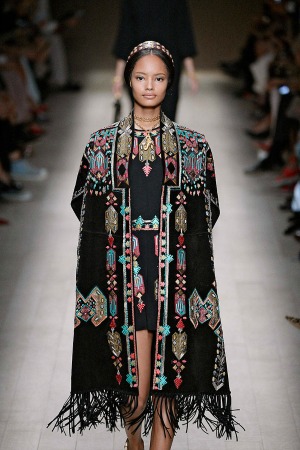 Photo- Elle
Malaika Firth first gained widespread recognition last year as the face of Prada's F/W 2013 campaign. She was the first black model the brand had employed in almost twenty years. Malaika has since gone on to land the cover of Vogue UK, in addition to the S/S 2014 campaigns for Valentino and Burberry, as well as spreads in this month's issues of Vogue Paris and British Vogue.
While the model makes it clear she's happy to serve as the second black model for Prada, she also emphasizes the fact that she's bi-racial. The campaign seemed to spur a positive trend for Prada, as their S/S 2014 campaign also includes black model Cindy Bruna.
Lyndsey Scott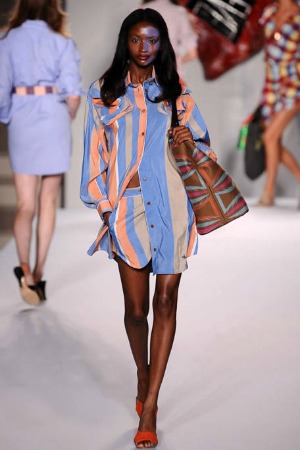 Photo- Elle
You might remember Lyndsey Scott as the model who codes. In addition to her modeling career, Lyndsey has developed seven mobile apps, including two that have been picked up by Apple. Where did she learn these skills? In 2006 she graduated from prestigious liberal arts school, Amherst College, with a dual degree in theatre and computer science.
In 2009, she was the first black model to receive a runway contract from Calvin Klein, followed in subsequent years by multiple runway shows for Victoria's Secret, Prada, and Louis Vuitton. Currently, Lyndsey is signed to Elite Model Management. We hope to be seeing a lot more of this beautiful brainiac in the future!
Liya Kebede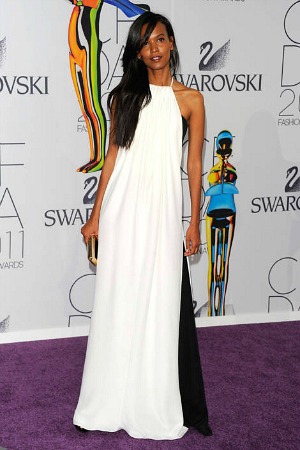 Photo- Elle
Ethiopian businesswoman Liya Kebede is already well-established within the fashion world. In 2002, she rose to fame after appearing on the cover of Vogue Paris. She subsequently appeared in campaigns for numerous top designers, including Dolce & Gabbana, Yves Saint-Laurent, and Escada. In 2003, she was named the face of Estée Lauder's campaign and was the first woman of color to ever represent the brand. A few years ago, Liya made her comeback, after a nearly ten-year hiatus, working as a World Health Organization ambassador for maternal health.
Most recently, you can find her as the face of Prabal Gurung's S/S 2014 campaign, which also happens to be the designer's first-ever print ad! In addition, she's on the cover of Elle Germany and currently serves as the face of L'Oreal's S/S 2014 campaign. Did we mention that she also runs a philanthropic foundation dedicated to reducing maternal, newborn, and child mortality in her free time? We think Liya rocks!
Ajak Deng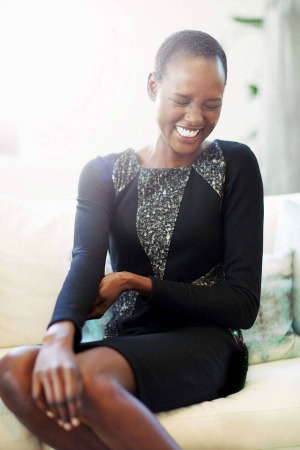 Photo- Elle
Ajak Deng came into the spotlight in 2011, and she's had a steady stream of work ever since. Her repertoire includes shows for some of the top designers, including Chloe, Givenchy, and Lanvin, as well as numerous editorials and ad campaigns. Most recently, she was in Kate Spade, Louis Vuitton, and Gap's S/S 2013 campaigns and she walked in eight S/S 2014 fashion shows worldwide. Though it appears that as of yet, she has no new campaigns or editorials booked, we're sure you'll see her face around!
Beyond her immense beauty and modeling talent is also an incredible story of triumph. After fleeing the Sudanese civil war at a young age, Ajak lost her mother to malaria while living in a Kenyan refugee camp. In her teens, she emigrated to Australia as a refugee, where she became the sole caretaker for her siblings. This has only fueled her determination to succeed, though. When asked why she wants to model, Ajak responds, "to give my brothers and sisters everything."
Sabina Karlsson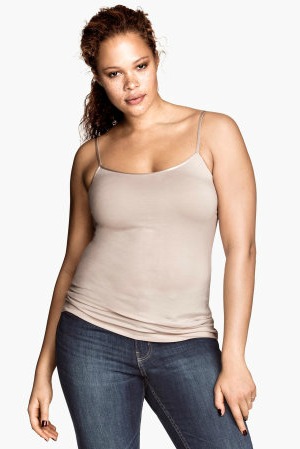 Photo- H&M
Swedish-Gambian Sabina Karlsson began modeling in 2005 as a straight-size model. Though she was heavily criticized for her size and shape as being "bottom-heavy", she nevertheless went on to walk in 12 shows during her first New York Fashion Week.
In 2010, Sabina crossed over to plus-size modeling, where she found similar success. She's currently featured in H&M's plus size campaign, though the brand has come under fire for using the relatively small-sized Sabina for a plus size campaign. Black women in fashion already experience incredible under-representation, but the issue is compounded for plus-size black models, an issue Karlsson talks about at length in an interview with fellow plus size model, Ashley Graham.
What do you think?
Do you agree that representation is important in fashion? Who are your favorite models? Share your thoughts in the comments below!